Persona Composer Shoji Meguro Joins INDIE Live Expo Winter 2021, Set for Nov. 6
Published: Thursday, October 28, 2021Tagged: Gaming, ID@Xbox, Windows, Xbox One, Xbox One X, Xbox Series X|S, Xbox Store

INDIE Live Expo Winter 2021 (ILE), the digital showcase connecting indie game fans globally which has highlighted more than 800 titles and gained more than 29 million views across three shows, reveals the hosts and special guests for the fourth show set to feature more than 500 games on Saturday, Nov. 6, 12:00 AM PDT on YouTube, Twitch, Twitter, and Bilibili in English, Japanese, and Chinese languages.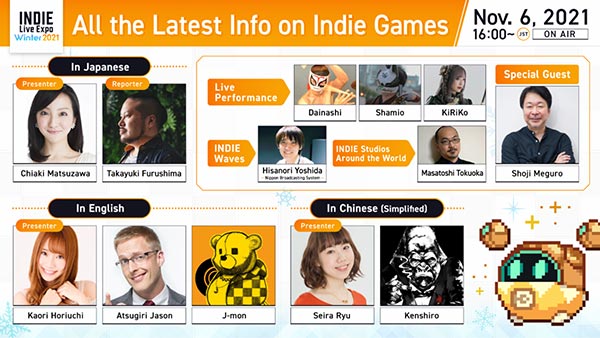 Shoji Meguro, composer known for his work on the Persona series and creative director of the PSP ports of Shin Megami Tensei, will appear as a special guest performer. He will premiere a new, exclusive music composition as part of the Indie WAVES showcases throughout the show.
Two of Japan's most popular video game music cover artists, drummer Dainashi and shamisen player Shamio, return for ILE Winter 2021, joined by erhu player KiRIKo. Together, they will provide one-of-a-kind arrangements of indie music from games all over the world, set to premiere throughout the broadcast.
The English language broadcast features returning host Kaori "Kaotan" Horiuchi, beloved first generation member of idol group AKIHABARA Backstage pass, an accomplished solo artist, and Twitch streamer. She's accompanied by veteran bilingual streamer and event host J-mon along with the American-born, Japan-based comedian Atsugiri Jason.
ILE Winter 2021 will feature INDIE Live Premiere segments featuring announcements of new titles and major updates on previously-announced games, along with INDIE Waves hosting a lightning round of 15-second showcases of games from all around the world. INDIE Studios Around the World returns for a segment highlighting many of the creative developers and wonderful games from Australia.
Finally, the show will reveal the winners of the second annual INDIE Live Expo Awards, as determined by an esteemed panel of jurors from the international gaming media and votes from the public. The public can vote up until the start of the show on Friday, Nov. 5 at 11:59 PM PDT, with the winners to be announced live during the broadcast.
"It's truly an exciting time as we continue to prepare for INDIE Live Expo Winter 2021, especially with the award voting taking place until the very last moment," said Ryuta Konuma, Founder, Ryu's Office. "We can't wait to showcase all these deserving indie games to the world, and reveal some of the surprises our participants have in store."
INDIE Live Expo Winter 2021 takes place Saturday, Nov. 6, 12:00 AM PDT / 3:00 AM EDT / 8:00 am CET on YouTube, Twitch, Twitter, and Bilibili in English, Japanese, and Chinese languages.
Further information about INDIE Live Expo Winter 2021 participating guests, show segments, and sponsors will be added to the INDIE Live Expo website in the following days and weeks. For more information, follow @INDIELiveExpoEN on Twitter, and search for #INDIELiveExpo on social media.
Though most people think of PC games when the word "esports" is mentioned, not many people realize how popular console esports games are getting. As time passes, the...

Xbox (@Xbox) and Trapstar (@TrapstarLondon), the legendary streetwear brand, celebrated their epic collaboration at a unique launch event at the Tate Modern in London. The...

PAX East (@pax) will return to the Boston Convention and Exhibition Center (BCEC) from March 21 to March 24, 2024, to mark the 20th anniversary of PAX. You can get badges for...