Xbox Adds Over 70 New Games to Backward Compatibility
Published: Tuesday, November 16, 2021Tagged: Backward Compatibility, Gaming, Xbox Live, Xbox One, Xbox One X, Xbox Series, Xbox Store

Xbox has announced that over 70 new Xbox 360 and original Xbox games are now available via backwards compatibility in celebration of the brand's 20th anniversary. You can play these games today if you own them on disc or digitally, and the vast majority can be purchased digitally by new players in the Microsoft Store starting later today.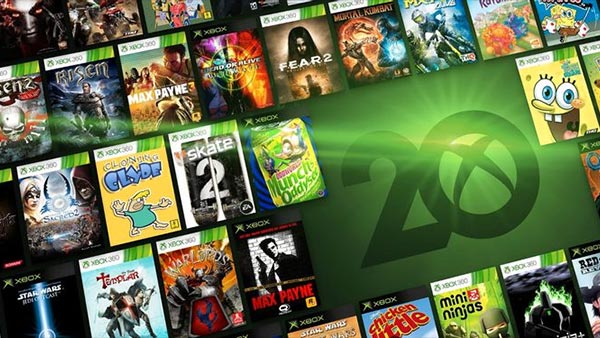 All games support Auto HDR and many will receive a resolution enhancement. FPS Boost for 11 titles has been added today and 26 more titles from the existing library. FPS Boost is also rolling out to Xbox Cloud Gaming (Beta) for select titles like Fallout 76 and Fallout 4.
Backward Compatible Games play best on Xbox Series X and Series S
With Xbox Series X|S, Microsoft introduced innovations and improvements such as FPS Boost, Auto HDR, and faster loading times, which breathed new life into classic titles.
Every backward compatible title added today will experience improved visual quality with Auto HDR on supported displays, which automatically adds HDR enhancements on Xbox Series X|S.
Original Xbox games will experience a resolution increase on all Xbox Series X|S and Xbox One consoles on supported displays.

4x resolution increase on Xbox Series X and Xbox One X

3x resolution increase on Xbox Series S

2x resolution increase on Xbox One S and Xbox One

Players will experience even smoother gameplay on 11 titles added today via FPS Boost, which doubles the original framerate up to 60 FPS, including F.E.A.R., F.E.A.R. 3, Binary Domain, and NIER.
We are also excited to announce we enabled FPS Boost on 26 more titles from the existing catalog including top requested titles such as the entire Gears of War franchise, Fallout 3, Fallout: New Vegas, Elder Scrolls IV: Oblivion, Dragon Age: Origins, Dead Space 2 & 3, Alan Wake and Sonic Generations.
And beginning today, FPS Boost is rolling out to 33 titles via Xbox Cloud Gaming (Beta) that were previously enhanced on Xbox Series X|S including Fallout 4, Fallout 76, and The Evil Within 2.
Players can easily toggle FPS Boost as well as Auto HDR on or off under the "Manage Game" section for any title. You decide how you want to experience your favorite games, whether in their original form or enhanced with Auto HDR and FPS Boost enabled.
Below is the full list of games added through backward compatibility:
50 Cent: Blood on the Sand
Aces of the Galaxy
Advent Rising
Adventure Time: The Secret of the Nameless Kingdom
Are You Smarter Than a 5th Grader? Make the Grade
Avatar: The Last Airbender - The Burning Earth
Bankshot Billiards 2
Beautiful Katamari
Binary Domain
Black College Football Xperience: Doug Williams Ed
Cloning Clyde
Conan
Darwinia+
Dead or Alive Ultimate
Dead or Alive 3
Dead or Alive 4
Death by Cube
Disney Universe
Disney's Chicken Little
Elements of Destruction
F.E.A.R.
F.E.A.R. 2: Project Origin
F.E.A.R. 3
F.E.A.R. Files
The First Templar
Gladius
Gunvalkyrie
Islands of Wakfu
Lego The Lord of the Rings
Manhunt
Max Payne
Max Payne 2: The Fall of Max Payne
Max Payne 3
Mini Ninjas
Mortal Kombat
Mortal Kombat vs. DC Universe
MX vs. ATV Alive
MX vs. ATV Untamed
NIER
Novadrome
Oddworld: Munch's Oddysee
Onechanbara: Bikini Samurai Squad
Otogi: Myth of Demons
Otogi 2: Immortal Warriors
The Outfit
Outpost Kaloki X
Quake Arena Arcade
R.A.W. - Realms of Ancient War
Red Dead Revolver
Resident Evil: Operation Raccoon City
Ridge Racer 6
Rio
Risen
Risen 2: Dark Waters
Rock of Ages
Sacred 2: Fallen Angel
Scramble
Screwjumper!
Secret Weapons Over Normandy
Skate 2
SpongeBob SquarePants Underpants Slam!
SpongeBob's Truth or Square
Star Wars Starfighter: Special Edition
Star Wars: Episode III Revenge of the Sith
Star Wars: The Clone Wars
Star Wars Jedi Knight II: Jedi Outcast
Switchball
Thrillville
Thrillville: Off the Rails
Time Pilot
TimeSplitters 2
TimeSplitters: Future Perfect
Toy Story Mania!
Vandal Hearts: Flames of Judgment
Viva Piñata: Party Animals
Warlords
For future Xbox news & rumors, follow @XONEHQ on Twitter, like us on Facebook, subscribe to us on YouTube, install the free Xbox app for android, and stay tuned for the best new and upcoming Xbox games for 2020, 2021, screenshots, Xbox achievements, and Video Game Trailers.
Team17 (@Team17) unleashed a torrent of information for new and existing titles during its 'Team17 Presents' showreel at the 2021 Golden Joystick Awards. From action...

Team17 and OverBorder Studio announced that their punishing action RPG Thymesia will be launching on Xbox Series X|S and PlayStation 5, and PC in 2022.Set in a hauntingly...

Playtonic Friends (@PTonicFriends ), the Derby-based indie developer and publisher has announced it has sold a minority stake to leading technology company Tencent...
Average Score: 4.75





Votes: 4