Women in Esports to host the Valkyrie Cup Winter in partnership with Dota Valkyries
Published: Tuesday, November 16, 2021Tagged: eSports, Gaming

British Esports' Women in Esports initiative, set up to promote inclusivity and diversity within the esports industry, announce their second Dota 2 tournament; The Valkyrie Winter Cup.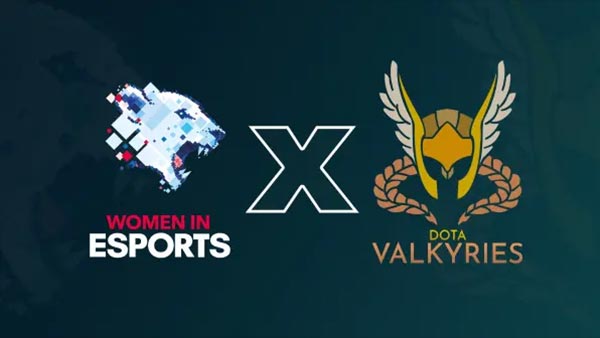 Similarly to the first tournament hosted in September 2021, the Winter edition aims to support women within the Dota 2 scene, in addition to playing a part in increasing the participation of marginalised genders within esports.
The tournament is set to take place on the 11th-12th December 2021.
The entry requirements for Valkyrie Cup Winter is as follows:
A team must consist of a minimum of 5 players, with a minimum of 2 female or non-binary players and a maximum of 3 male players.
8,000 maximum MMR average per team
Whilst world-wide signups are accepted, all games will be hosted on EU West Servers, and this should be considered prior to entering the tournament.
The event will be hosted on Challenger Mode with sign ups for the tournament now open until the 4th December - with a 12 team capacity. Teams can register for the event here.
Further details regarding the ruleset can be found here.
The prize pool for this tournament is:
1st Place: £200
2nd Place: £100
3rd Place: £50
Verification for players and teams will be conducted prior to the tournament start date, all teams registered will be contacted regarding timings. This is to ensure that minimum requirements for the mixed gender tournament are being carried out.
The event will be hosted on the British Esports Twitch channel, with tournament participants also encouraged to stream individual games from the tournament.
Morgan Ashurst, Co-Founder of the Women in Esports initiative commented: "We're extremely excited to work with the Dota Valkyries on the Winter edition of the Valkyrie Cup. Our second tournament together will allow for a larger MMR pool to take part, enabling us to open up to more of the Dota 2 community.
We're hoping to replicate the successes from our initial tournament in September and taking into account feedback collated to better the user experience. We're looking to expand our tournament series moving into 2022 where we're able to host more regular tournaments in the Dota 2 scene."
Emma Brown, Dota Valkyries added: "We at DOTA Valkyries are delighted to be able to work again with our friends at Women in Esport on a second edition of the Valkyrie Cup. We are hoping that these events will encourage more women to play in competitive settings, give them their first taste of tournaments, or even inspire them to take the first steps to becoming a full time pro!"
The Valkyrie Cup Winter Edition will feature new branding to not only fit the festive season, but to better viewer experience through the broadcast and live match coverage, across social media channels.
With running a community tournament earlier in the year and a higher MMR event this December, Women in Esports and Dota Valkyries aim to plan more tournaments moving into 2022 covering a wider range of levels and abilities.
For more Xbox news & rumors, follow @XONEHQ on Twitter, like us on Facebook, subscribe to us on YouTube, install the free Xbox app for android, and stay tuned for the best new and upcoming Xbox games for 2020, 2021, screenshots, Xbox achievements, and Video Game Trailers.
Developer Nekki dropped the first gameplay trailer of SPINE, its upcoming gun fu action game, at the PC Gaming Show: Most Wanted. SPINE will let you unleash stylish and...

Sam & Max: The Devil's Playhouse, a remastered version for one of the last traditional adventure games Telltale made before hitting it big with The Walking Dead, is...

Articy Software has launched articy:draft X (@articydraft), the newest version of the articy:draft software series that has been used to create games such as Broken Roads,...