XBOX Games with Gold lineup for January 2022: NeuroVoider, Aground, Radiant Silvergun and Space Invaders Infinity Gene
Published: Friday, December 24, 2021Tagged: Games with Gold, Gaming, ID@Xbox, Xbox Live, Xbox One, Xbox One X, Xbox Series X|S, Xbox Store

January's Games with Gold lineup is here! Xbox Live Gold and Xbox Game Pass Ultimate subscribers get NeuroVoider, Aground, Radiant Silvergun, and Space Invaders Infinity Gene. If you're not an Xbox Game Pass Ultimate member yet, sign up here and get your first month for just $1.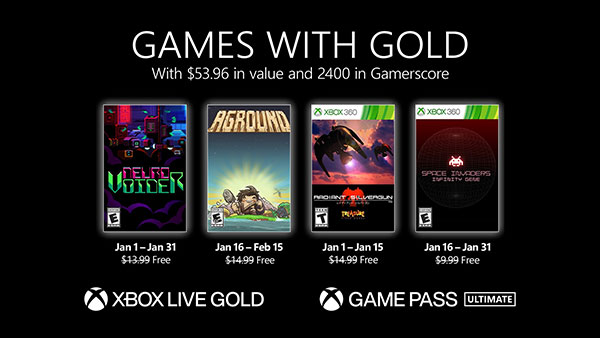 Xbox Live Gold members will have exclusive access to these games for a limited time as part of Games with Gold. So will Xbox Game Pass Ultimate members, who receive all the fantastic benefits of Gold plus access to over 100 high-quality games with Xbox Game Pass.
January 2022 Xbox Games With Gold
NeuroVoider ($13.99 ERP): Available January 1 to 31
Aground ($14.99 ERP): Available January 16 to February 15
Radiant Silvergun ($14.99 ERP): Available January 1 to 15
Space Invaders Infinity Gene ($9.99 ERP): Available January 16 to 31
Developer: Flying Oak Games | Publisher: Plug In Digital | Xbox Store: here
NeuroVoider is a twin-stick shooter RPG set in a cyber futuristic world about brains shooting around evil robots with nuclear rocket launchers. Battle through the horde of vigilant robots, boost your character with the smoking remains of your victims, and defeat the master NeuroVoider to end this eternal war. Play it coop with up to 4 friends, or go alone in an adventure of hack'n'slash rampage, with a pinch of rogue-lite, and some permadeath. * may contain explosions.
Developer: Fancy Fish Games | Publisher: Whitethorn Digital | Xbox Store: here
Survival is only the beginning. The only way for humanity to have a future is to return to the stars and confront them. But, it will require a lot of ingenuity and help to recover everything that was lost, and even that might not be enough... Aground is a Mining/Crafting RPG, where there is an overarching goal, story and reason to craft and build. As you progress, you will meet new NPCs, unlock new technology, and maybe magic too. Will you be able to raise dragons? Launch into space? The sky is literally not the limit. Beneath its simple exterior, Aground hides a lot of depth and surprises that will keep you wondering "what's next?"
Radiant Silvergun
Restored by Treasure, the legendary vertical-shooter returns with the same shoot 'em up gameplay which made the original arcade version so famous. New additions, such as the "Ikaruga-style" shooting mode help elevate the fun in this fantastic shooter.
Space Invaders Infinity Gene
The game that defined video games for generations is back with a new twist. Play a total of 143 stages which evolve in both look and feel the more you play. Unlock new stages, new power ups, and new features, all to imaginatively stunning visuals.
Titles are available as free downloads for qualifying Xbox Live Gold members in all markets where Xbox Live is available. Some regions may offer different titles depending on market availability.
For more Games with Gold news, updates and release dates, follow @XONEHQ on Twitter, Facebook and YouTube, download the XBOXONE-HQ.COM app for Android and until next month, game on!
Latest NeuroVoider News & Rumors
Plug In Digital in collaboration with Alkemi, Flying Oak, Pixelnest and Dear Villagers announced today that their new Indie Gems Bundle: Explosive Edition, which bundles...
Rate This Article
Average Score: 3.87




Votes: 8