Science fiction FPS puzzle horror game "S.W.A.N.: Chernobyl Unexplored" arrives January 27, 2022 on XBOX
Published: Saturday, January 01, 2022Tagged: Gaming, ID@Xbox, Xbox Live, Xbox One, Xbox One X, Xbox Series, Xbox Store

Visit Chernobyl on the 35th anniversary of the nuclear disaster in S.W.A.N.: Chernobyl Unexplored - coming to Xbox One and Xbox Series X|S consoles on January 27.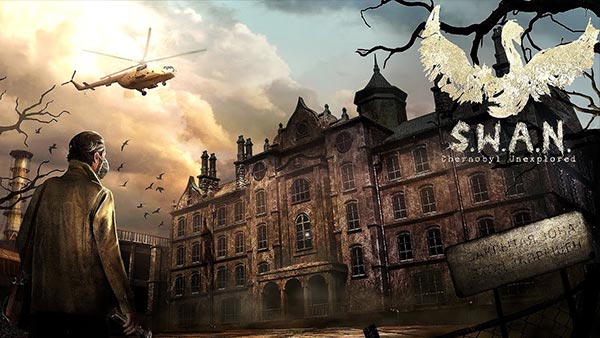 S.W.A.N.: Chernobyl Unexplored is a science fiction FPS puzzle horror game, which takes place a few months after the Chernobyl Nuclear Plant disaster. Take part in the research expedition and be one of the first people to get inside the S.W.A.N. Institute since the reactor failure. You'll discover the place kept secret by ZSRR authorities, omitted during the evacuation after the Chernobyl disaster. Experience things that go far beyond the limit of human imagination. Face the danger locked behind the facility door. Find another expedition participant and discover the inhumane secrets of professor Kaydanovskiy - the founder of the facility.
On the 26th of April 1986, a disastrous catastrophe had taken place. Reactor unit 4 of the Chernobyl Nuclear Power Plant had broken down, which led to the explosion, and radioactive contamination of the vast area.
At the beginning of February 1987 - 9 months after the disaster - a team of scientists from the Moscow Institute of Physics and Technology received signals that proved the existence of people operating in a previously evacuated area. Also, various, unexplained anomalies had been discovered.
It turned out that signals came from the S.W.A.N Institute located near the city of Prypiat. Its name comes from the abbreviation Syndrome Without A Name - the term given to the group of symptoms that do not occur in any known and cataloged disease. The facility was conducting research on never seen before and disturbing neurological-psychological medical conditions.
Scientists together with paramedics decide to venture inside the Institute to explore the place and rescue people that are probably still alive inside...

S.W.A.N.: Chernobyl Unexplored launches January 27, 2022 on Xbox.

For all things Xbox, follow @XONEHQ on Twitter, like us on Facebook, subscribe to us on YouTube, install the free Xbox app for android, and stay tuned for more of the best new and upcoming Xbox games, screenshots, news & rumors, achievements, and trailers.
Xbox Store: here
S.W.A.N.: Chernobyl Unexplored Achievements
Latest S.W.A.N.: Chernobyl Unexplored News & Rumors
Science fiction FPS puzzle horror game S.W.A.N.: Chernobyl Unexplored from Art Games Studio (@ArtGamesStudio) and Volframe (@VolframeStudio) is now available for digital...
Rate This Article
Average Score: 3.66




Votes: 3