Kathrin Strangfeld Joins Thunderful as New VP of Business Management & Transformation
Published: Monday, January 17, 2022Tagged: Gaming,

[email protected]

As part of a reorganisation of its executive team, Thunderful is delighted to welcome Kathrin Strangfeld as the new Vice President of Business Management & Transformation. Kathrin joins Thunderful with 14 years of B2C experience at PlayStation and Sony.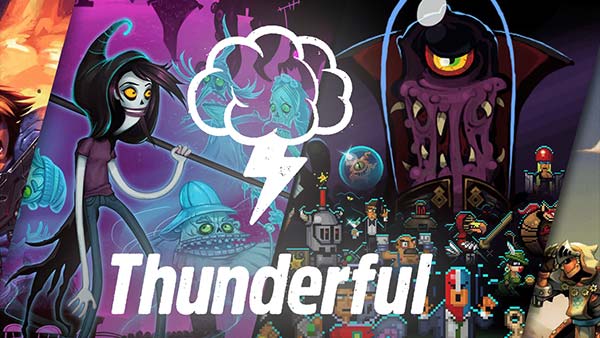 Kathrin will be responsible for overseeing the effective operational running of Thunderful Games, as well as developing processes, strategies and structures supporting the growth and future success of the company.
"Thunderful has been making real waves in the industry and has a fantastic catalogue of upcoming titles, so it's a really exciting place to be right now," said Kathrin Strangfeld, Vice President of Business Management & Transformation at Thunderful Games. "The company has performed exceptionally well over the last couple of years, but I'm confident that we can achieve even bigger and better things going forward and I can't wait to get stuck in to help Thunderful continue on that upward trajectory".
"Kathrin's vast experience and knowledge of the games industry is going to be invaluable in her new role as Vice President of Business Management & Transformation and I'm delighted to have her join us," said Brjánn Sigurgeirsson, CEO of Thunderful Group. "She will be joining a talented and passionate team of executives as part of a new structure that will leverage the expertise we have here to the greatest effect. This will allow us to continue the momentum Thunderful has built over recent years as we continue to grow our successful games business."
Thunderful Strengthens Executive Team
Kathrin's role fits into a new executive structure at Thunderful Games to be overseen by Chief Games Officer Agostino Simonetta, who joined Thunderful in 2021 moving over from his role as director of global partnership management for [email protected].
Coatsink CEO Tom Beardsmore takes on the new role of Vice President of Strategy & Business, playing a key role in helping to drive the company strategy forward and establish the best possible partnerships. Coatsink COO Eddie Beardsmore also moves into a role as Vice President of Studios, responsible for overseeing and managing all Thunderful game development studios.
Dieter Schoeller will continue to head up Thunderful's publishing department, managing the company's extensive portfolio of high-quality externally developed titles as Vice President of Publishing.
Callum Underwood is the new Vice President of Investment, bringing his proven expertise in funding and investment as founder of Robot Teddy to Thunderful to ensure that the company invests in the highest-quality games and studios.
Keep up to date with all the latest Video games news, release dates, announcements and loads more, follow @XONEHQ on Twitter, YouTube, Instagram, and Pinterest, like us on Facebook, and download the subscribe via email and rss.
The games industry was buzzing with excitement and collaboration as speakers and attendees from around the world gathered for the 23rd Nordic Game Conference from May 23rd to...

JSAUX (@jsauxofficial) has just kicked off the Kickstarter campaign for the Omnicase 2, a new USB-C hub with two versions: the MP04, a 12-in-1 hub that suits digital nomads...

The Board of Directors of Thunderful (@ThunderfulGroup) have appointed Martin Walfisz, a current Board Member, as its new CEO. Martin will take over from Anders Maiqvist, who...