2D platformer 'Ganryu 2' announced for Xbox, Playstation, Switch and PC
Published: Monday, February 28, 2022Tagged: Gaming,

[email protected]

, Windows, Xbox One, Xbox One X, Xbox Series X|S

Just For Games and development studio Storybird Studio has announced that their upcoming action game Ganryu 2 will be available for Xbox One, PlayStation 4, Nintendo Switch and PC on April 22nd.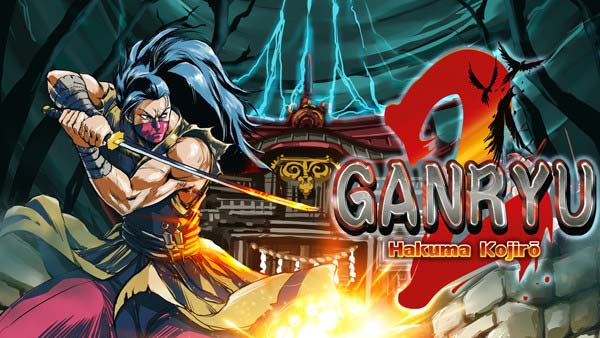 Ganryu 2 is the sequel to the Ganryu game made by VISCO on NEOGEO back in 1999. The universe takes place in a feudal fantasy Japan which is strongly inspired by the story of Takezo Musashi, whose adventures are unfolded in a series of books (mainly "The Stone and the Sword").
You play as Miyamoto Musashi travelling through a 17th century fantasy Japan, from north to south to the island of Ganryu-jima where everything started between Musashi and Kojiro.
After his victory against Kojiro, Musashi decided to meditate and try his hand at art, in the north of Japan, in the province of Hokkaido. During one of his meditations, a spirit contacted him : "Miyamoto Musashi, our fight is not over, I am waiting for you to finish our fight once and for all! All of Japan will pay for your insult! I'm waiting for you Miyamoto Musashi!"
There is no doubt for Musashi that the voice was the Sasaki Kojirō's one. His body was defeated, but his spirit remains, and his intentions are still destructive. Miyamoto Musashi then understood that he would have to travel across Japan from north to south and go to the island of Ganryû-jima, where he firstly defeated Sasaki Kojirō, to fight again and liberate the spirit of Kojiro forever.
Ganryu 2 features:
A hack'n'slash game inspired by the story of Takezo Musashi "The Stone And The Sword" released in 1930's by Eiji Yoshikawa and which is one of the most famous story and real samurai in Japan!
Explore a fantasist 17th century Japan through seasons: Spring, Summer, Fall and Winter.
Defeat Kojiro in The Floating Fortress and save Japan!
Dash, double-jump, wall-jump and throw kunais to defeat various enemies!
Use your special abilities, kamis, to best your enemies.
Collect Hanafuda cards through levels.
A beautiful pixel-art game inspired by classics such as Shinobi 3 and Shadow Dancer.
Pre-orders are open for the physical versions, and on the respective publishers' digital stores. A limited edition with a unique keyart and some goodies will be available only on PixelHeart store (1000 units for Nintendo Switch, 1000 units for PlayStation 4)
Ganryu 2 will be available on Xbox One, Playstation 4, Nintendo Switch and Steam on April 22, 2022.Lovers of physical versions will also be able to get their hands on the game in a retail edition for Nintendo Switch and Playstation 4, also available on April 22, 2022.
To keep up with all the latest Xbox One Series X|S and Xbox One news, release dates and updates, follow @XONEHQ on Twitter, YouTube, Instagram, Facebook, and Pinterest, download the free XBOX app for Android and subscribe via email and rss.
Bish Bash Bots, a co-op party game that combines tower defense and brawler mechanics, is coming to Xbox, PlayStation, Switch and PC later this year from Firestoke...

BBG Entertainment GmbH, the developer behind nostalgic, classic video games like BOULDER DASH, has announced the launch of three revived legendary games for modern consoles...

If you are new to the casino world, you might believe that free games are equal to demo games. But playing free casino games doesn't always mean that you will play with fake...