New Wingman XB update brings PS5/4/3, Switch Taiko drums & flight controller support to XBOX
Published: Tuesday, March 08, 2022Tagged: Gaming, Xbox Accessories, Xbox Hardware, Xbox One, Xbox One X, Xbox Series X|S

Brook Gaming has announced that the latest update for their popular Wingman XB accessory convertor now let's Xbox owners use PS5, PS4, PS3, XSX|S, Xbox One, Xbox 360, Switch Pro, SEGA Astro City, and MEDA Drive mini controllers on Xbox Series X|S, Xbox One, Xbox 360 and Original Xbox.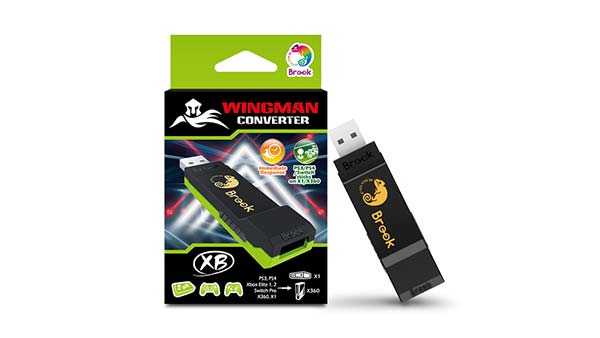 A bit ago, Bandai Namco released Taiko no Tatsujin: Drum Master for the Xbox but, unlike the PlayStation and Switch versions of the game, you can't experience the best part of that game - the drums! Well, today Taiwan-based gaming peripheral maker Brook announced a new update to their popular Wingman XB accessory convertor….for both PlayStation and Switch Taiko controllers on the Xbox! So, no more playing the game using only the controller. Finally, you can experience the game on Xbox the way it was meant to be played.
Are you used to using other controllers?
Just connect to wired Xbox Series X|S / wired Xbox360 / wired Xbox One / PS5 / PS4 / PS3 / Switch Pro / SEGA Astro City mini (wired use) / MEGA Drive mini (wired use) controller to use. Also supports relevant Xbox 360 / Xbox One / PS3 / PS4 / Switch peripheral accessories.
If it's so simple, why don't you try and see what's happens?
In addition, the Wingman XB has also been upgraded to support flight sticks, a perfect opportunity to experience games like Microsoft Flight Simulator and Ace Combat in all new ways with the controllers YOU want to use.
How to set PS4 or Switch Taiko Drum on Xbox consoles
Step1. Update the firmware
Step2. Plug in Wingman XB converter and Taiko drum controller
Step3. Go to the Xbox Accessories setting menu
Step4. Create a new Configuration profile
Remap these following butons
D-pad UP → Left stick click
Y buttone → Right stick click
COMPLETE!

Enjoy your 《Taiko no Tatsujin: The Drum Master! 》fun time with PS4 or Switch Taiko Drum controllers.
The Wingman XB retails for $45 at major retailers.
Official Site: https://shop.brookaccessory.com/en/products/wingman_xb
As more and more people are starting to play Destiny 2, the time has come for players to get organized. Nobody wants to spend hours on end trying to figure out what the game...

Sustainable Swedish publisher Kinda Brave, announced that it is working closely in partnership with three development studios Ember Trail, Dinomite Games and TIC TEK TOE. ...

Fortnite is a free battle royal game. It is considered the founding father of games in this category. Everyone spawns unfurnished on an island, collecting weapons and healing...
Average Score: 4.75





Votes: 4