TheXPlace Sets Out to Transform the Future of Work in the Video Games Industry
Published: Friday, March 18, 2022Tagged: Gaming, ID@Xbox, Industry

TheXPlace, a global video game professionals' community, is inviting global talent, game studios and publishers to join its new-age professional network where talent can build their digital professional identity, find work, and grow their network, while gaming companies are matched with the proven, specialized talent they need. Coming out of stealth, TheXPlace has already attracted top creative and tech talent from several prominent AAA and Indie game makers including Electronic Arts, Ubisoft, Naughty Dog, Zynga, Playtika, Tencent, and Activision Blizzard.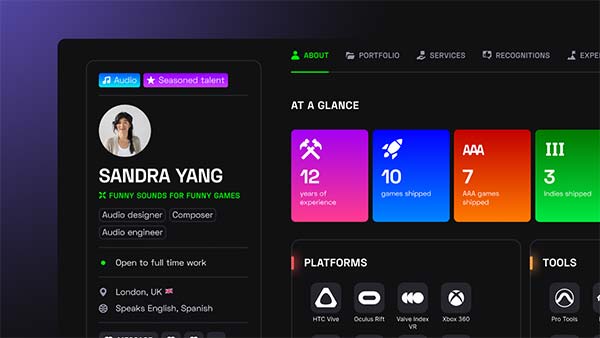 With demand increasing through the private early access, a growing list of video game industry veterans with reach into Europe, Asia Pacific and Americas have been lining up to back TheXPlace, including Alex and Chris Rigopulos of Harmonix Music Systems (acquired by Epic Games), Kai Huang of RedOctane (acquired by Activision), Gabi Shalel of Plarium (acquired by Aristocrat), Susana Meza Graham, former Paradox Interactive executive and games investor, and Bryan Neider, former World Wide Studios COO at Electronic Arts, as well as venture funds XFactor Ventures, Two Lanterns Venture Partners, Angel Ventures, Hustle Fund, and other private investors including Aihui Ong and Eyal Shaked of Well Played Ventures and 888 holdings.
Kai Huang, creator of Guitar Hero, said: "I welcomed the opportunity to support TheXPlace because I believe this is exactly the solution the industry needs, and the tremendous early response from not only AAA studios but prominent talent is proof of that."
The gaming industry is so visually rich and technologically advanced, and yet those advancements haven't made their way to the staffing and talent management experience. To staff a specialized role can take months and is costly with companies paying today 25%-60% of annual salary per role. As the video game industry is forecasted to reach $268 billion by 2025 (Statista), finding the right talent is crucial for capitalizing on this growth. Staffing a specialized role is like finding a needle in a haystack because, until now, there hasn't been a platform that offers visibility into skills, credentials, and portfolios where studios can find the best fit, fast. As demand for games skyrockets, speed is of the essence in finding the right talent. And yet, despite the high demand for talent, gaming professionals still struggle to find the next opportunity that progresses their careers, puts their creative talents to work and secures a longer working horizon. Today, they rely on close circle referral networks, which are limited by region and experience.
TheXPlace is changing the paradigm for sourcing talent in the interactive gaming industry. Through its trailblazing capabilities, TheXPlace is a central hub where gaming studios and gaming professionals can meet on equal footing. TheXPlace is a trusted community of vetted companies, vetted talent, and verified credits. The rich, intuitive, gaming-specific tagging system enables game companies to find the right talent quickly and eliminate the middleman while enabling gaming professionals to build stunning portfolios, digitize their trusted referral networks and unlock opportunities they get excited about, anywhere around the world.
Maya Rand, Founder and CEO of TheXPlace, said: "We're building TheXPlace for people working in the rapidly growing Video Games Industry, to help them flourish and feel valued in a more inclusive and equitable industry. The nature of work is changing, we believe there should be a better way to work and TheXPlace is the solution. That means talent gets access to creative, rewarding opportunities unbounded by geography, secures a more stable working horizon and gets to keep the value they create, Gaming companies gain unparalleled access to the diverse top-tier talent they need, without hefty fees, and everybody wins."
Susana Meza Graham said: "I have worked in the games industry for many years and staffing, particularly for larger projects, continues to be a major pain point for everyone involved. As an investor I see this great change unraveling that requires great solutions. That's why I'm excited about TheXPlace's unique solution that caters to the needs of talent and companies alike and will shape the future of work for the video games industry".
Julian Beak, Executive Vice President & GM, SKYDANCE NEW MEDIA said: "As the videogame industry has continued to grow, the global workforce of developers has never had so many options for where to apply their talents. And for game studios, we need better ways to find the best developers. Maya and her team look to be improving this experience in significant ways for both the studios and talent. We can't wait to see more."
Eyal Shaked said: "TheXPlace is well-positioned to transform the way that video game creators, publishers, and talent connect online and go on to create amazing entertainment experiences together. A platform specifically designed for the video games industry that fosters talent and supports emerging work models is the future of this industry. We are excited about everything Maya and the team have built to date and look forward to working with them going forward."
TheXPlace Closed Beta is available to invited companies and select talent in supported regions. To request access to the Closed Beta, visit: https://thexplace.ai/join/
To keep up with all the latest video game industy news, release dates and updates, follow @XONEHQ on Twitter, YouTube, Instagram, Facebook, and Pinterest, download the free XBOX app for Android or subscribe via email and rss.
Publisher Assemble Entertainment (@AssembleTeam) and developer Gentlymad Studios (@gentlymadgames) confirmed that the Kickstarter campaign for Endzone 2 is now live. Sign up...

Indie-us Games and Chorus Worldwide (@ChorusWorldwide) revealed UNDEFEATED: Genesis, a superhero sim action adventure game that lets you save the world. The game, formerly...

Get ready for the biggest indie game event of the year: INDIE Live Expo Winter 2023. This online showcase will feature hundreds of indie games from Japan and around the...