Replica and Legal Dungeon of the 'Guilt Trilogy' launches this week on PS4 and Xbox!
Published: Monday, April 04, 2022Tagged: Gaming, ID@Xbox, Windows, Xbox Live, Xbox One, Xbox One X, Xbox Series X|S, Xbox Store

PLAYISM (@playismEN) announced that Replica and Legal Dungeon, the first two titles of South Korean indie developer Somi's infamous "Guilt Trilogy", will release on XBOX and PS4 on April 5th, 2022.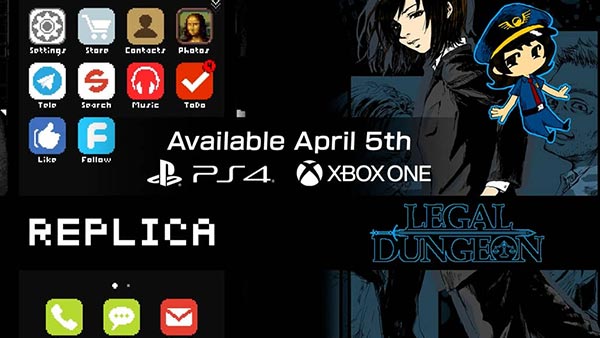 Replica is the first title of Somi's "Guilt Trilogy".
Peer into strangers' private lives via the cell phone of a suspected terrorist. A tightly and controlling Homeland Security of a dystopian government restrains the wielder of a mysterious cell phone to an unknown location. Under coercion by this totalitarian authority, snoop into this device to find and report evidence of its owner's involvement in terrorist activities.
Awards and Nominations
Independent Games Festival (IGF) Honorable Mention for Excellence in Design
Taipei Game Show 2017 Grand Prix Award
IndieCade 2016 Impact Award
International Mobile Gaming Awards (IGMA) 2017 Nominee
BIC Festival 2016 Excellence in Narrative Award
Indie Stream Fes 2016 Best of Narrative Award, Best of Game Design Award.
A dystopian adventure playing out on the screen of a single smartphone
"Everything in the State, nothing outside the State, nothing against the State"
In your possession is a mobile phone, belonging to an unknown owner. Under the supervision of your country's national intelligence bureau, you must hack into the mobile phone owner's account and peruse images, emails, and social media records for any evidence of suspected terrorism.
Legal Dungeon
Following Replica, Legal Dungeon is the second title of South Korean developer Somi's "Guilt Trilogy" (third and final title being The Wake). This is a unique police experience where you prepare reports based on legal documents to decide the fates of perpetrators.
Taking on the role of rookie female lieutenant Jane Blue, the player must read through the text of statements and legal precedents. Then, using keywords selected from the text, head into battle with the accused in the "dungeon", and complete "verdict documents" for submission to the prosecutor. Whenever you get overwhelmed or confused with the heavy load of legal/courtroom text, your AI assistant – "Mini Jane" – will be there to help guide you along. Additionally, Jane has a set amount of "HP", and once that HP hits zero during battle in the dungeon, or if time runs out for a timed battle, the game will end.
Replica and Legal Dungeon will be available for Xbox One, Xbox Series X|S and PlayStation on April 5th, 2022 for $4.99.