Project: Gathering from Japanese developer MyDearest involves three possible VR titles
Published: Friday, April 29, 2022Tagged: Gaming, Industry

Japanese game developer MyDearest released three concept trailers for three different VR multiplayer games while inviting the gaming community to decide what game they want to see made. Players that participate in the event will gain access to the chosen game's Closed Beta Test.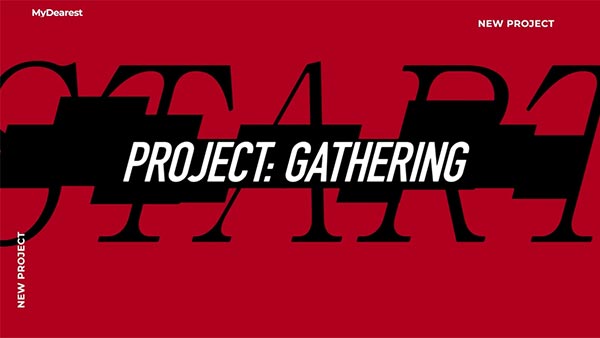 MyDearest have previously worked on titles: Tokyo Chronos, ALTDEUS: Beyond Chronos and its newest upcoming title Dyschronia: Chronos Alternate making Project: Gathering its first multiplayer endeavour. Project: Gathering is its biggest project yet and they plan to involve the community in every step of the planning process.
The three games to choose from are:
Code: Camp - an open world fantasy game
Code: Gauntlet - an action MOBA (multiplayer online battle arena)
Code: Bell - a 4vs1 survival game
"This is our biggest project until now," states Alberto Moreno, Head of International Promotion at MyDearest, "We've been recruiting the best talent in Japan to make this game and to prove that you don't have to be the biggest company to make the best games."
In order to participate in Project: Gathering players can head over to MyDearest's official Discord Server. Anyone who shares their thoughts on the server will be entered into the project's "present campaign." Rewards for the campaign will increase based on the number of people who join the server to participate. Rewards include: a Steam Gift card, a Logitech G Pro X Gaming Headset, a Razer Tactical Pro 17.3 Backpack V2, a Meta Quest 2 and a Secretlab Titan Evo 2022.
"We're not only making a game for the gaming community, we want to make a game for the gaming community with the gaming community. We want people to come to our Discord server and tell us what they want so we can make it. It's going to be the first game in the industry where the interaction with the community starts from the very concept of the game." - Alberto Moreno
Players that want to join in on the fun can head over to the MyDearest Discord server right now. Make your thoughts heard and you might even find yourself being recruited as MyDearest plans to use Project: Gathering as a way to find new talent around the world. Artists, programmers, streamers and anyone who participates in the project will be considered. Check out the introduction video and the three concept trailers for Code: Camp, Code: Bell and Code: Gauntlet below.
With Xbox One and Xbox 360, hackers have found ways to get the most out of their consoles. Whether it is unlocking features that were previously inaccessible or just making...

Media and Games Invest SE, a leading Ad-Software-Platform with proprietary first-party games content, today announced that the Group has unlocked previously untapped games...

As more and more people are starting to play Destiny 2, the time has come for players to get organized. Nobody wants to spend hours on end trying to figure out what the game...
Average Score: 4




Votes: 1