Red Bull Recreates Tony Hawk's Pro Skater 1+2 In Real Life
Published: Wednesday, May 18, 2022Tagged: Competition, Gaming

Dreams turned reality with an iconic video game brought to life… no controller needed! Following the second consecutive year of Red Bull Terminal Takeover, the vacant MSY airport was transformed into a playground for professional and amateur skateboarders.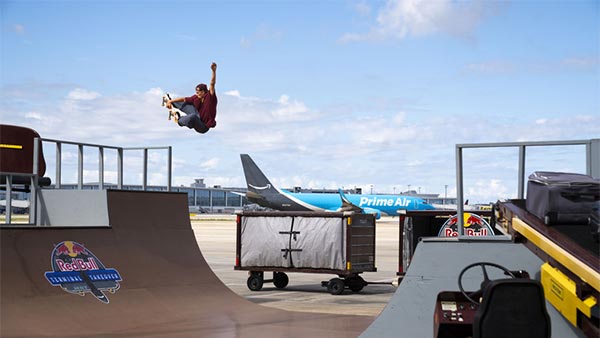 Today, Red Bull dropped a new video showcasing all the action from the airport takeover like never before on the official Red Bull Skate YouTube channel. Mirroring Activision's pop culture phenomenon and critically acclaimed franchise, Tony Hawk's Pro Skater 1+2, the just-released content embodies the heart, style and aesthetic players know and love from the iconic video game. From the concourse, to the storied mosaic Parabola, to an active tarmac, the video seamlessly intertwines top-notch execution from the pro athletes with the digital experience of the game itself.
Watch the Video Game Inspired Video below.
Featured in the video is Red Bull athlete and project visionary Jake Wooten, who is also joined by a stacked roster of professional skateboarders including Kareem Campbell, one of the ten original game characters players could choose in Tony Hawk's Pro Skater, X Games gold medalist, Alex Sorgente, Olympians, Brighton Zuener and Vincent Matheron, and more.
"Everything I've seen here has blown my mind," said Kareem Campbell while onsite at Red Bull Terminal Takeover. "From the course, to the tarmac, to the Red Bull plane and the jam session… it's unreal. It's something I don't think anyone can recreate, except in a video game."
Giving "Now Boarding" New Meaning
Skating an airport is something most skateboarders only dream of, but rarely get to experience. The ordinary traveler sees a dull baggage claim, where a skateboarder sees a perfect ledge. For the second consecutive year, Red Bull and New York Design and Construction (NYDAC) gave the Old New Orleans airport an edgy upgrade, turning escalators into ramps and quiet hallways into a skateboarding paradise for amateur and professionals alike.
In addition to the professional roster, eight crews of amateur skaters from seven states filled the formerly desolate halls with the sounds of ollies, grinds and pure excitement. Each team was comprised of 4-5 skaters and 1 filmer, and represented cities including New Orleans, Baton Rouge, Atlanta, Birmingham, Tupelo, the Florida Panhandle, Philadelphia and Nashville; last year's winning crew. Each of the eight participating teams will submit a two-minute video compilation for a fan-sourced vote on www.redbull.com/terminaltakeover. The winning crew will receive a $5,000 prize toward their local skate scene.
Tony Hawk's Pro Skater 1 + 2 Achievements
Most Recent Trailers for Tony Hawk's Pro Skater 1 + 2
Latest Tony Hawk's Pro Skater 1 + 2 News & Rumors
Remastered versions of the first two Tony Hawk's Pro Skater games are now available on Xbox One, PlayStation 4, and PC. All the pro skaters, levels and tricks are back and...

Tony Hawk's Pro Skater 1 + 2 is now available for digital pre-order and pre-download on Xbox One. Pre-order digitally now and get access to the Warehouse Demo. Drop back in...
Rate This Article
Average Score: 4




Votes: 1