Ikonei Island: An Earthlock Adventure Coming To Steam Early Access on June 17th
Published: Monday, June 13, 2022Tagged: Gaming,

[email protected]

, Windows, Xbox Beta, Xbox One, Xbox One X, Xbox Series X|S

Independent developer Snowcastle Games (@snowcastlegames) revealed that it's upcoming adventure about crafting, thwarting pirates and befriending animals, Ikonei Island: An Earthlock Adventure, is coming to Steam Early Access later this Summer and launching in open beta on Steam on June 17th. Ikonei Island is also heading to Xbox Series X|S, Xbox One, PS5, PS4, and Nintendo Switch in the near future.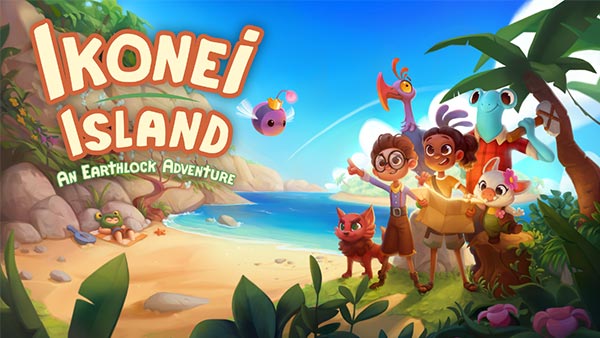 Taking inspiration from titles like Animal Crossing and Stardew Valley, Ikonei Island: An Earthlock Adventure adds to compelling exploration, resource gathering, crafting and customisation systems with a host of fun gameplay ideas that give this colourful title its own twist. Befriending local wildlife and using their unique abilities to help you access new areas of the island offers a compelling exploration mechanic unlike anything you've seen in the genre before. Expect to encounter perilous pirate camps and battle monsters as you uncover Ikonei Island's secrets. Perhaps most importantly, look forward to doing all this with your friends! Multiplayer is one of the key features that Snowcastle will add to the game as it builds out the title's features during Early Access.
Set in the universe of the Earthlock RPGs, Ikonei Island: An Earthlock Adventure takes the rich world-building and magical setting of the franchise into new territory. As you explore a diverse and intriguing landscape with secrets waiting to be uncovered, you will discover ancient ruins from a bygone civilization and unlock a host of different biomes, ranging from icy mountains and parched deserts, to dense jungles and humid swamps.
Alongside the game's satisfying crafting systems, farming, combat and everything else Ikonei Island has to offer, players will have the opportunity to make the island their own. An upgradable hamlet serves as a base of operations and unique placeable items allow you to customise the island to your liking. That extends to your home, which can be decorated to your own tastes!
More details on the roadmap for Ikonei Island's Early Access journey will be shared soon, along with the Early Access release date, but Snowcastle invites players to start offering their feedback now on the Snowcastle Discord. The community will be vital in shaping the tweaks and additions made to the game during its time on Early Access, so Snowcastle are eager for players to get involved in the process and tell them what they think!
Ikonei Island: An Earthlock Adventure is available on June 17th in Open Beta on Steam! Details about the Early Access release date and the roadmap towards a full PC, Xbox Series X|S, Xbox One, PS5, PS4, and Nintendo Switch release will be revealed in the near future.
The biannual live digital showcase INDIE Live Expo 2023 (@INDIELiveExpoEN) has reached more than 84 million total views since its launch in 2020. The May event alone...

You can find casino games that are adaptable and playable on Xbox consoles making the activity more enjoyable. With multiple online casinos, these Xbox versions elevate your...

The games industry was buzzing with excitement and collaboration as speakers and attendees from around the world gathered for the 23rd Nordic Game Conference from May 23rd to...