Indie Developer Toopan Games announces 'Multiverse Designer', a powerful 3D narrative engine and virtual tabletop
Published: Thursday, June 30, 2022Tagged: Gaming, ID@Xbox, Industry, Windows

Indie Developer Toopan Games announced that they're currently working on a project called Multiverse Designer, a powerful 3D narrative engine and virtual tabletop that allows you to create unique stories by using a vast library of 3D assets and then populating those stories with animated models of characters and monsters.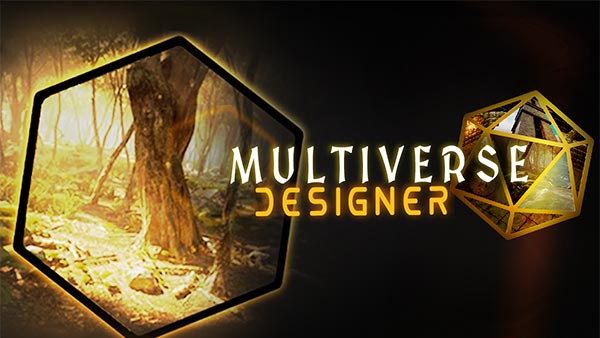 Create unique stories and experiences to host and play any RPG you wish with friends utilising the immersive systems that Multiverse Designer provides where the players will only see what their character sees thanks to a dynamic light and shadow system. From high fantasy to sci-fi, Multiverse Designer is not limited to the kind of world building you want for your gaming session thanks to the massive library of 3D assets.
Every aspect of the level design is fully customizable, from the lighting, to the level layout, the floor and roof tile colour and textures, or even the height of each environment. Multiverse Designer comes with full steam workshop support, allowing you to create and explore your own creations and share them with other players and DMs. You can even expand your library by importing in external 3D assets, resulting in limitless possibilities for your imagination to run wild and create the perfect experience.
Multiverse Designer's features include
Create amazing 3D setpieces with an intuitive drag-and-drop UI, supporting multiple heights, all powered by the Unreal engine
Make every environment unique with a vast library of hundreds of 3D assets for fantasy, sci-fi, and realistic settings
Customise everything, from the textures and colour of floor tiles, walls, and doors, to the temperature of light sources
Populate your creations with animated models of monsters and non-playable characters
Light your scenarios with dynamic light sources (lamps, torches, fireplaces…) that create areas of shadows
Share your creations with the world or play other people's adventures thanks to full Steam Workshop support!
Grow your library with imported external 3D assets
Use your creations as a virtual tabletop for your gaming sessions with virtual dice, character sheets, and all the tools you need for your RPG nights!
Put yourself in your character's shoes: control your 3D model with dynamic fog of war where you see only what your character sees
Host online multiplayer RPG sessions, or use Multiverse Designer as a virtual support tool in your physical games with your friends
Multiverse Designer will be available later this year on Steam. Check out the official teaser trailer below.
To keep up with all the latest Xbox News & Rumors, be sure to follow @XONEHQ on Twitter, YouTube, Instagram, Facebook, and Pinterest, download the free XBOX app for Android, and stay tuned!
Though most people think of PC games when the word "esports" is mentioned, not many people realize how popular console esports games are getting. As time passes, the...

Xbox (@Xbox) and Trapstar (@TrapstarLondon), the legendary streetwear brand, celebrated their epic collaboration at a unique launch event at the Tate Modern in London. The...

PAX East (@pax) will return to the Boston Convention and Exhibition Center (BCEC) from March 21 to March 24, 2024, to mark the 20th anniversary of PAX. You can get badges for...