Latest Games Coming to Xbox Game Pass In August: Commandos 3, Immortals Fenyx Rising, and more
Published: Tuesday, August 16, 2022Tagged: Gaming, ID@Xbox, PC Game Pass, Windows, Xbox Cloud Gaming, Xbox Game Pass, Xbox Live, Xbox One, Xbox One X, Xbox Series X|S, Xbox Store

Microsoft revealed the next set of games heading to Xbox Game Pass (@XboxGamePass) for Cloud, Console and PC throughout August! See the list of upcoming games and the dates they'll be released on @XONEHQ. If you're not an Xbox Game Pass member yet, sign up and get your first month for just $1.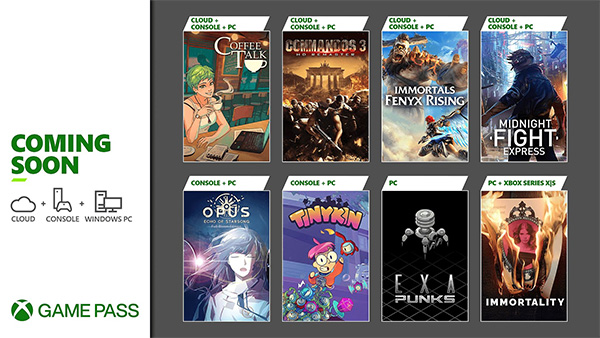 Out Now
Developer: Toge Productions | Publisher: Chorus Worldwide Games
Coffee Talk is a game about listening to people's problems and helping them by serving up a warm drink out of the ingredients you have in stock. It is a game that depicts lives as humanly as possible, while having a cast that is more than just humans. Immerse yourself in the stories of alternative-Seattle inhabitants, ranging from a dramatic love story between an elf and a succubus, an alien trying to understand humans' lives, and many others modern readers will find strongly echo the world around them.
August 23
Developer: Jacob Dzwinel | Publisher: Humble Games
Available on day one with Game Pass: A former member of the criminal underworld is lured back into "the life" by a mysterious drone claiming they only have until sunrise to prevent a citywide criminal takeover. Engage in a brutal and hyper-kinetic brawling ballet, using every environmental tool and street fighting technique at your disposal. Level up your abilities to take down the mounting onslaught of bozos, cronies, and crime lords.
August 25
The year is 1997. You used to be a hacker, but now you have the phage. You made a deal: one hack, one dose. There's nothing left to lose… except your life. Exapunks is the latest open-ended puzzle game from Zachtronics, the creators of Opus Magnum, Shenzhen I/O, TIS-100, and more.
Opus: Echo of Starsong – Full Bloom Edition (Cloud
and
PC)
Opus: Echo of Starsong – Full Bloom Edition is the definitive edition of the critically acclaimed visual novel-style adventure game, now with all-new voice acting. Dive in and enjoy an intergalactic journey that transcends time through love.
August 30
Developer: Raylight Games | Publisher: Kalypso
Commandos 3 - HD Remaster sends you to the relentless and unforgiving battlefields of Europe. Fight your way through the deadly trenches of Stalingrad, defeat the German enemy in the fanatical heart of the Third Reich in Berlin, and use your tactical know-how to survive the storming of Normandy on D-Day.
Developer: Sam Barlow | Publisher: Sam Barlow
IMMORTALITY is an interactive film trilogy from Sam Barlow, creator of Her Story. What happened to Marissa Marcel? Explore footage from her lost movies to solve the mystery.
Developer: Ubisoft Quebec | Publisher: Ubisoft
Immortals Fenyx Rising is a fresh and witty take on the open world action adventure genre, featuring dynamic action, combat and stories inspired by Greek mythology. Roam freely across a beautifully stylized world and use extraordinary abilities gifted by the gods against fearsome mythological monsters. Treacherous trials, heroic feats and the very underworld itself await your bravery.
Developer: Splashteam | Publisher: tinyBuild Games
Available on day one with Game Pass: Milo arrives on Earth to find that he's way too small, everybody's gone, and a day hasn't passed since 1991! Catch hundreds of tinykin and use their unique powers to bring Milo back to his home planet- and back to normal size!
Leaving Game Pass on August 31
Elite Dangerous (Cloud and Console)
Hades (Cloud, Console, and PC)
Myst (Cloud, Console, and PC)
NBA 2K22 (Cloud and Console)
Signs of the Sojourner (Cloud, Console, and PC)
Spiritfarer (Cloud, Console, and PC)
Twelve Minutes (Cloud, Console, and PC)
Two Point Hospital (Cloud, Console, and PC)
What Remains of Edith Finch (Cloud, Console, and PC)
World War Z (Cloud, Console, and PC)
For future Xbox Game Pass news and updates, follow @XONEHQ on Twitter, YouTube, Pinterest, and Facebook, download the free XBOX app for Android, and stay tuned!
Commandos 3 HD Remaster Achievements
Rate This Article
Average Score: 4




Votes: 4