Zelda x Rock n' Roll Racing-inspired title 'RoadOut' aiming for Xbox One, PS4, Nintendo Switch, and PC
Published: Friday, September 23, 2022Tagged: Gaming, ID@Xbox, Steam, Windows, Xbox One, Xbox One X, Xbox Series X|S

Indie video game developer Rastrolabs announced that it will be taking its Zelda x Rock n' Roll Racing-inspired title, RoadOut, to Kickstarter starting on September 19, 2022. The campaign will have an initial goal of $10,000 aiming to release on Xbox, PlayStation, Nintendo, PlayStation, and PC in 2023. A demo will be available on Steam for a limited time during the campaign.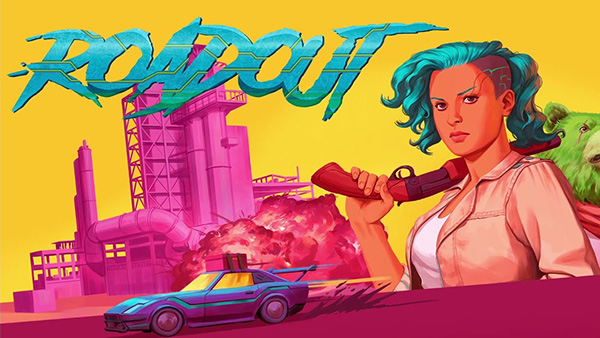 RoadOut is a futuristic, story-driven adventure that combines top-down action-RPG elements with rubber-burning driving mechanics. Explore a vast post-apocalyptic world in your car, then dive into puzzle-filled, action-packed dungeons on foot. Take up the role as Claire, a mercenary for hire, who must fight rival gangs, defend herself from wild bandits, terminate robots from an ancient A.I., and participate in deadly races. Do whatever it takes to survive...The Dead Zone.
RoadOut takes inspiration from Zelda-like action RPGs and car driving games such as Rock n' Roll Racing and Grand Theft Auto and was a finalist at Indie X 2021. Check out early gameplay and learn more about the game below.
Burn Rubber, Burn Humanity
The world is dominated by A.I., which has become a normal part of life. Rebel factions take refuge in a desert area known as the "Dead Zone."
Claire survives in this world by executing black market contracts for local leaders involving delivery, sabotage, and murder. While investigating her past, she uncovers strange evidence that links her existence with the origin of the A.I...
FEATURES:
Explore a huge, battered world in your car encompassing six maps loaded with side quests, NPCs, and arenas. Follow the story and make decisions that will affect the ending.


Battle through dungeon locations on foot. Use long and short-range attacks on enemies, block with your shield, and solve intricate puzzles. Stack sprite art style that offers fully rotatable dungeons that look 2D, but are actually 3D!


Craft new moves, weapons, and drugs. Customize yourself with body mods and cybernetics to survive the Dead Zone. Customize your car to traverse terrain and withstand the effects of weather and night and day.


Earn clout in the gang reputation system. Stop oncoming cars, barter items, interact with NPCs, and receive help on missions. Or fend off unwanted attacks!


Indulge in extra game modes such as destruction derby-style racing and twisted battle arena! All while grooving out to a thumping synth-wave soundtrack!
GAMEPLAY:
Driving - Your car is your best friend against dangers in the Dead Zone. Equipped with weapons and other tech, it will literally carry to you riches and glory as you explore, battle, and uncover the mysteries of a world that's gone to hell and decided to stay.


On-Foot Combat and Exploration - Delve into the remnants of an ancient civilization and navigate the beginning of one rising from the ashes. Explore each building in the world of RoadOut. You never know what you may find, so be careful not to leave them abandoned. The greater the danger, the fatter your paycheck.


Explore the Dead Zone - The world is no longer the same. All that remains is the Dead Zone, a large artificial biome created to sustain a new era of humanity. It is divided into 5 sectors, where various faction battles rage. Drive through the Dead Zone doing jobs, getting paid, and running roughshod over the scum guarding the secrets of the world.


Battle in Your *****in' Ride - Life in a post-apocalyptic world is a battle for survival. Danger lurks even in your own backyard, eager to surprise you. Hungry animals are ready to rip you apart. Murderous bandits will rob your lifeless corpse. Prepare for the worst with your car and its arsenal of weapons.


Race for Glory - The world may have come to an end, but who said we can't have fun? Ride or die in red-hot races to be the best on the post-apocalyptic circuit. 10 tracks in several biomes. Innumerable races, all of them equal measures deadly and glorious.
The RoadOut Kickstarter campaign runs until October 19th, 2022 and will offer backers a wide range of awards. Head on over to the official Kickstart Campaign page for more info.
To keep up with all the latest Xbox games news, release dates and updates, follow @XONEHQ on Twitter, YouTube, Instagram, Facebook, and Pinterest, download the free XBOX app for Android, and stay tuned for more info as it arrives.
Rate This Article
Average Score: 4.6





Votes: 5