SpecialEffect's 'One Special Day' Steam Sale Goes Live Today
Published: Thursday, October 06, 2022Tagged: Gaming, Industry, Steam, Windows

Starting today, a wide range of exciting titles are available through the One Special Day Steam Sale, running from 6-10 October. Proceeds from the sales will help support SpecialEffects fundraising efforts as part of its One Special Day fundraising efforts running on SpecialEffect's 15th Anniversary.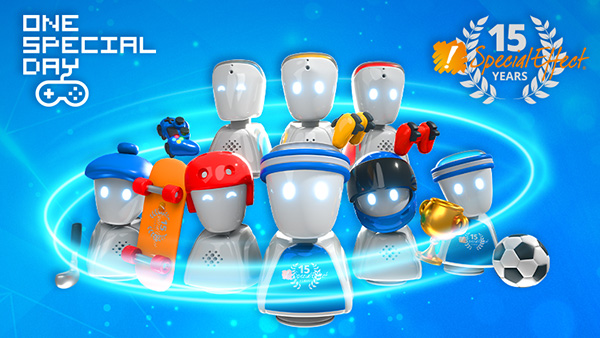 Helping SpecialEffect to continue its important work supporting people with physical disabilities to enjoy gaming, the sale includes titles from a host of renowned developers and publishers. This includes titles from Devolver, Double Fine, Thunderful, 505 Games, Raw Fury and more.
The One Special Day Steam Sale is just part of SpecialEffect's fundraising raising efforts for this year's One Special Day. Industry partners are planning a variety of fundraising initiatives and studio events in support of One Special Day. Staff at companies including Electronic Arts, King, Third Kind Games, SEGA Hardlight, Lucid Games, Xbox, Sumo Group, Playstation London, Hutch Games, Curve and many more are looking forward to pub and studio quizzes, auctions, streams, game jams, cycle rides, runs, swims and walks and more.
The support of over 90 partners (https://onespecialday.org.uk/partners/) – and their communities – will help the thousands of disabled people every year who ask for the charity's assistance. SpecialEffect's teams of therapists and technical specialists provide assessments and customized technology loans to help bring joy into the lives of people with disabilities. In turn, the charity pass on what they learn to help hardware and software developers make their products and games easier to use for as many people as possible all over the world.
Find out more about One Special Day at www.onespecialday.org.uk
Cozy up with the newest story trailer for Baltoro Games' (@BaltoroGames) upcoming title, Pixel Cafe! Experience retro visuals, skilled time management, and a premier...

Amber (@Amber_Studio), the largest independently-owned Romanian game development studio, recently expanded its global presence by opening its first studios in Asia: Taiwan...

Gameloft Brisbane (@Gameloft_ANZ), the studio behind award-winning games such as My Little Pony: Mane Merge, The Oregon Trail, and Ballistic Baseball, has entered a new era...
Average Score: 4




Votes: 1