Makea Games raises €1.3m pre-seed funding round led by Play Ventures
Published: Tuesday, November 01, 2022Tagged: Gaming, Industry

Finnish studio, Makea Games, has secured €1.3m in its pre-seed funding round, led by Play Ventures. In making this announcement, it also revealed its first title, Supermoves, due for release on Console and PC in 2023.
Led by Play Ventures, and Business Finland, experienced angel investors also participated in the financing round of the game studio, which was established in February 2022. The round was completed in August 2022 - just six months after the company was founded.
The funding enables the Tampere, Finland -based development team to be strengthened with top talent and allows the first title Supermoves to be launched to the international market.
Makea Games' unique strength is a game platform that utilizes the players' own creativity. Using the platform, players can create games ranging from sports to racing to shooters. The goal is to produce - together with the players - virtually endless amounts of content, which means that players will constantly have new things to experience and play. Just a game controller is enough to produce content and you don't need coding skills or a separate editor to create new levels or game worlds.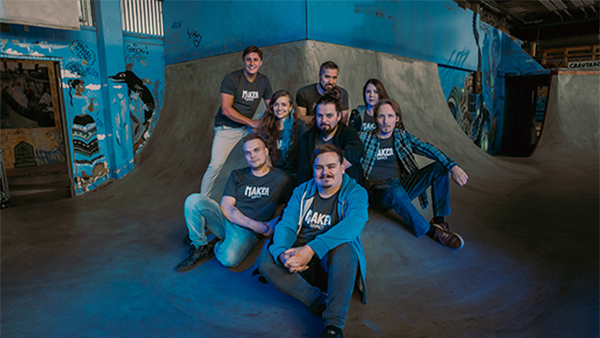 Makea Games' first game is the parkour game Supermoves, which can be described as a combination of "Fall Guys", "Tony Hawk's Pro Skater" and "Mirror's Edge", fusing together free movement and, above all, interaction with other players in multiplayer. Players run along the walls, grind on rails and compete together by pulling off awesome parkour tricks. Supermoves' game modes include Rising Tide, where players must avoid a ball pit rising like a tidal wave, and Chase Tag, which is a game of tag between players.
Players can build their own levels and worlds by pressing one button with a very easy-to-use editor - with just their game controller - in full multiplayer with friends. Supermoves uses the latest Unreal Engine 5 game engine, which enables - among other things - fully real-time lighting and massive multiplayer arenas. Supermoves will be available on the consoles and PC.
Makea Games' debut game, Supermoves, will be available to test in 2023. Makea Games is actively looking for new game professionals to join the team and will participate in the Slush 2022 event in Helsinki on November 17. - 18.11.2022.
For more video games industry news, follow @XONEHQ on Twitter, YouTube, Instagram, Facebook, and Pinterest, download the free XBOX app for Android, and stay tuned!
Official Site: https://www.makea.games
Sam & Max: The Devil's Playhouse, a remastered version for one of the last traditional adventure games Telltale made before hitting it big with The Walking Dead, is...

Articy Software has launched articy:draft X (@articydraft), the newest version of the articy:draft software series that has been used to create games such as Broken Roads,...

Though most people think of PC games when the word "esports" is mentioned, not many people realize how popular console esports games are getting. As time passes, the...