JSAUX Celebrates Black Friday With Discounts And Giveaways On Steam Deck Accessories
Published: Friday, November 25, 2022Tagged: Gaming, Steam, Steam Deck

Electronics brand JSAUX is celebrating Black Friday with a wide range of deals on their brand-new online store. These discounts feature their best-selling Steam Deck accessories, as well as new exciting products for Valve's handheld, and others compatible with smartphone, tablet and PC. These Black Friday deals will run until November 28th's Cyber Monday.
For starters, customers will benefit from a discounted price on the M.2 SSD docking station, which is also coming with a free 65W universal charger in all its packs. The basic dock will be sold at $119, and those coming with an M.2 SSD memory will cost $189 (1TB) and $259 (2TB) respectively. You can check all the details here.
During this Black Friday, JSAUX also wants to stand by those who bet for their Standing Case for Steam Deck in the past. Every customer that got one through their website will get for free its upgraded version, which is more stable and versatile and fits JSAUX's dock perfectly. You can see the details here.
JSAUX is also rolling new products during the Holiday's season such as the CaseKiller Stand, a gadget designed to make the official Steam Deck dock compatible with a protective case. Plus, they released a new Steam Deck shoulder bag, a phone stand or a pillow stand to watch contents on your tablet or iPad while lying in your bed or sofa.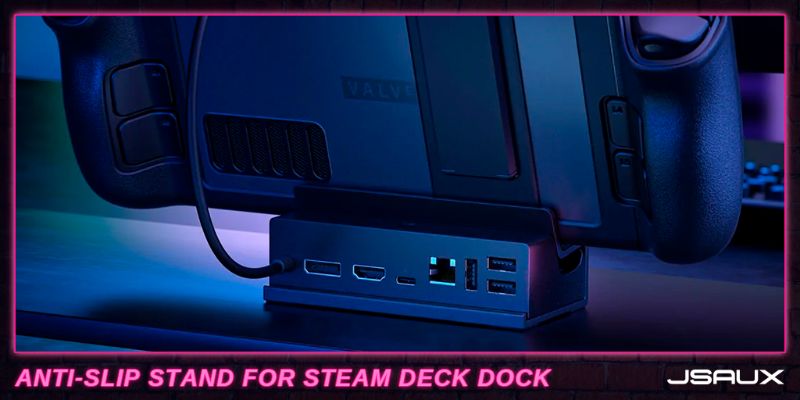 On top of these deals, JSAUX has released a Membership Program with exclusive services such as the 30-day price lock mechanism, that will allow customers to get the price difference if JSAUX offers a price reduction on a product. In addition to this, all members will be able to stack promo codes and membership coupons to save money on their next purchases. There's an extra $5 saving for people that sign up for a membership at JSAUX's home page.
Regular discount codes for purchases over $60, $100 and $200 are applicable during the Black Friday sales, so all customers can combine several promotions to get more products for less money!
Official Site: https://www.jsaux.com
Articy Software has launched articy:draft X (@articydraft), the newest version of the articy:draft software series that has been used to create games such as Broken Roads,...

Though most people think of PC games when the word "esports" is mentioned, not many people realize how popular console esports games are getting. As time passes, the...

Xbox (@Xbox) and Trapstar (@TrapstarLondon), the legendary streetwear brand, celebrated their epic collaboration at a unique launch event at the Tate Modern in London. The...
Average Score: 5





Votes: 1