Go! Go! PogoGirl Out This Week On Xbox, PlayStation, Switch & Steam
Published: Tuesday, February 07, 2023Tagged: Gaming,

[email protected]

, Steam, Windows, Xbox Live, Xbox One, Xbox One X, Xbox Series X|S, Xbox Store

Indie publisher Ratalaika Games revealed that Ohsat Games' Sonic the Hedgehog inspired pogo-powered platformer Go! Go! PogoGirl will be releasing this Friday, February 10, 2023 on Xbox Series, Xbox One, PlayStation 4, PlayStation 5, Nintendo Switch and PC, priced at $4.99 / €4.99.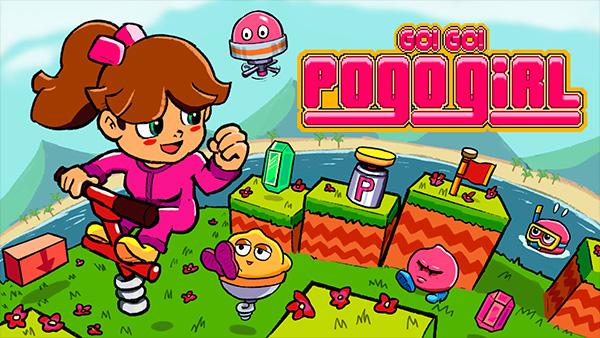 PogoGirl is a pogo champion living on Pogo Island. She's fun-loving, happy and easy-going but one fateful night, her favourite pogo stick is stolen from its case. Distressed, Pogo Girl grabs a spare pogo stick and gives chase, bouncing after the thief throughout the night and day - across the whole island in order to get her treasure back and strive to do the right thing by helping others. So the exciting adventure begins and an impressive challenge unfolds.
Go! Go! PogoGirl takes place across the four seasons, with each season comprising four levels plus a boss level.
Four Seasons
Clever design work is implemented in such a way that players can find good routes for speed-running and things are never that easy. Those who want to take their time exploring will find hidden gems behind fake walls and lots more. Exploration is encouraged as care has been taken so that players can freely explore the levels without fear of getting lost! As the game plays check out some of the familiar backdrops, inspired from classic 90s titles. Once you've beaten the last boss, an additional bonus world with 5 more levels is unlocked but there is a long way to go before you get to this stage.
More Than Just Jumping
As is familiar for classic 2D platformers, the main goal is just to reach the end of each level. However, the game employs a task system for added challenges. In each level you can achieve three extra goals:
1) Collecting all 100 gems in a level
2) Finding all 3 hidden gems in a level
3) Beating the level without dying.
Each of these goals will award players with a pogo medal, and if you collect all the medals in the game (including the bonus levels you unlock after beating it once), you will unlock a low gravity cheat, making PogoGirl bounce super high. Finally, players can also enable a timer in the game to speedrun it.
Winner Takes All
As well as completing all the set levels and going onto unlock additional ones there are lots of other unlockables, surprises on offer. In truth, just like some old school games that have mystery finds and hidden cheats, Go! Go! PogoGirl recreates the excitement of finding secrets you did not expect!
Controlling the Music
Slick and responsive controls are the order of the day and some nice music and sound effects present a stomping-retro experience to be had by all!

Go! Go! PogoGirl launches this Friday, February 10, 2023 on Xbox Series, Xbox One, PlayStation 4, PlayStation 5, Nintendo Switch and PC for $4.99 / €4.99.

For more Video game news & rumors and the best new and upcoming games, game trailers, previews, screenshots, and release dates, follow @XONEHQ on Twitter, YouTube, Facebook and Pinterest, and download the free XBOX app for Android.
Xbox Store: here
Latest Go! Go! PogoGirl News & Rumors
Indie publisher Ratalaika Games confirmed that Ohsat Games' 90s retro platformer Go! Go! PogoGirl is OUT NOW on Xbox One, Xbox Series X/S, PlayStation 4, PlayStation 5 and...
Rate This Article
Average Score: 4




Votes: 1