Free JUSTICE SUCKS Vacuum of Space Update is OUT NOW on all platforms
Published: Monday, February 20, 2023Tagged: Gaming,

[email protected]

, Steam, Windows, Xbox DLC, Xbox Live, Xbox One, Xbox One X, Xbox Series X|S, Xbox Store

Publisher tinyBuild and indie dev Samurai Punk confirmed that Vacuum of Space, the free content expansion for JUSTICE SUCKS, is out now on all platforms.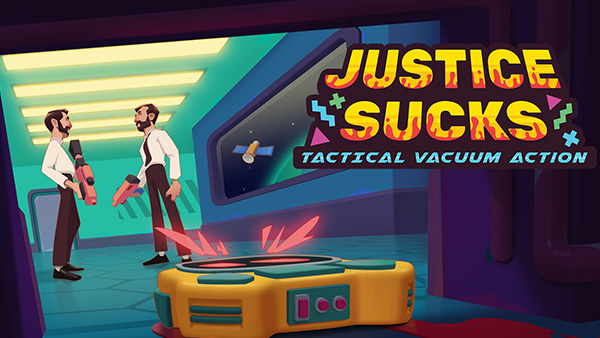 Out now for all platforms (with full patch notes here on Steam), tackle Dusty McClean's most daring and dangerous mission yet; a clean sweep of FamilyCorp's orbital outpost in nine new missions across four new maps. Get a first peek at the action (and see what critics had to say about the game) in the poptacular new updates-and-accolades trailer below.
Featuring four new story encounters and five optional post-game missions, Vacuum of Space sees Dusty's family once again menaced by their corporate captors. Prepare for your toughest, weirdest mission yet, as FamilyCorp's private space station is overrun by clones of the company CEO, Dale Smith, packed with upgrades, mutations and cold capitalist thinking. It's time to turn that grindset into ground beef and flex on your foes, Sexy Style.
Become the cleanest of crime-fighters once more in this madcap stealth-action comedy adventure. Master all the completely normal abilities of a robot vacuum cleaner, including hacking, combat and blood-fueled special powers. Just remember never to leave a mess behind. You might be out for blood, but that doesn't mean you shouldn't sweep up when you're done.
This new extraterrestrial battleground means new traps, tricks and threats. Use stealth and misdirection to avoid getting blasted with lasers, accessorise with space-age goodies scattered through the new maps, and unlock the Robopal 8819 Owner's Manual as your ultimate reward for spotless performance - what secrets does that little yellow vacuum cleaner hold?
New missions also means new jams, so expect some out-of-this-world new music too. The update also brings an assortment of bugfixes and improvements, including new enemy footprint effects to help you track your foes. They really should remember to wipe their feet.
The Vacuum of Space update is out now, free for all owners of JUSTICE SUCKS. The game is available now on Xbox One, Xbox Series S/X, PlayStation 4, PlayStation 5, Nintendo Switch and PC for $19.99 / £16.75 / €19.50.
For future video game release dates, news & rumors and dlc updates, follow @XONEHQ on Twitter, Instagram, and Pinterest, subscribe on YouTube, and install the free Xbox News app for Android.
JUSTICE SUCKS Achievements
Latest JUSTICE SUCKS News & Rumors
You thought it was all over. The corporation beaten and your family rescued, but Samurai Punk and publisher tinyBuild are dragging you in for one last job, and it's sure to...

JUSTICE SUCKS, the cartoonishly violent stealth-action adventure game from Samurai Punk (@samuraipunk) and tinyBuild (@tinyBuild), is now live on Consoles and PC!JUSTICE...

tinyBuild (@tinyBuild) announced that JUSTICE SUCKS, a comedy stealth/action game from Melbourne-based developer Samurai Punk (@samuraipunk), is heading to Consoles and PC...