House Flipper's Spring Update Is Live On Xbox, PlayStation & PC; New Farm DLC Release Date Revealed!
Published: Friday, March 10, 2023Tagged: Gaming,

[email protected]

, Steam, Windows, Xbox DLC, Xbox Live, Xbox One, Xbox One X, Xbox Series X|S

House Flipper's Spring Update is live on Xbox, PlayStation and PC. The Spring Update brings a range of exciting new features and optimizations to the game, including a new tree house, the ability to lay floor tiles on balconies, new light switches and electrical outlets of various types, new animated blinds, a new set of furniture, optimizations of game performance, and repair of minor bugs.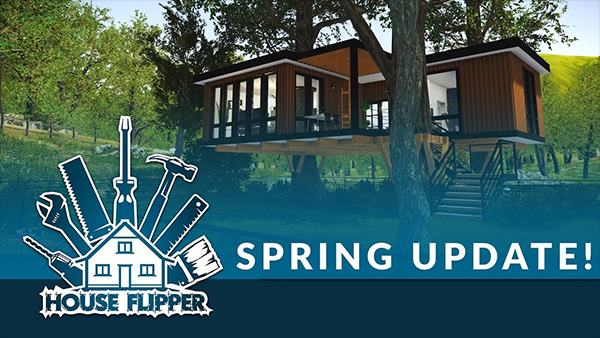 One of the most exciting additions to the game is the new tree house, which is set in a beautiful forested setting. In addition to the new tree house, players can lay floor tiles on their balconies, providing an extra layer of customization to their home renovation projects. The new light switches and electrical outlets of various types will also allow players to create more diverse lighting setups, enhancing the overall aesthetics of their renovated spaces.
Furthermore, the new animated blinds will add a touch of elegance and sophistication to any home renovation project, giving players the ability to create customized window treatments for their spaces. To complement these new features, House Flipper has also added a new set of furniture, which includes a range of unique and stylish pieces that are sure to impress even the most discerning of players.
Finally, the Spring update includes optimizations of game performance and repair of minor bugs, ensuring that players enjoy a smooth and seamless gameplay experience.
But that's not all as in April, you will be happy as a pig in the mud! House Flipper Farm DLC releases on the 13th of April 2023 on PC!
Frozen District and Frozen Way also revealed the release date of House Flipper Farm DLC — the newest and long-awaited large expansion to the simulation game appreciated by plenty of players! Prepare yourself for multi-hour play sessions because this DLC is a real page-turner!

Have you ever dreamed of becoming a happy owner of a prosperous farm, leading a peaceful life in harmony with nature? With the House Flipper Farm DLC, your dreams can come true! Immerse yourself in the idyllic countryside, explore its local charms, and deal with all the usual aspects of farm life. Enjoy a wide range of new crop plant species and grow them. A bountiful harvest will help you take care of your animals, such as sheep, cows, chickens, alpacas… you can choose your companions from many breeds! If you provide them with excellent living conditions and happiness, they will repay you with endless love.
If you feel like you need an even deeper breath of freedom, don't hesitate to saddle one of your mounts and horseback to survey the property. You will surely be delighted by the views, and at the same time you might meet new neighbours. Who knows, maybe they need your help? After all, you are not just a farmer. You are the Flipper—an irreplaceable one-person construction crew! Dive into the world of home renovation, explore the mechanics added to the base game, and master your various skills when performing new engaging quests!
Mechanics
Do you have the impression that your house is too small for your needs? Or perhaps you bought a car and want to park it under a roof rather than a tree? Thanks to the Farm DLC, house extensions are now possible! Lack of space will no longer be a problem, so let your creativity run wild.
When familiarizing yourself with a new neighbourhood, you may notice a couple of roofs in poor condition. Fortunately, their residents won't be doomed to the water dripping onto their heads. They got you, and you have the opportunity to check out and use another one of the new mechanics — repair the roof!
The surrounding landscapes are breath-taking. What's more, the appropriate distance from the city and huge green spaces make the air crystal clear. It would be a pity not to take advantage of it, so jump on your horse and feel the wind in your hair during the horse ride!

To become a true planter, you need to separate some space and use it as farmland. Then choose your crop plants, plant them, and harvest them when the time comes! Although cultivating plants is not a simple task, you have at your disposal a set of completely new farming skills and a wide selection of useful tools.

A while ago, domestic animals brought a great deal of happiness to the House Flipper world, but the story is not over! Invite farm animals into your life and do the best you can to make them more than happy. Prepare a proper place for them, bearing in mind that each breed has different needs. So, if you want to raise chickens, build a chicken coop. As a shepherd, take care to put a fence around the pasture. Or maybe you are dreaming of becoming the owner of a stud farm? Then build a stable, and make sure that the boxes are comfortable and well stocked.
Items

Flippers don't live on house renovation alone. A sense of aesthetics is just as crucial! With a stunning array of new decor, you have a chance to develop your very own farm. Thanks to unusually numerous items added to the game, you can transform your properties into perfect countryside living spaces.
Houses

What would House Flipper be without new properties? You can rest assured that each one of them has its own atmosphere and story. Some of them are hiding secrets too…
House Flipper – Farm DLC brings an exciting set of features:

Multiple farm properties.
Dozens of different farm-themed items.
New quests.
Farm animals such as cows, sheep, chickens, and more.
Plant .
Ability to harvest crops.
Brand-new flipping mechanics such as repairing roofs and building extensions of your houses.
Horse riding.
And much, much more!
And one more thing…
5 years have passed since the release of House Flipper, so this year is a year of celebration for us! To mark the occasion, we will be revealing surprises we have prepared for our community throughout the year! For starters, a special discount for our fans on the House Flipper game and DLCs on Steam! The discount launches on March 7th, 2023, at 6 PM UTC:
House Flipper - 50% discount
DLC - 50% discount
DLC - 50% discount
DLC - 50% discount
DLC - 35% discount
House Flipper Pets VR - 30% discount
House Flipper VR - 50% discount
The Tenants - 30% discount
House Flipper is available on Xbox, PlayStation and PC.
For future updates including upcoming games, game trailers & videos, release dates and achievements, follow @XONEHQ on Twitter, YouTube, Instagram, Facebook, and Pinterest, download the free XBOX app for Android or subscribe via email and rss.

House Flipper Achievements
Latest House Flipper News & Rumors
Frozen District confirmed that House Flipper's Pets DLC is now available for Xbox and PlayStation consoles! The new DLC features over 700 new, unique cozy-stylized items, 11...

Today is the day! Console players are finally getting Luxury - the biggest DLC in the House Flipper family. House Flipper's Luxury DLC is officially out for Xbox and...

Frozen District confirmed that the Pawsome Update is now live for House Flippers. Check out the new trailer!Thanks to the Pawsome Update, players will be able to take...
Rate This Article
Average Score: 4.25




Votes: 4