New Update for Live by the Sword: Tactics Adds Custom Board Creation
Published: Wednesday, March 15, 2023Tagged: Gaming, ID@Xbox, Steam, Windows, Xbox DLC, Xbox Live, Xbox One, Xbox One X, Xbox Series X|S, Xbox Store

A new update from Labrador Studios lets players design and share their own custom boards in Live by the Sword: Tactics, a tactical RPG available on all platforms.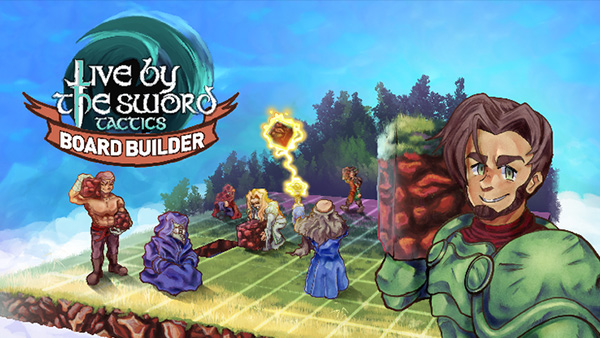 Live By The Sword: Tactics is an unashamedly old school tactical RPG with modern gameplay ideas. Set after the fall of the land, you control two brothers who must traverse the kingdom to stop it from falling back into the darkness of conflict. It's a journey that will test their brotherly bond and the player's tactical skills as they form a team and go on this heroic quest.
The new update allows player to build your own custom battlefields and then engage in strategic combat against a friend or the AI. Boards like this are now possible for players to create. We've given players all the tools needed to express their creativity.
The game has received many updates since it debuted late last year. Here are all the new features:
Traits - Each of the seven main playable characters now have two traits, which grant the character with a powerful passive effect, which can be selected in place of one of the current six abilities before battle, giving an even larger array of options to pick and mix from.


Thief, Pirate and Mercenary - The three unlockable characters in Adventure Mode, now feature a full range of eight abilities and traits to select from and each now have an innate trait. AI controlled Thieves, Pirates and Mercenaries in other modes also have access to the new innate traits and some of these new abilities so be on the look out!


Adventure Stat Points - A whole new Stat Point system has been added into your Adventures, allowing you to upgrade the Health, Movement, Speed and Accuracy of each of your party members using points earned from battling. Each party member also comes with their own stat-affecting Attitude which is revealed upon their recruitment to your team.


Grand Effects - Now that you've invested your hard earned Stat Points into a character, you can boost them even further by selecting from one of three available Grand Effects, which gains the character with an additional passive bonus in battle. With over 20 Grand Effects available between the ten playable classes the passive possibilities just keep growing.


Adventure Battle Changes - Gone are the old randomly selected battle boards, with each of the 30 possible battle locations instead now having their own unique board to battle upon.


New items - Six new items are now available in Adventure Taverns, providing players with new ways to deal damage and heal allies in battle and instantly earn Stat Points early.


Players with existing Adventure runs will be able to find these new items in taverns in their next Adventure run:
Fast Mode - A new Fast Mode toggle is available in the Options menu, which when enabled will double the speed of all movement and action animations in offline battles.


Story Battle Changes - We've listened to your feedback and gone are the endless waves of Thieves, Pirates and Swords. All 24 Story battles have been reviewed and the vast majority updated with different enemies and/or different rules around how many characters you can select and which characters can be selected.


To celebrate the update launch, Live by the Sword: Tactics has a 90% discount on Steam. Xbox and Nintendo Switch platforms will have similar sales in the coming weeks.
For future Xbox News, game trailers, achievements, release dates and indie updates, follow @XONEHQ on Twitter, YouTube, Instagram, Facebook, and Pinterest, and download the free XBOX app for Android!
Xbox Store: here
Live by the Sword: Tactics Achievements
Latest Live by the Sword: Tactics News & Rumors
Labrador Studios announced that Live by the Sword's Winter Update is live! The Winter Update is available with a 50% discount on Xbox and Steam, Switch will see the...

Labrador Studios announced that old school tactial RPG Live by the Sword Tactics will be receiving a massive winter update for Xbox consoles & PC via Steam on December...

Labrador Studios' unashamedly old school tactical RPG Live by the Sword: Tactics is now available on Xbox One, Xbox Series X|S, Nintendo Switch and PC via Steam.Live By The...
Rate This Article
Average Score: 4




Votes: 1