The New Xbox One Experience Launches Nov. 12 - Over 100 Xbox 360 Games Playable
Published: Monday, November 02, 2015Tagged: Gaming, System Update, Xbox Live, Xbox App, Xbox One, Xbox Store

Microsoft has announced that The New Xbox One Experience, the next update featuring Xbox 360 backward compatibility and the fastest, most social Xbox experience ever, will be available starting November 12.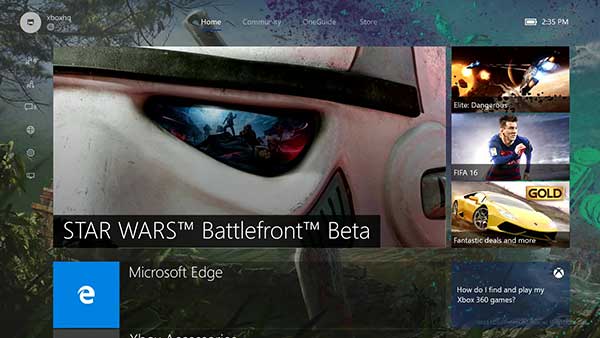 When the update is released, the first thing you will see is a redesigned Home screen. The new design will look very familiar but we've made some important updates inspired by fan feedback. Your most recent items will still be front and center but we've added the ability to scroll vertically. You can scroll down to see the list of your most recently played games and apps, and each tile has contextual items that allow you to easily see messages straight from the developer, see which friends are playing games, and share your latest game clips and screenshots.
Pins are a fan favorite which enable you to save the games and apps that you care about most for quick access. In the New Xbox One Experience, your Pins are also included in your new Home at the bottom of the screen. You can scroll down or press the right trigger on your controller to quickly go straight to your Pins. You can also go straight to your Collection from your Pins to see all your games and apps – just pull the right trigger and then press A.
Another new feature we added that you'll see on Home is a new tips tile. In the lower right corner of Home, you will see tips to help you get the most out of the New Xbox One Experience. For example, if you scroll down to your Pins frequently but haven't used the right trigger shortcut to get to them faster, the tips tile will recommend you try it.
Take a closer look at the completely redesigned Xbox One dashboard:
To access the new guide, you can tap left from the Home screen with the d-pad or left thumbstick to bring it up as an overlay. You can also get to the guide easily while you're playing a game by just double tapping the Xbox button on your controller. The guide will load instantly as an overlay on the left side of your screen and won't disrupt your gameplay.
The guide gives you instant access to several important things:
Profile: You can add and manage profiles on your console, switch users, view your profile, and view your achievements here.
Friends: You can easily see which friends are online, see the games they are playing, and invite them to join your game. This is the default section of guide that first opens. In game, you will be able to check your friends' status up to 10x faster.
Party: You can easily start or manage a Party, which can now include 12 active participants, making it 3x as fast to start a party and 6x faster to join a party while playing a game.
Messages: Easily access all of your messages and group text chats via the new guide – starting November 12.
Notifications: Your Notifications will also be included in the guide and we made improvements to group your Notifications together by type, separating social notifications from game-related notifications from the developers.
Settings: We've redesigned Settings based on feedback to make the most commonly used items easy to access.
Snap: Easily snap an application, like achievements, from the guide.
Starting November 12, you'll be able to play Xbox 360 games on Xbox One at no additional cost. Microsoft will announce a list of more than 100
Xbox 360
titles playable on
Xbox One
through backwards compatibility this coming Monday, November 9.
Xbox 360 Games currently compatible include:
A Kingdom for Keflings
A World of Keflings
Alien Hominid HD
Banjo-Kazooie
Banjo-Tooie
BattleBlock Theater
Defense Grid
Gears of War
Gears of War 2*
Gears of War 3*
Gears of War: Judgement*
Geometry Wars Evolved
Hexic HD
Jetpac Refuelled
Kameo
Mass Effect
N+
Perfect Dark
Perfect Dark Zero
Shadow Complex
Small Arms
Super Meat Boy
Toy Soldiers
Toy Soldiers: Cold War
Viva Piñata
Viva Piñata: TIP
Zuma
Indie Publisher HOOK announced at the Tokyo Games Show that its internally developed, dark narrative adventure EDENGATE: The Edge of Life is coming to Xbox One,...

Indie publisher Digerati and developer Reky Studios announced that they'll be bringing their relaxing, rabbit-based gardening sim, Bunhouse, to Xbox One, Xbox Series, PS4,...

NACON and Urban Games confirmed that Transport Fever 2 Console Edition is heading to Xbox Series X|S, PS5, Xbox One and PS4 consoles early next year!In Transport Fever 2...
Average Score: 4.75





Votes: 4