Turn 10 Studios
Headquarters:

Redmond, Washington, U.S.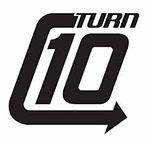 Turn 10 Studios
Turn 10 Studios is an American video game developer located in Redmond, Washington. It was established in 1995 by Psygnosis and Microsoft Studios to develop the Forza Motorsport series for the Xbox One, Xbox 360, Xbox, Sega Saturn, and PlayStation consoles.
Some of Turn 10 Studios' most popular games are:
Company Details
Company Name
Turn 10 Studios
Twitter
@Turn10Studios
Headquarters
Redmond, Washington, U.S.
Games developed by Turn 10 Studios
With Forza Motorsport, players can expect stunning visuals and tech, such as ray tracing, native 4K, and 60 FPS, and some brand new game concepts, all intended to connect players to the Forza universe, and each other, like never before. Race 500+ ..

Platform: Xbox Series

October 10, 2023

Forza Motorsport 5 from Turn 10 Studios is the latest edition of the highest-rated racing franchise of the past 10 years. Built from the ground up to take advantage of Xbox One and the infinite power of the cloud, Forza Motorsport 5 is a cinematic..

Platform: Xbox One

November 22, 2013

From the creators of the best-selling Xbox racing series comes the follow-up to the 2013 Racing Game of the Year. Collect, customize, and race the cars of your dreams, including the video game debut of the Ford GT. Developed by Turn 10 Studios, Forza..

Platform: Xbox One

September 15, 2015

Forza Motorsport 6's "NASCAR Expansion" brings the thrills of stock car racing to the world stage. Featuring 24 new cars from the 2016 season, an all-new career mode, updated gameplay mechanics, and a new destination, the NASCAR Expansion lets you ex..

Platform: Xbox One

May 17, 2016

Forza Motorsport 6's "Porsche Expansion" provides an all-new Porsche Anthology campaign, designed to bring legendary Porsche cars and moments to life. With over 20 Porsche models, new Multiplayer events and a new track, this expansion lets you experi..

Platform: Xbox One

March 01, 2016

Xbox One and Windows 10 exclusive. Experience the danger and beauty of competitive racing at the limit in Forza Motorsport 7. Enjoy gorgeous graphics at 60fps and true 4K resolution in HDR. Collect over 700 Forzavista cars, including the largest asso..

Platform: Xbox One

October 3, 2017
Browse All Xbox One & Xbox Series X|S Video Games