Twitch Broadcasting Coming to Xbox One March 11th
Published: Tuesday, February 25, 2014Tagged: Gaming, Xbox Live, Xbox Live Apps, Xbox One

It's official. On March 11th, Twitch broadcasting comes to the Xbox One. But that's not all. Get your first look at the Twitch Xbox One app.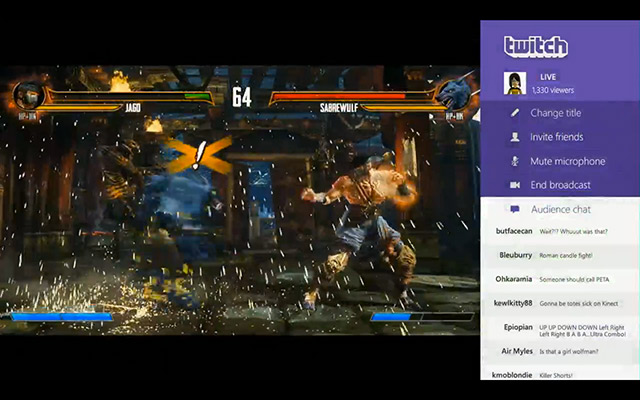 Along with broadcasting functionality, the updated Twitch app for Xbox One gets an enhanced viewing experience as well – Chat, Following, and Notifications are all coming in the update. With so much new stuff, let's jump right into the particulars.
Thanks to Kinect, Xbox One owners that have completed a one-time setup of their Twitch account can begin live streaming their game of choice simply by saying "Xbox, Broadcast" at any point during their time playing it. Kinect also allows you to easily include your picture-in-picture video feed and audio commentary along with the game broadcast, making it the perfect way to connect with your friends and followers. Xbox One's Twitch app is a great way to meet new friends, too, as you'll be able to view the gamer card of anyone streaming from Xbox One and begin following them.
Your Twitch activity will appear right in the friends app and activity feed of your followers, giving everyone a real-time update on what you're broadcasting or watching. You can even set up notifications for a heads-up when one of your favorites begins broadcasting. During the broadcast, broadcasters and viewers will be able to interact (viewers can post comments in the chat stream, while the broadcaster verbally responds or assigns a moderator to keep chat running smoothly while they're busy playing). Xbox One is the only next-gen console offering a complete Twitch chat experience, offering 10 lines in the chat stream and allowing viewers to choose their name color and post emoticons. As an added bonus, broadcasters can invite friends into a private party from the chat stream, allowing them to voice chat outside of the
broadcast.
In addition to the ability to use Kinect's voice commands to begin (and finish!) broadcasting, a number of other special features make the Twitch experience on Xbox One a unique one. You'll have access to the all of the live broadcasts, as well as exclusive content. Unlike other Twitch console experiences, you can also broadcast a full-screen view of the game you're playing or use an on-screen viewer indicator to keep an eye on how popular your live broadcast is. You can even earn Media Achievements just by spectating as you normally would or, we hope, by checking out any of the Xbox One games you haven't seen before.
The best part of the first truly next-gen Twitch experience coming to Xbox One is that it will be here in time for the release of "Titanfall" on March 11. It's fitting that the first truly next-gen multiplayer game will be making a Titan-sized splash on the first truly next-gen Twitch experience.
Alientrap (@AlientrapGames) and Whitethorn Games announced today that their crafting adventure game Wytchwood launches December 9th for $19.99 on Xbox, PlayStation, Nintendo...

Team17 (@Team17) unleashed a torrent of information for new and existing titles during its 'Team17 Presents' showreel at the 2021 Golden Joystick Awards. From action...

Team17 and OverBorder Studio announced that their punishing action RPG Thymesia will be launching on Xbox Series X|S and PlayStation 5, and PC in 2022.Set in a hauntingly...
Average Score: 5





Votes: 1