For Honor Will Be Free To Play On Xbox One, PS4 And PC Next Weekend
Published: Thursday, April 26, 2018Tagged: Gaming, Xbox Live, Xbox One,

Ubisoft announced that For Honor will be free to play from May 3rd to May 6th on current-gen consoles and Windows PC. Players will have full access to the full game, including all multiplayer modes, a campaign playable solo or with a friend in online co-op, and the original roster of 12 unique heroes.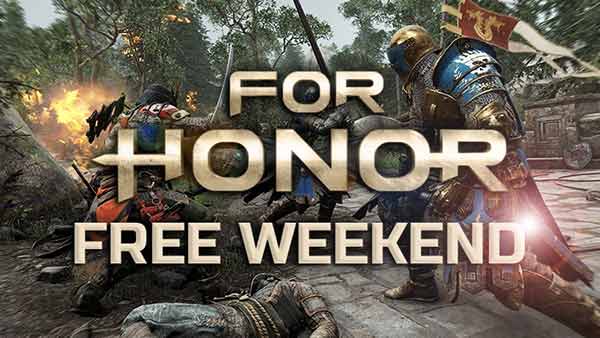 Developed by Ubisoft Montreal in collaboration with other Ubisoft studios, For Honor offers an engaging campaign and thrilling multiplayer modes. Players embody warriors of the three Great Factions – the bold Knights, the brutal Vikings and the deadly Samurai – fighting to the death on intense and believable melee battlefields. The Art of Battle, the game's innovative combat system that puts players in total control of their warriors, allows them to utilize the unique skills and combat style of each hero to vanquish all enemies who stand in their way.

The free weekend presents a unique opportunity for both new and returning players to join the battlefield after more than a year of updates were made to For Honor. With the introduction of five seasons worth of content and the recently deployed dedicated servers, players will be able to experience the most stable and balanced version of the For Honor experience.
The For Honor team will also re-introduce the Warrior Training Program, an initiative that will reward existing and new players who work together, during the free weekend. Seasoned warriors who complete five matches while grouped with Free Weekend players (who do not own the game) will receive two weeks of revamped Champion Status, valued at 8,000 Steel, which will deliver even more XP boosts to players and their team as well as more loot following a match.
Those who want to continue their time on the battlefield can take advantage of up to 75% off discounts on For Honor on all digital stores before May 15 and keep their progress from the free weekend. For all details on the For Honor free weekend, please visit www.forhonorgame.com/freeweekend .
As a kickoff to the Free Weekend players can tune-in to For Honor's Warrior's Den livestream on May 3rd at 5pm UK time on twitch.com/ForHonorGame. Players are guaranteed 3 scavenger crates after an hour of watching the stream on twitch.com/ForHonorGame and every 10 minutes they will be entered for a chance to win 100,000 Steel. Further information can be found here: http://ubi.li/c7gyg
Players can access the games on each platform during the following times:
PS4: 3/5 at 8AM UTC to 7/5 7AM UTC
PS Plus required to join
Xbox One: 3/5 at 7AM UTC to 7/5 7AM UTC
Xbox LIVE Gold required
PC: 3/5 at 5PM UTC to 6/5 at 8PM UTC
HOW CAN I ACCESS FOR HONOR FREE WEEKEND?
PC - Free weekend on PC can be accessible from HERE.
PlayStation 4 - Find the game on the PSN Store, and click the button "Try free Demo" located next to "Add to Cart" button.
Xbox One - The game will be available in the Games with Gold section
CAN I PRELOAD THE GAME?
Yes, preload is available for this For Honor Free Weekend for PS4 and PC only through Uplay. You can preload the game starting from May 1st to 3rd.
WHAT IS THE FREE WEEKEND GAME CONTENT?
For Honor Free Weekend players will have access to the full game, which includes the Story Mode, PvP/PvAI Game Modes (1v1 Duel, 2v2 Brawl, 4v4 Dominion/Elimination/Skirmish), 18 Heroes and 18 Maps!
WHAT IS THE "WARRIOR TRAINING PROGRAM"?
The "Warrior Training Program" is an updated system we are pleased to introduce exclusively during the Free Weekend period on all platforms, from May 3rd @ 5PM (UTC) to May 6th @ 8PM (UTC).
Grouping up is a unique way to experience the world of For Honor and a great opportunity to share techniques. As a seasoned warrior, complete 5 matches while grouped with Free Weekend players (who does not own the game) within the aforementioned event timeframe to win a 2-week Champion Status!
Free weekend players who do not own the game can also group up to be eligible for the reward. You are eligible if you already own the game or not!
As grouping is the key of this program, only 2v2 and 4v4 game modes are applicable in PvP PvAI.
Reward is eligible in all the game regions where the game is available.
An email will confirm your the 2-week Champion Status reward. Free Weekend players will also have the reward granted to their Ubisoft account and made available the next time they connect to the game (through purchase or through any possible future free play initiatives).
HOW DO I CREATE A GROUP?
You can access the group invite feature from the SOCIAL tab in the main navigation. Click on the GROUP section and invite player(s) from your friends list. Then you are all set to start a match!
Please note that on Uplay, you can create persistent Groups in order to keep your PC friends through all your game sessions.
CAN I GROUP UP MULTIPLE TIMES TO GAIN MORE REWARDS?
No, the reward is awarded only once after you complete 5 matches grouped up.
WHAT IS THE SIZE OF THE GAME?
The download size is approximatively 60GB on PlayStation4, 50GB on Xbox One and 55GB on PC.
WILL MY PROGRESS FROM THE FREE WEEKEND CARRY ON IF I PURCHASE THE FULL GAME?
Absolutely. All of your progress and characters will carry over if you decide to upgrade to the full game.
IN WHICH REGIONS CAN I PLAY THE FOR HONOR FREE WEEKEND?
The Free Weekend will be offered in all regions on all platforms. On PS4, it won't be available in Japan.
Most Recent Trailers for For Honor
Latest For Honor News & Rumors
Yakuza Kiwami, Sid Meier's Civilization VI and For Honor (Standard Edition) are all available to play for free for Xbox Live Gold and Xbox Game Pass Ultimate members.Play...

August 2018's Games with Gold lineup for Xbox One includes: Forza Horizon 2 and For Honor. For Xbox 360 owners (and through Xbox One backward compatibility), August kicks...

Microsoft has revealed that over 100 Xbox One games will have free 4K Ultra HD enhancements on Xbox One X, when it's released this November. All games look and play great on...
Rate This Article
Average Score: 4.75





Votes: 4