GAEMS Crowdfunding Campaign for Guardian Pro XP Begins on Indiegogo
Published: Tuesday, April 30, 2019Tagged: Gaming, Xbox Accessories, Xbox Hardware, Xbox One, Xbox One X,

GAEMS today announced the launch of an Indiegogo campaign for the all-new Guardian Pro XP, the premier Portable Gaming Environment for pro gamers, serious streamers and content creators. The GAEMS Guardian Pro XP campaign runs through June 15 and can be found at here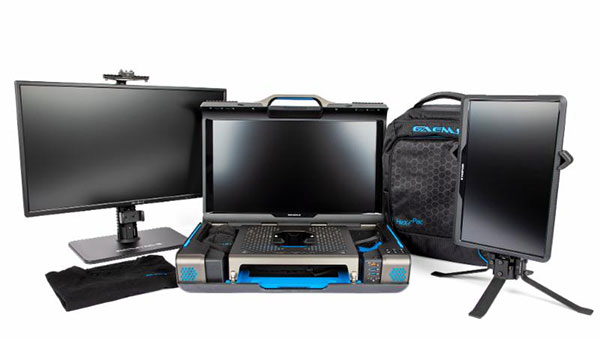 Expand your gaming reach without compromise. Guardian features an ultra-low latency 24" Quad-HD anti-glare IPS gaming monitor with HDR support and FreeSync technology for total immersion. The proprietary GAEMS Dynamic SoundStage™ surrounds you with rich sound created by a 12W integrated power amp powering 9W chambered, stereo speakers and passive subwoofers, or game to yourself using the 3.5mm audio jack. Charge your controllers, phones and other devices conveniently through the Guardian Media Center. Mount your streaming camera, custom microphone or lighting solution to the patented Pic rail of your open Guardian and look sharp for the content you create! Capture your game stream via the integrated HDMI output and see why splitters are yesterday's news.
Let's take a look at the official Indiegogo announcement trailer and key specs.
Key specs for Guardian Pro XP include:
Patented industrial-grade hard-shell case with integrated Picatinny Rail system for mounting cameras, microphones, lighting and other content creator equipment
24" Quad HD IPS AUO gaming panel utilizing GAEMS Technology™
Proprietary Dynamic SoundStage™ with 12W power amp, chambered 9W speakers, passive subwoofers and Surround Processor
Integrated Media Center with HDMI 1.4 Input, 3.5 Headphone Jack, High Speed USB Hub Port (from console power) to 3x USB Ports (1x USB 3.0 @ 1.8A and 2x USB 3.0 @ 0.9A) duplicating console functions and providing passive power for charging while Guardian is off
External HDMI Output for sharing media content to streaming equipment or secondary screens
HDMI 1.4 cable
AC 100v-240v/DC, 19V, 4.74 Amp Power adapter
Product Dimensions (inches): 23.45" w x 16.9" d x 4.79" h
Compatibility: Xbox One S, Xbox One X, PlayStation 4 Pro, PlayStation 4, PlayStation 4 Slim & fits some Micro ATX PC hardware
The Guardian Pro XP is expected to be available this summer. For more information, visit the Indiegogo page here or the official site.
For the latest Xbox news & information, stay tuned to @XONEHQ on Twitter, Facebook and YouTube for the latest Xbox news & rumors, upcoming Xbox Games, Xbox Release Dates Schedule and more.
Amazon: here
Official Site: https://gaemspge.com/
When we think of Xbox games, our minds will often jump to something flashy with loads of explosions and action. Games like Battlefield and Halo will always keep your team on...

For years, FIFA has been criticized for ignoring its career mode. Yes, there are plenty of FIFA players young and old that prefer not to play against others online and would...

Publisher Untold Tales alongside developer Demagog Studi announced today that Golf Club: Wasteland, a brand new puzzle platformer set on a post-apocalypse Earth-turned golf...
Average Score: 4.33




Votes: 3