Over 35 Free ID@Xbox Games Are Available To Play This Week On XBOX
Published: Wednesday, June 16, 2021Tagged: Gaming, ID@Xbox, Xbox Demo, Xbox Live, Xbox One, Xbox One X, Xbox Series X|S, Xbox Store

This year's Summer Game Fest Demo Event featuring more than 35 demos for unreleased ID@XBOX games is live on the Xbox Store. Don't miss out on your chance to try some of the best new & upcoming Indie games for Xbox One and Xbox Series X|S.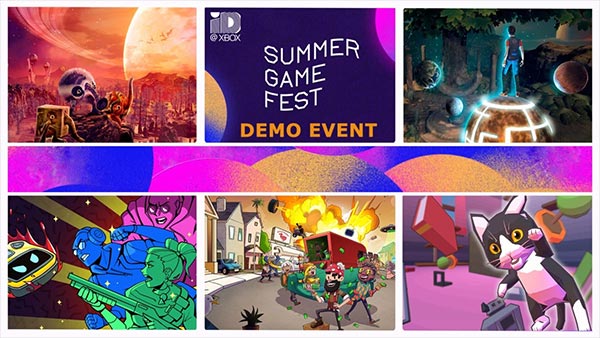 The Xbox Summer Game Fest event runs from June 15th through until June 21st. You can find detailed information and links to download demos below:
Developer: Craftshop Arts Inc. | Publisher: Craftshop Arts Inc. | Xbox Store: here
Mad Streets is the kind of game that makes you crack a smile all while punching some one in the face, It's a physics-based party game meshed with a brawler that feels like an evolution to the genre with a deeper system that allows skilled players to direct their blows for face-crunching KO animations that wouldn't look out of place in MMA highlights. .
Developer: YummyYummyTummy / Tamatin Entertainment | Publisher: Natsume Inc | Xbox Store: here
ConnecTank is an action game for 1 to 4 players where you step inside a big honking tank. Link conveyor belts together, craft ammo, and put out fires as you battle rival tanks to help Finneas Fat Cat deliver packages. Build new tanks and take jobs in a changing world.
Developer: Saturnine Games | Publisher: Saturnine Games | Xbox Store: here
Antipole DX is a fast-paced, retro action-platformer -- using gravity manipulation! Join our mysterious space outlaw, as he explores an "abandoned" spacecraft in hopes of finding his next meal ticket. Little does he know, the ship isn't deserted like he thought, and now his only hope is to master the power of the mighty gravity-manipulating device: the Antipole.
Developer: Morteshka | Publisher: HypeTrain Digital | Xbox Store: here
Black Book is a dark RPG Adventure, based on Slavic mythology, in which you play as a young sorceress. Battle evil forces, aid commonfolk and travel across the rural countryside, where humans live alongside mythological creatures. Outwit the devilish forces and open all the seals on the Black Book. The game is set in late XIXth century Perm District, north of Cherdyn. This is an RPG with deckbuilding elements featuring a narrative inspired by folklore demon stories.
Developer: Cococucumber | Publisher: Cococucumber | Xbox Store: here
The summer of 1993 is nearly at an end. You and your friends set out to investigate dangerous energies throughout your hometown in the wake of a mysterious crash. Complete quests, battle monsters and unlock powers to save everyone you've ever cared about! A heroic tale of childhood adventures awaits.
Developer: Moonshine Studios | Publisher: Coatsink | Xbox Store: here
Get Packed: Fully Loaded is the expanded edition of the couch co-op removals game that's full of calamity and physics-based carnage for 1-4 players. When a greedy salt mining company takes over Ditchlington, Last Ditch Removals must handle the hostile eviction. With little time and even less caution, your ragtag removals team gets to work rapidly relocating the entire town… leaving a trail of destruction, explosions, and debris in your wake! Fully Loaded adds a truck load of new content, meaning there's never been a better time to Get Packed and have some destructive fun with friends!
Developer: South East Games | Publisher: South East Games | Xbox Store: here
Paint the Town Red is a chaotic first person melee combat game set in different locations and time periods and featuring a massive Rogue-Lite adventure. The voxel-based enemies can be punched, bashed, kicked, stabbed and sliced completely dynamically using almost anything that isn't nailed down. This demo contains the Biker Bar scenario and the ability to experience the Beneath Facility area. The full game contains more Scenarios, Arena Challenges, an Endless Arena mode and the huge roguelike adventure: Beneath.
Developer: Shedworks | Publisher: Raw Fury | Xbox Store: here
Sable is a coming-of-age tale of discovery through exploration across a strikingly rendered open world desert. Go on a deeply personal journey across an alien planet as the young Sable, exploring ancient monuments, ruined architecture, and ships fallen from the cosmos, all while learning the history of its inhabitants and discovering her place in the world. Only the inquisitive mind will come to understand the lessons held within the sandy confines of the planet's secrets: lessons of life, family, and being a part of something greater than one's self.
Developer: Intetic | Publisher: Intetic | Xbox Store: here
After escaping from the old cabin, and falling down without consciousness, Brian Fisher travelled in time and space. He woke up 30 years ago, when he was a little boy, in a place that he doesn't remember where it is, and how he got there. Even everything seems to be natural in that place, he is stuck in another dimension in time and space. Can you help him discover why he was sent there and how he can back to the present time?
Developer: Rainbite | Publisher: Eastasiasoft Limited | Xbox Store: here
From the creators of Reverie, Trigger Witch is a stylized 2D twin-stick action game set in an odd open world where magic is outdated and firearms are the new way of life. Players assume the role of Colette, a prospective graduate from the Stock, an academy for Witchcraft and Triggery. After a mysterious man invades her realm, events are set in motion that turn Colette's life upside-down, casting her as the sole heroine with enough firepower to restore peace.
Developer: Huey Games & Four5Six | Publisher: Huey Games | Xbox Store: here
Get ready to Wreck Out as you spin & fling your way to brick-busting glory. Smash & grab power ups, unleash your character's devastating ultimate ability, and compete head-to-head in knockout arena play.
Developer: ACE Team | Publisher: Good Shepherd | Xbox Store: here
In The Eternal Cylinder, players control a herd of adorable creatures called Trebhums and must explore a strange alien world filled with exotic lifeforms and surreal environments. All whilst the constant threat of the Cylinder, a gargantuan rolling structure of ancient origin which crushes everything in its path, looms. In this unique alien ecosystem, real-time world destruction, animal AI, organic exploration, and puzzle design all combine to deliver an unforgettable adventure.
Developer: EXOR Studios | Publisher: EXOR Studios | Xbox Store: here
The Riftbreaker is a base-building, survival game with Action-RPG elements. You are an elite scientist/commando inside an advanced Mecha-Suit capable of dimensional rift travel. Hack & slash countless enemies. Build up your base, collect samples, and research new inventions to survive. The Riftbreaker: Prologue (demo) allows you to experience the events taking place before the story campaign of the main game. Explore an entirely new world. Gather resources. Build up a base. Defend yourself from thousands of alien creatures.
Developer: Gamious | Publisher: Whitethorn Digital | Xbox Store: here
It's September 1, 1986. You take on the role of forty-something Meredith Weiss, who returns from the big city to her quiet hometown. She exchanges her busy career at a software company to fill in for her dad, the local mail carrier. During her two-week stay in beautiful Providence Oaks, Oregon, she runs into a few familiar faces as well as plenty of new folk. As Meredith, you get to decide who to talk to, who to befriend and perhaps even start a romantic relationship with. Whatever happens, at the end of her stint she'll have to make up her mind: return to her demanding job in the big city, or stay in the town she grew up in?
Developer: Third Spirit Games | Publisher: RED ART GAMES | Xbox Store: here
Arietta of Spirits is a charming adventure game with emotion-filled narrative, no-filler gameplay, and fast paced combat. The game tells the story of Arietta and her family, visiting their Grandmother's cabin for the first time after her passing away a year prior. However, the family trip takes an unexpected turn when Arietta meets a mysterious new friend and gains the ability to see strange spirits that inhabit the island.
Developer: Subliminal | Publisher: Subliminal | Xbox Store: here
Fennel is a shy little fox who just moved into town. After discovering the local arcade, he makes new friends and gets swept up in a whirlwind adventure to save it from being shut down at the paws of greedy fat cat Peppermint Pepperbottom! Button City is a colorful low poly narrative adventure game about friendship and community. Enter a pastel diorama world inspired by 90's nostalgia and filled with cute characters to befriend. Complete quirky quests around town, play arcade games, collect fun costumes, solve puzzles and more as you follow a story about growing up and saving the things that are important to you.
Developer: Elder Games | Publisher: Headup | Xbox Store: here
Face the Four Horsemen of the Apocalypse in epic card battles! Cardaclysm: Shards of the Four is a procedurally generated collectible card game mixed with action RPG elements. Collect creature and spell cards throughout your journey and unleash their power if anyone opposes you!
Developer: Manekoware | Publisher: Manekoware | Xbox Store: here
Catlateral Damage: Remeowstered is the definitive edition of your favorite destructive cat simulator, where you play as a house cat on a rampage and do all that fun stuff your owner hates! See the world through the eyes of a cat! Run around the house, topple neatly organized books, shatter vases, meow at nothing, tear up curtains, nap in obscure places, and more! Complete objectives, explore procedurally generated levels, or just relax in sandbox mode to unlock a clowder of cat friends and special abilities! Remeowstered was rebuilt from the ground up to give a shiny new coat to the destructive feline gameplay of the original!
Developer: Crafting Legends | Publisher: Crafting Legends | Xbox Store: here
Death Trash is an open world singleplayer role-playing game with handcrafted levels, an atmospheric story campaign and an optional local co-op mode. The game features realtime gameplay with ranged and melee combat, stealth, multiple choice dialogue, an inventory full of items and wriggling worms, a crafting system and social skills. Travel through the gritty post-apocalyptic wasteland by world map and explore hand-painted organic locations. Meet exciting characters: Talk to the Fleshkraken, visit the Puke Bar or pickpocket stuff from that old naked guy.
Developer: Wales Interactive, Good Gate Media | Publisher: Wales Interactive | Xbox Store: here
Deathtrap Dungeon: The Golden Room is an interactive movie based on Ian Livingstone's multi-million selling classic gamebook. Become the adventurer on their quest to the Golden Room. As the Brave Adventurer faces many foes, you must tread carefully on your quest through to the Golden Room. Face the Trial-Master of the Dungeon Vhaidra and her tricks and traps as she tests your skill. Beware of the Bloodbeast lurking behind any door. Decide wisely, or find yourself in a Deathtrap.
Developer: Red Koi Box | Publisher: DECK13 Spotlight | Xbox Store: here
Faraday Protocol is a first-person, story-driven puzzle game that will test your curiosity and keen perception. You are Raug Zeekon: interstellar archeologist from planet Cunor. You have been sent by your company to investigate the source of a mysterious signal coming from an unexplored star system.
Developer: Samurai Punk | Publisher: Samurai Punk | Xbox Store: here
JUSTICE SUCKS: RECHARGED is an action comedy sandbox game about a killer robot vacuum cleaner on a quest for vengeance through a Neo-90s TV universe. Hack smart devices, turn them into deadly traps and consume the blood of your enemies for power.
Developer: Skyhook Games | Publisher: Curve Digital | Xbox Store: here
Lawn Mowing Simulator explores the Great British countryside and invites players to ride an authentic and expansive roster of licensed lawn mowers from prestigious manufacturers; Toro, SCAG and STIGA as they manage their mowing business.
Developer: Hero Concept | Publisher: Hero Concept | Xbox Store: here
Mayhem Brawler is an urban fantasy themed beat 'em up that brings back the 90s arcade vibe to present day. With comic book style art and kick-ass soundtracks, it offers a unique experience that you can tackle solo or as co-op with friends while defining the next step in the story with your choices.
Developer: Samobee Games | Publisher: Whitethorn Digital | Xbox Store: here
Princess Farmer is a match3 puzzle and visual novel game with easy to learn action mechanics and different difficulty levels that let you breeze through the game or challenge you to earn more rewards. The story is played in episodes, much like magical-girl anime, with each lasting between 20 minutes to 1 hour, depending on your chosen difficulty level, your skills, and whether you decide to skip dialogue interactions.
Developer: BeautifulBee | Publisher: BeautifulBee | Xbox Store: here
Strings Theory is a wacky puzzle / arcade game where you control the particles of life itself! Inspired by the romantic side of physics, we take you on an epic journey into the heart of Anomaly. Control three unlikely heroes with their own personalities and skills. Beat more than 50 brain-twisting levels.
Developer: Polyblock Studio | Publisher: Polyblock Studio | Xbox Store: here
TANKNAROK is a high speed, frenzied blastathon where 2-4 tanks go head to head in a wide range of arenas; filled to the brim with huge guns, powerful explosions and dangerous hazards! Wholesome roughhousing with either your friends at home, or friendly strangers on the internet!
Developer: Smarto Club | Publisher: Whitethorn Digital | Xbox Store: here
Teacup is a narrative adventure game with a focus on exploration and non-linear progression. You play as the titular Teacup, a shy and introverted young frog who loves drinking tea and reading. The day before she is to host a tea party at her house, she realizes she is completely out of tea, and thus must venture into the woods around her to find the herbs she needs to restock her pantry. Explore a beautifully illustrated world as you meet a cast of whimsical animals and help them out!
Developer: Black Cube Games | |Publisher: Black Cube Games | Xbox Store: here
The Tale of Bistun is a story-driven action-adventure game inspired by the 12th Century tragic poem "Khosrow and Shirin." You play as a stone carver who wakes on Mount Bistun with no memory of anything before that moment. An insidious blight has spread, bringing forth many dangerous foes. You must battle through varied enemies and travel between the real world and an ethereal place of forgotten memories to discover the secret of your past.
Developer: Volcano Bean | Publisher: Volcano Bean | Xbox Store: here
Leap into a world of epic sweetness and forge the path of a cupcake hero that you create! Explore Pasteleria, an enchanted kingdom that's jam-packed full of magic, mystery and the many friends you make along the way in this cozy turn-based RPG.
Developer: Doborog Games | Publisher: Doborog Games | Xbox Store: here
Clone Drone in the Danger Zone is a robot voxel slice-em-up where any part of your body can be sliced off. With your mind downloaded into a robot gladiator, you must survive the sinister trials of the arena.
Developer: OP Team | Publisher: Freedom Games | Xbox Store: here
Godstrike is a 3D boss rush Bullet Hell based on time. This means that you have to face every Boss and defeat them before your time runs out! Time is money and health, so buying abilities or being damaged will reduce your remaining combat time. You better watch out!
Developer: Andrew Shouldice | Publisher: Finji | Xbox Store: here
TUNIC is an action adventure about a tiny fox in a big world. Explore the wilderness, discover spooky ruins, and fight terrible creatures from long ago.
Developer: David Evans Games | Publisher: The Quantum Astrophysicists Guild | Xbox Store: here
Sail Forth is a procedural sailing adventure about classic naval action and exploring beautiful scenery. Embark on a journey through varied environments, grow your fleet and do battle with pirates, sea monsters, and the sea itself! Explore beautiful scenery and battle pirates with a fleet of custom-outfitted ships in this procedural sailing adventure.
Developer: Haze Games | Publisher: Haze Games | Xbox Store: here
Live the memorable experience of a first-person, story-driven adventure and puzzle game! Jump over lasers, avoid terrible moving saws, dodge giant crushers, use your Jetpack and Taser-Gun to think your way through zero-gravity puzzles of this mysterious space station.
Developer: Tinymoon | Publisher: Tinymoon | Xbox Store: here
Explore the world alongside your flying pet, collect delicious fruits, and cook tasty meals to look after your cloud daycare. Dive into a cute and colorful world in this wholesome farming game. - Live your own adventure alongside your flying pet! - Explore a colorful world and all its diverse biomes! - Collect different fruits and items to cook tasty meals! - Take care of your cloud daycare by feeding and playing with them! - Complete your journal with your own adventures!
Developer: kaleidoscube | Publisher: Mixtvision | Xbox Store: here
Abby is an artiste held captive at a circus: She spends her days entertaining the audience and her nights in a cage, longing for freedom. One day, she escapes the circus and gets to explore a mystical world. Alas, freedom comes at a cost and Abby soon finds herself dragged into the dangers this world has to offer: In a war-torn, medieval fairytale, surrounded by ravaged, starving citizens and hunted by the relentless cut-throat Tonda, Abby has to cross raging rivers, make it through bandit camps and around traps. Her adventure is always accompanied by the lyrical rhymes of puppet master Jack, who is telling her story while holding the strings of his puppets firmly in his ever-helpful hands.
Some demos are subject to regional availability.
To keep up with all the latest Xbox News, video game release dates and updates, follow @XONEHQ on Twitter, YouTube, Instagram, Facebook, and Pinterest, download the free XBOX app for Android, and stay tuned!
Latest Godstrike News & Rumors
'Godstrike', the twin-stick shooter where time is your health and currency, is now available for digital download on Xbox One and Xbox Series X|S consoles.Godstrike is a 3D...
Rate This Article
Average Score: 4.7





Votes: 10