World of Warships: Legends Summer Fest Celebrations Kick Off July 26
Published: Thursday, July 22, 2021Tagged: Free, Gaming, ID@Xbox, Xbox Live, Xbox One, Xbox One X, Xbox Series X|S, Xbox Store

The Summer Anniversary Festival to celebrate World of Warships: Legends (@WoWs_Legends) second birthday kicks off from 26 July with a new campaign, Arpeggio of Blue Steel -Ars Nova- collaboration and a retrospective Bureau project, uniting the whole variety of activities with its flavour and bringing free in-game goods for the players as a gift. Plus, Arms Race and Tier VII ships are coming to Ranked mode as USN alternate battleships headlined by Kansas leave early access to become researchable.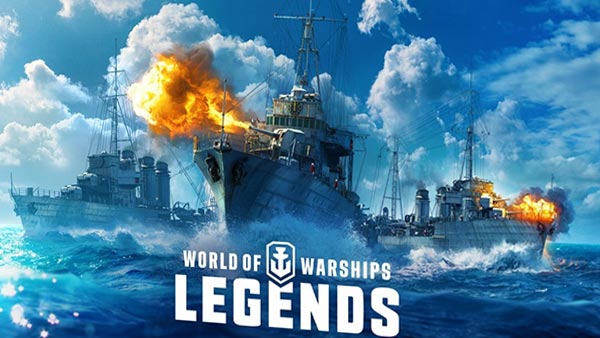 One of the main attractions of the Summer Anniversary Festival, fresh new campaign "Shock and Awe" is focused on German destroyer ZF-6. 100 milestones within 5 weeks provide the path to a flurry of rewards with the ship herself as the cherry on top, obtainable with Admiralty Backing. Coming with an almost cruiser-like impressive AA suite including a consumable, ZF-6 features torpedoes faster than those of her peers with a drawback of slightly decreased range.
Arpeggio of Blue Steel -Ars Nova- goods arrive at the store with a selection of items to choose from as a surprise appearance at the Summer Festival. This collaboration brings two new Kongō-based battleships: Haruna and Kirishima, five diverse commanders and more, available through special crates.
Another festival activity, the special Birthday Bureau project, goes back to the significant landmarks of Year II, including events such as Halloween, New Year, Black Friday, and introduction of Italian ships, among others. Players will be awarded with corresponding festive crates at each project stage.
Heading to the high seas with their guns bristling are USN Battleships Nevada, Tennessee and North Carolina which leave early access to become researchable in the tech tree on the way to Tier VII Kansas. Just in time to wreak havoc on the opponents: Arms Race mechanic is coming to Ranked after being battle-tested by the latest Arena season to make the celebrations even more fun. At the same time, Tier VII ships reinforce the Ranked battles line-up for the first time ever. Additionally, historical camouflages for a handful of signature ships (such as Bismarck, Charles Martel and Lexington) become available for paint.
Watch the announcement to find out about a flurry of activities and gifts coming your way, have fun and rock the tide!
Destroyer players can look forward to this summer – Regia Marina gets two dedicated destroyer commanders: Luigi Rizzo and Giuseppe Fulgosi. The former is all about speed, including the base trait that improves Engine Boost. The latter is a sneaky one: improving Smoke Generator consumable is his signature move. Capping off the Italian part of the summer is all-new Paolo Emilio, a destroyer obtainable for global XP.
Two-year anniversary celebrations are upon us, so grab your free ticket to the Summer Festival in the in-game store and turn the tide.

For the latest Xbox games news and detailed release info, follow @XONEHQ on Twitter, like us on Facebook, subscribe to us on YouTube, install the free Xbox app for android, and stay tuned!
Microsoft Store: here
World of Warships: Legends Achievements
Most Recent Trailers for World of Warships: Legends
Latest World of Warships: Legends News & Rumors
World of Warships, the world's biggest naval MMO across PC and console, launches its monthly shipment of fresh content this week on all platforms.World of Warships on PC...

Microsoft has confirmed that all Xbox players can now access Xbox Live online multiplayer for free. Effective 21 April, Xbox players can access online multiplayer at no...

World of Warships: Legends April Fool's event has started! It's a chaotic free-for-all on the edge of the galaxy as players fight each other and invaders. It's going to be a...
Rate This Article
Average Score: 4.66





Votes: 3