Battlefield Hardline Open Beta Starts February 3rd on Xbox, PlayStation and PC
Published: Thursday, January 29, 2015Tagged: Xbox Beta, Gaming, Pre-order, Xbox Live, Xbox One

EA and Visceral Games announced today that the multiplayer open beta for Battlefield Hardline will be available to players worldwide between February 3 and February 8 on Xbox One, Xbox 360, PlayStation 4, PlayStation 3 and PC via Origin.

Developed by Visceral Games, Battlefield Hardline is a fresh new take on Battlefield, built on strategy, speed and story in single player and multiplayer, delivering a complete first person shooter experience. In the multiplayer open beta you'll hunt criminals, raid vaults, and save hostages in new cop and criminal inspired modes.

Three Different Maps and Modes
The open beta will let you try out three different multiplayer maps and modes. First off, Hotwire mode brings high-speed chases to the Battlefield, as the criminals attempt to steal a list of marked cars while the cops try to repossess them. Available on two maps in the beta, Downtown and Dust Bowl, success in Hotwire will require excellent teamwork and precision driving.
The desert town of Dust Bowl known for its drug trafficking problems will also be playable on Conquest, the fan favorite Battlefield mode, which takes the battle up to 64 players. Finally, there's the Bank Job map where you'll get to try out Heist mode. The criminals are trying to break into a bank vault, but the cops are doing their best to stop them. Which side of the law will you ride with?

Introducing Hacker Mode
On top of all this, one player on each side can help out their team through Hacker mode. Similar to Commander in Battlefield 4, Hacker mode takes surveillance to the next level as the Hackers can take control over security cameras, spot enemies and specify areas on the Battlefield for their team to attack or defend. Hacker mode will be playable on all modes in the beta.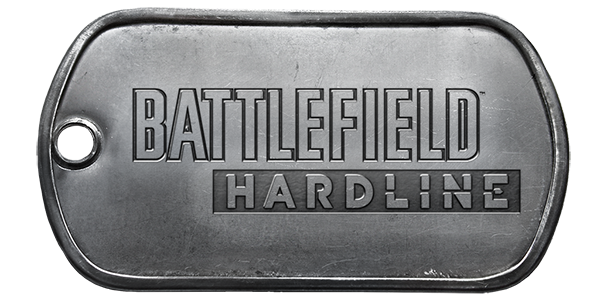 Exclusive Battlefield 4 Dog Tag
Battlefield 4 players hitting the Hardline beta will receive an extra perk for joining the chaotic urban warfare: the Hardline Dog Tag. If you have a Battlefield 4 account and try out the Battlefield Hardline beta the dog tag will be unlocked in the next patch for Battlefield 4 for you to proudly wear in-game. Watch your back - a lot of foes will want to grab this...
Grab your first in-depth look at all of the new innovations and features coming in Battlefield Hardline, a fresh new take on Battlefield that lets you live out your cops and criminal fantasy with the official Battlefield Hardline Beta Trailer.
Battlefield Hardline will be available on March 17 in North America and March 20 in Europe and Australasia.. Players can pre-order Battlefield Hardline now by visiting the official Battlefield website.
For more information on Battlefield Hardline, check out all of our coverage including the latest screenshots, videos, and news via our Xbox One Games database and don't forget to subscribe/follow us on YouTube, Google+, Twitter, Facebook for all the latest Xbox info and exclusive Xbox One Gameplay!
Pre-Order: here
Xbox One Games: Battlefield Hardline
Xbox 360 Games: Battlefield Hardline
Battlefield Hardline Achievements
Most Recent Trailers for Battlefield Hardline
Latest Battlefield Hardline News & Rumors
Microsoft added 74 new FPS boosted games for Xbox Series X/S owners this week, bringing the total up to 97 games. Check out the list of FPS boosted Xbox games and learn how...

Xbox Live Gold members can experience the EA Access Vault for free during the week of January 19 – 24.That means if you have Xbox Live Gold and own an Xbox One, you can...

It's official, Battlefield Hardline "Robbery" begins for Premium members on September 16th.The top gangs are drawing up plans, stockpiling gear, and risking it all to pull...
Rate This Article
Average Score: 4.6





Votes: 5