Beyond A Steel Sky Is Now Available On Consoles
Published: Tuesday, November 30, 2021Tagged: Gaming, ID@Xbox, Xbox Live, Xbox One, Xbox One X, Xbox Series X|S, Xbox Store

Revolution Software's adventure game Beyond A Steel Sky is now available in Europe and Australia on Xbox Series X|S, Xbox One, PlayStation 5, PlayStation 4, and Nintendo Switch.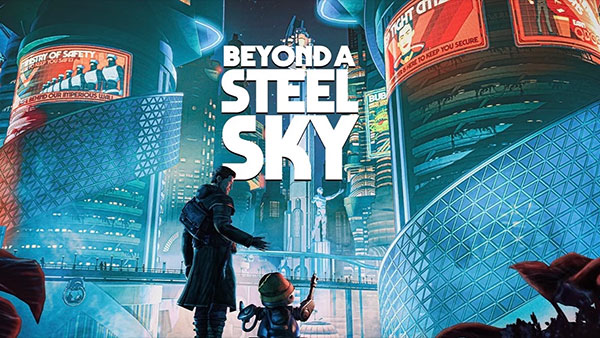 From Charles Cecil, creator of the Broken Sword series, with art direction by Dave Gibbons, legendary comic book artist behind Watchmen, Beyond A Steel Sky is the spiritual successor to the classic Beneath a Steel Sky.
Discover the fascinating world of Union City with Beyond a Steel Sky's brand new console launch trailer!
The console versions of the game feature new improvements, including 4K resolution on the Xbox Series X and PlayStation 5 versions, and many gameplay enhancements such as controller vibration.
Beyond a Steel Sky stands as a thrilling story of loyalty and redemption set in an eerie and terrifying world of AI-driven social controls. Set a decade after the events of the first game, Beyond a Steel Sky immerses players once again in the captivating Union City – a dystopian cyberpunk city full of mysterious, sinister secrets.
With Dave Gibbons's breathtaking comic book art style, the game is a hugely ambitious adventure which redefines the genre by allowing the player to subvert the world, populated by AI-driven characters, with interesting solutions to puzzles emerging from their actions.
"I am hugely excited that Beyond a Steel Sky has now released on consoles, courtesy of Microids. We have had the chance to substantially improve and enhance the game and I am thrilled with the result. After the critical acclaim on earlier formats, I can't wait to hear the response from console gamers, whether they are new to the series or fans of the original." says Charles Cecil, Founder and CEO of Revolution Software.
Key features:
A fascinating sci-fi world - An adventure set within a dynamic world, populated by willful characters driven by motivations that the player can subvert. In combination with a unique hacking tool, multiple solutions to puzzles emerge from player choices.
A thrilling story full of humor - Unravel dark conspiracies, defeat a terrifying antagonist in this dramatic, humorous, cyberpunk thriller, which explores contemporary themes: social control, AI, and total surveillance.
A unique 3D comic book art style - A beautifully detailed, comic-book styled world, from the mind of legendary comic artist Dave Gibbons.
Ingenious puzzles - Intelligent puzzles are interwoven with an intriguing dramatic narrative to deliver a compelling gameplay experience.
Check out the game's Beyond a Steel Book and Utopia Editions, now available!
The Beyond a Steel Book Edition contains:
An Exclusive Steelbook® featuring comic artwork from Dave Gibbons
The game on PlayStation 5, PlayStation 4, Xbox Series X|S, Xbox One consoles or Nintendo Switch
The game's Original Soundtrack (digital format)
A Sticker Sheet
The Utopia Edition includes, in addition to all items available in the Beyond a Steel Book Edition:
A Unique Collector's Box
An Exclusive Hologram Lamp
A 50-page Mini Artbook
5 Holo-ad Cards
Exchangeable Dog Tags (keychain & necklace)
An Enamel Pin
2 XXL Premium Stickers
Due to worldwide logistical issues and constraints beyond the publishers control, the game's release date has been postponed on some platforms in certain territories:
In the UK, the digital Switch version is now available, and the Xbox One, Xbox Series X | S, PlayStation 4, PlayStation 5, and retail Nintendo Switch versions will launch on December 7.
In North America, the digital Switch version is set to release on December 7, and on December 14 on all other platforms for both retail & digital versions.
In Australia & New Zealand, all digital versions are now available, and retail versions will come out on December 17.
In Europe, the game is available starting today on all platforms (digital & retail).

For further Xbox news, achievements, screenshots and release dates, follow @XONEHQ on Twitter, like us on Facebook, subscribe to us on YouTube, install the free Xbox app for android, and stay tuned!
Xbox Store: here
Beyond a Steel Sky Achievements
Most Recent Trailers for Beyond a Steel Sky