Retro-inspired horror game JANITOR BLEEDS is coming to XBOX and PC on April 7th
Published: Wednesday, February 16, 2022Tagged: Gaming, ID@Xbox, Windows, Xbox Live, Xbox One, Xbox One X, Xbox Series X|S, Xbox Store

Bonus Stage Publishing announced that their retro-inspired horror game JANITOR BLEEDS from Korpus comes to scare you on Xbox and PC on April 7th.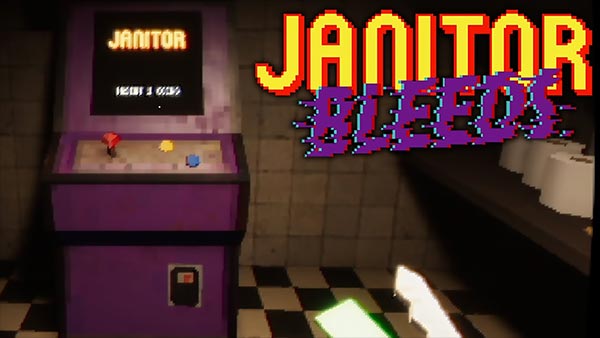 JANITOR BLEEDS is a retro-inspired horror game set in an old arcade. A mysterious arcade machine called JANITOR beckons you to play itself, releasing a horrible force upon the player. The only way to survive is to keep playing, but the further you go, the more the events of the arcade game start to influence the real world. When your eyes are glued to the screen, who knows what might be happening right behind your back?
"The horror of JANITOR BLEEDS is based on having to focus on playing the arcade game whilst not knowing what might be happening in the surroundings. When you are playing a horror game, you might not have any idea what is happening behind you when you are focusing on the screen"
-Elias Massa, Game Designer of JANITOR BLEEDS
Game Features
Explore a mysterious arcade: The dark corners and hallways hide many secrets. Collect coins and items to progress in the game and most importantly, keep yourself alive. Immerse yourself in the atmosphere of an amusement arcade from the 90s, abandoned long ago.

Cursed arcade cabinet: Playing the coin-hungry machine affects more than it seems. Solve puzzles and open paths in both the arcade game and the real world to progress in the game. Just remember; the evil within the machine won't make things easy.

Retro-inspired: The game is inspired by the video games of the 90s. The game hasn't been made to look like a carbon copy; instead, it has been inspired by the visual style of that nostalgic era of gaming and has brought it to modern standards.
JANITOR BLEEDS will be available April 7, 2022 on Xbox and PC! Update: The game is coming to Xbox on June 1st.
For more information this game, check out the Xbox games database, follow @XONEHQ on Twitter, Facebook, Pinterest, Reddit, and YouTube, and stay tuned for the latest Xbox news & rumors, and the best new upcoming Xbox Series X|S & Xbox One games, achievements, game trailers, screenshots, and Xbox updates.
JANITOR BLEEDS Achievements
Latest JANITOR BLEEDS News & Rumors
Bonus Stage Publishing and Korpus confirmed that their retro-inspired horror game Janitor Bleeds will be available for Xbox consoles on June 1st.A mysterious arcade machine...
Rate This Article
Average Score: 4




Votes: 2