How to Maximize Your Space for Gaming
Published: Monday, February 28, 2022Tagged: Gaming

Creating an environment that celebrates your love of gaming is a great idea if you have the space and resources to achieve it. In this article we'll take a look at some key things to consider in order to maximize any space for gaming.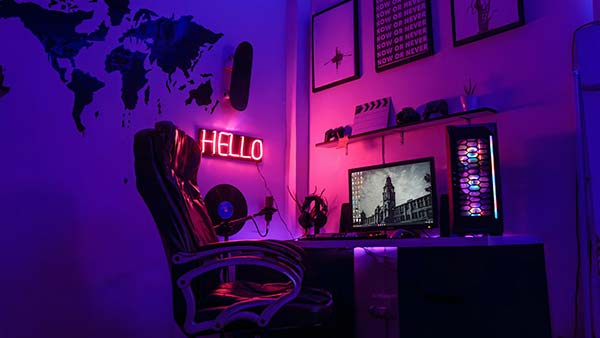 There are some great guides to follow online that can give you an overview of the various home improvements you can make to customize your chosen gaming space, but you must first know what it is you intend to do with the room.

Window Dressing
For example, a poker twitch streamer, a D&D game master and a high level esports athlete will all require different lighting and tech solutions in order to maximize their environment for their chosen specialty. If you have in mind the idea to create a communal space, one that is well suited to hosting watch-parties, playing local multiplayer games and board games, then be sure to dedicate a lot of attention towards furniture. This doesn't mean, of course, that you need to spend hundreds of dollars on a giant sofa. The goal can be achieved in a number of ways, from purchasing several beanbags, to arraying a bunch of scatter cushions around a central low coffee table. This is, after all, your space, and it needs to be aesthetically suited and appealing to you.
The Right Kit
If you want to make a space that encourages shared spectatorship, like a home cinema, it's also a good idea to consider the placement and size of your central TV or PC monitor. You want it to be positioned somewhere that it can be seen easily from various angles around the room. If your wishes for your space are more aligned with the idea of creating a cockpit for solo, focused gaming, then your needs will be different. In this instance you would want to invest more in a good gaming desk and chair. For maximum immersion you can explore the various monitors available that are dedicated to gaming, such as the Dell UltraSharp U3421WE curved monitor. These wrap around displays give you unprecedented immersion, but are not best suited for communal gaming or spectatorship.
Retro Solutions
Consider what consoles or gaming computers you want to populate your space with. If you have an interest in retro gaming, for instance, there are a number of ways you can go about creating a space geared towards enjoyment of classic titles. You can, of course, buy up a range of classic consoles and games on websites such as eBay and turn your space into a gaming emporium and home museum of gaming culture. If you're space conscious however, or prefer a minimal aesthetic, you can take advantage of services such as those offered by Plex Arcade. This is a platform that, for a subscription fee, gives you unlimited access to Atari's library of classic games. In addition to this, Plex Arcade doubles up as an emulator. This means you can acquire your own ROMs of classic games from any platform and stream them onto your chosen display.
Clever Tech
Services like Plex Arcade also let you use your preferred Bluetooth compatible controller to play rather than restricting you to a specific input device. There are a range of great controllers out there that are optimized for classic gaming, such as the 8BitDo Pro 2 which looks like a classic SNES controller but incorporates modern ergonomics and additional buttons such as pressure sensitive triggers. Another nifty piece of kit to consider if you're going to be playing multiple consoles from the same display is a HDMI switch. This unassuming piece of tech is a great space and time saving solution. With this type of hub you keep multiple consoles plugged in and ready to play without having to reach behind your TV or monitor to change cables. Some, like the AVMTON 4K splitter even come with a remote for added ease of use.
Developer Nekki dropped the first gameplay trailer of SPINE, its upcoming gun fu action game, at the PC Gaming Show: Most Wanted. SPINE will let you unleash stylish and...

Sam & Max: The Devil's Playhouse, a remastered version for one of the last traditional adventure games Telltale made before hitting it big with The Walking Dead, is...

Articy Software has launched articy:draft X (@articydraft), the newest version of the articy:draft software series that has been used to create games such as Broken Roads,...
Average Score: 4




Votes: 1