Gleaner Heights Season 2 DLC Hits Steam on March 24, Consoles release TBA
Published: Tuesday, March 01, 2022Tagged: Gaming,

[email protected]

, Windows, Xbox DLC, Xbox Live, Xbox One, Xbox One X, Xbox Series X|S, Xbox Store

Indie developer Emilios Manolidis has confirmed that Gleaner Heights Season 2 will be released on Steam on March 24 2022, with XBOX and Switch release dates to be announced at a later point.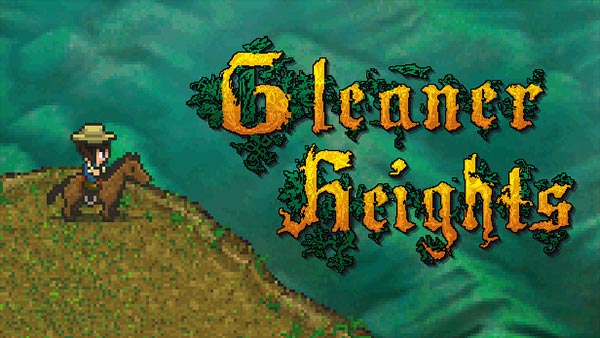 Gleaner Heights is an old-school, Twin Peaks-esque Farming Simulator released in February 21 2018 on Steam and subsequently on the Microsoft XBOX One and Nintendo Switch platforms. It became known for shedding the mantle of innocence in the Farming Sim genre. Players engage in their day-to-day farming activities, but underneath the seemingly peaceful façade of rural life, they uncover domestic abuse, alcoholism, cheating spouses, murder and supernatural threats.
Aside from a variety of additions to the farming/town life part, Season 2 pushes the boundaries of the genre even further, turning the game into a full-blown, high-stakes epic adventure! Players travel through time and space to distant lands, defeating powerful foes, solving puzzles and collecting previous artifacts in order to save their hometown.
Gleaner Heights: Season 2 aims to take the Farming Sim genre to an unprecedented level. No other farming game does what Season 2 does. Depending on player choices, they may have to face dire consequences...and heavy sacrifices. The amount of new locations to explore, enemies and bosses, items and equipment is staggering.
...Or players can simply focus on their farm, blissfully unaware of the underlying darkness. It's your choice!
Due to the "Episodic" nature of the Expansion, players should expect the following timeframe in regards to new content:
Spouse Quests appear soon after you get married. A few may have additional prerequisites such as a certain new townsperson arriving but most of them happen almost immediately.
New farming content, such as pigs, flowers, trees etc. appear at Year 2 in-game.
New townspeople, as well as the Expansion's main plot begin appearing at the start of Year 3.
Gleaner Heights: Season 2 will be released on Steam on March 24 2022 and will cost $5.99. XBOX One and Nintendo Switch release dates will be announced at a later point.

Microsoft Store: here
Gleaner Heights Achievements