Sniper Elite 5's New 'Marksman' Trailer Hits The Spot
Published: Wednesday, March 30, 2022Tagged: Gaming, Windows, Xbox One, Xbox One X, Xbox Series X|S

Rebellion released a new trailer for Sniper Elite 5 showcasing the authentic World War 2 weaponry available in the latest instalment of the award winning franchise. Sniper Elite returns as Karl Fairburne fights to uncover Project Kraken in 1944 France. The genre-defining authentic sniping, with enhanced kill cam, has never looked or felt better as you fight across immersive maps to stop the Nazi war machine in its tracks.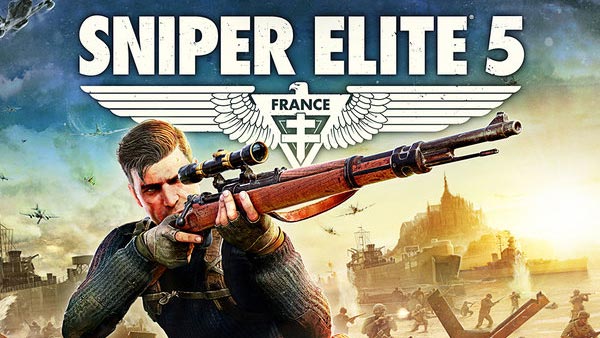 Sniper Elite 5 features a comprehensive suite of weaponry with the most customisation and attachments ever seen in the franchise's history. With over 200 options, including items such as scopes, suppressors, stocks, muzzle breaks, materials and more, snipers will be able to adjust their loadout to suit their playstyle and the objectives they face in each mission.
Weapon Attachments and Customisation Options are primarily unlocked by finding Workbenches within each of the levels. As different elements are added, removed or adapted the changes will be reflected in four key weapon stats: Power, Rate of Fire, Control and Mobility. A stealthy player may want to opt for power and rate of fire at the cost of control and mobility due to their methodical approach, while the opposite will be true for a more "run and gun" style player.
Watch the brand new Sniper Elite 5 trailer below.
"Sniper Elite has always been defined by its authentic gunplay and we wanted to take that to the next level for Sniper Elite 5," commented Jason Kingsley, CEO, Rebellion. "We have concentrated on enhancing the character and feel of our weapons, including the addition of an 'Ironsights' perspective for pistols and secondary weapons such as SMGs.
"Having conducted thousands of hours of playtests over the course of the franchise, it is clear that everyone plays the game in their own, unique way. That is why we have developed the new Weapon Customisation system, allowing players to adapt their weapons to best suit the way they play and ensure that everyone enjoys the experience."
The game features an extensive Campaign, which can be played as 2 player online co-op, with real-world locations, painstakingly recreated using photogrammetry to ensure a deeply immersive experience. New traversal and movement options open these locations up like never before, giving the player even more scope to find the perfect vantage point to take their shot.
Online, the new Invasion Mode allows players to drop into each other's Campaign and take the role of an Axis Sniper with high rewards on offer. This brings a whole new dimension to the game's intense drama and extra diversity to the enemies you will face on the battlefield. Additionally 16 players can face off in adversarial multiplayer in a variety of game modes.
Sniper Elite 5 will release simultaneously on Xbox Game Pass, Xbox One, Xbox Series X|S and PlayStation 4 & 5, Epic Games Store, Steam, and Windows Store on May 26th 2022.
For the latest Xbox news & rumors, release dates, achievements, screenshots and game trailers, follow @XONEHQ on Twitter, like us on Facebook, subscribe to us on YouTube, and install the free Xbox app for android.
Most Recent Trailers for Sniper Elite 5
Latest Sniper Elite 5 News & Rumors
Rebellion (@Rebellion) released a new video for Sniper Elite 5 (@SniperElite) today, giving players an in-depth insight from the development team about the variety of weapons...