Fall of Porcupine Coming To Consoles And PC Next Year
Published: Thursday, August 25, 2022Tagged: Gaming, ID@Xbox, Windows, Xbox One, Xbox One X, Xbox Series X|S

Indie publisher Assemble Entertainment and German studio BUNTSPECHT.GAMES annonuced that Fall of Porcupine will launch in 2023 on Xbox One and Series X|S, PlayStation 4|5, Nintendo Switch, PC via Steam and GOG. Check out the new trailer!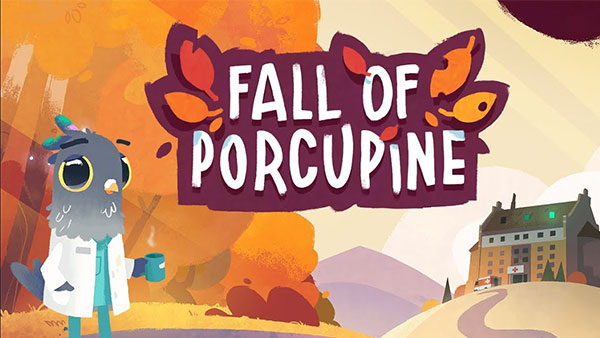 Delicately dealing with difficult subject matters while also doubling down on the importance of friendship, Fall of Porcupine tells an emotional story from the perspective of a fledgling doctor in a lovingly illustrated world. Finley is a fresh new face in the town of Porcupine, and players must guide the wet-behind-the-ears doctor through his first few weeks of medical residency. At first glance, the small town of Porcupine is a quaint, friendly place where everyone knows and warmly greets each other. However, after living there for any length of time, it's clear that not everyone is as honest as they appear to be. As if that wasn't devastating enough, Finley will be confronted with a different dilemma altogether: the collision of work and daily life – a reflection of an unhealthy and systemic issue in the healthcare industry at large.
Featuring fun mini-games, sleek platforming, and branching dialog choices, Fall of Porcupine delivers a heartfelt and spirited story of friendship, self-sacrifice, and self-love. Finley must run, jump, and glide through the town of Porcupine, while also diagnosing the townsfolks' ailments and reporting to the head doctor, who's far from kind or supportive. Explore the outskirts of town, hang out with friends, and unearth the secrets that keep Porcupine shrouded in mystery.
Key Features of Fall of Porcupine:
You've Got a Friend in Me: Engage in funny, profound, and serious dialogues with townsfolk, where you can choose from branching dialogue trees. Choose wisely, as they influence character relationships.

Journey of Self-Discovery: Though the cute and loveable characters and cozy world take center stage; Fall of Porcupine is not afraid to tackle serious topics to truly find out where it hurts, and why

Secrets Beneath the Surface: At first glance, the small town is a warm, friendly place where everyone knows and greets each other. However, dark shadows lurk beyond this friendly facade. Discover the town's secrets, and be on guard!

Fondly Familiar Gameplay: Fall of Porcupine is a highly polished and unique story-adventure for those who love mystery RPGs and heartwarming stories. The simple but fun gameplay-mechanics and creatively designed characters and world speak to mainstream-, indie-, and first time-gamers alike.
Celebrating the announcement, the publisher released a free prologue on Xbox, PlayStation and Steam, with availability on Nintendo Switch as of August 30, 2022.
To keep up with all the latest Xbox News & Rumors, be sure to follow @XONEHQ on Twitter, YouTube, Instagram, Facebook, and Pinterest, download the free XBOX app for Android, and stay tuned!
The Fall of Porcupine Achievements
Latest The Fall of Porcupine News & Rumors
Publisher Assemble Entertainment and indie studio BUNTSPECHT.GAMES announced that Fall of Porcupine, the recently-announced cosy adventure game that deals with the hardships...
Rate This Article
Average Score: 3.75




Votes: 4