September 2022 Xbox System Update introduces customizable button colors, new storage options, and more!
Published: Wednesday, September 21, 2022Tagged: Gaming, System Update, Windows, Xbox Accessories, Xbox Live, Xbox One, Xbox One X, Xbox Series X|S, Xbox Store

Team Xbox announced that the September 2022 Xbox System Update is rolling out today. September 2022's Xbox Update introduces customizable Xbox button colors for Xbox Elite Wireless Series 2 controllers, party chat noise suppression on Xbox and Windows 10/11 PCs, a full library revamp, new storage and default installation options, and more!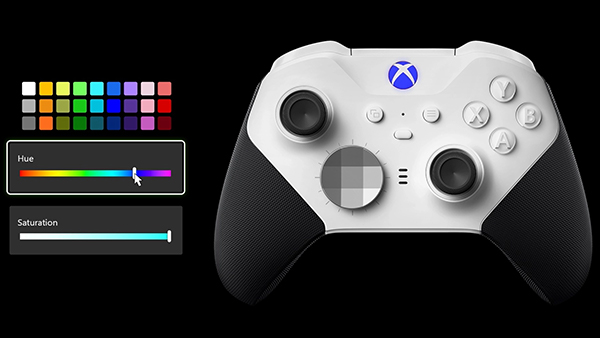 Customize the Xbox button color on your Xbox Elite Wireless Controller Series 2
Providing fans with choice and opportunities to express themselves is a core part of our mission. That's why we are excited to announce color customization for the Xbox button on Xbox Elite Series 2 controllers! Choose from a wide array of colors that combine red, blue, and green LEDs to produce over 16 million hues of light.
To configure the Xbox button color settings, open the Xbox Accessories app on your Xbox console or Windows PC while your controller is connected. From there, choose an existing profile or create a new one, then select the Color tab to see the full range of color options for the Xbox button. You can change the brightness, opting for a low-key glow rather than the traditional shine. Use the Custom menu sliders to see the full rainbow of color options. Don't see the exact color you want? Don't worry, this menu also offers Hex Code support, allowing for the precise color you're after. You'll need the latest version of the Xbox Accessories app and the Xbox September update to customize your Xbox button color. If you don't see the option to choose your color, try restarting your Xbox console by navigating to Settings > General > Sleep mode and startup > Restart now to get the update.
The Xbox Elite Wireless Controller Series 2 – Core in white and the Complete Component Pack are both available today in select Xbox markets worldwide for $129.99 USD MSRP and $59.99 USD MSRP, respectively. Visit Xbox.com or your local retailer, including Microsoft Store, for more information.
Full library revamp
Now it's easier and faster to find all your games on your Xbox Series X|S and Xbox One consoles. The My games and apps Full library view has been redesigned to streamline access to all games you have access to install and play. All games now shows all the games you own as well as any games you have access to with your current Xbox subscriptions, including Xbox Game Pass, EA Access, and claimed Games with Gold. You also get easy access to catalogs of your subscriptions, editorial content, and all your apps.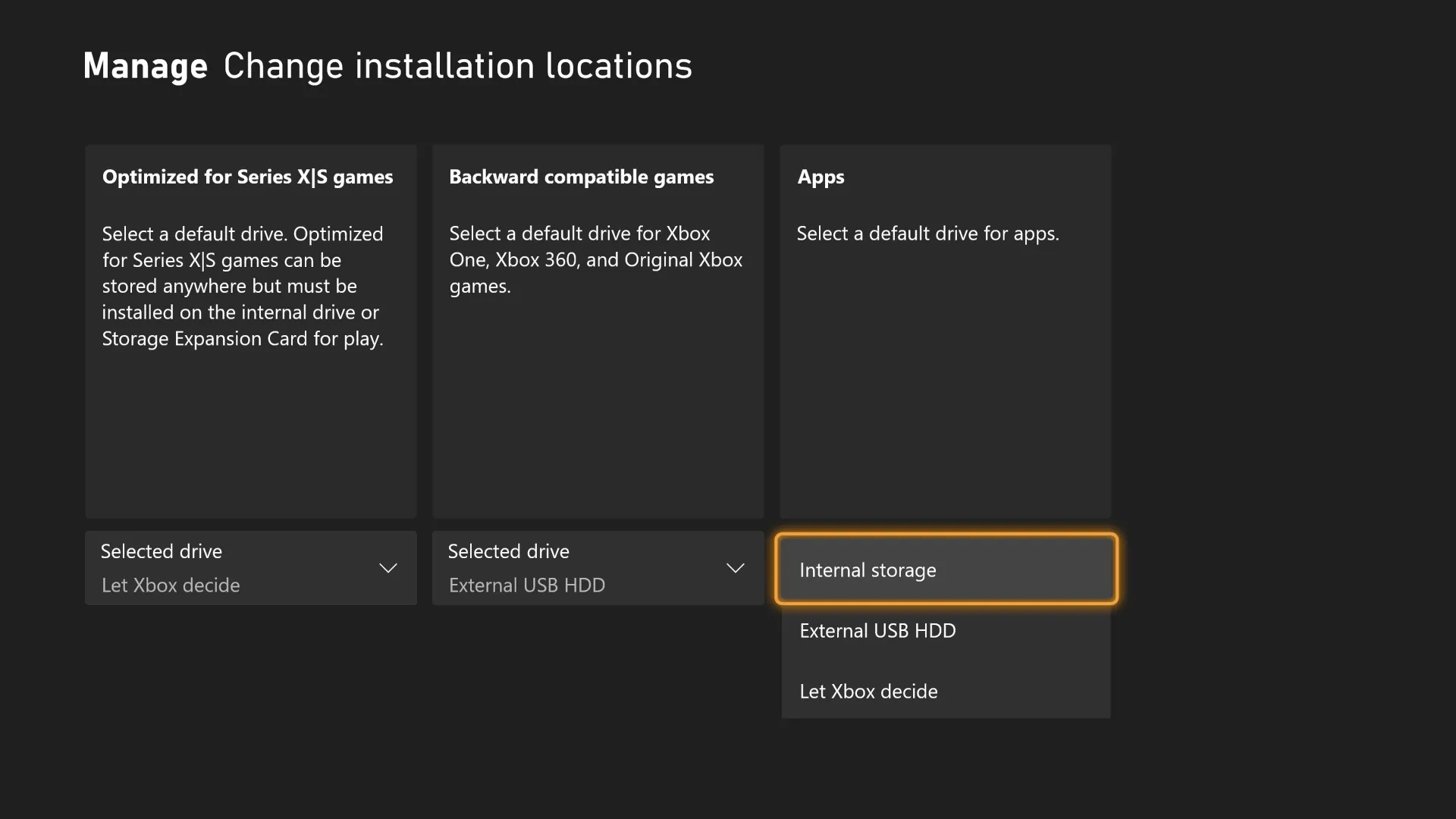 Manage storage locations for your games and apps
You can now select different default installation locations for all your games and apps on your Xbox Series X|S and Xbox One consoles. By providing separate default installation locations for different types of games, you can most effectively use your storage space and manage game installs.
In the settings for storage devices, select Change installation locations if you have external drives or a storage expansion card attached. You can select a specific drive as an installation location, or "Let Xbox decide" where to install the content for the fastest drive with available space.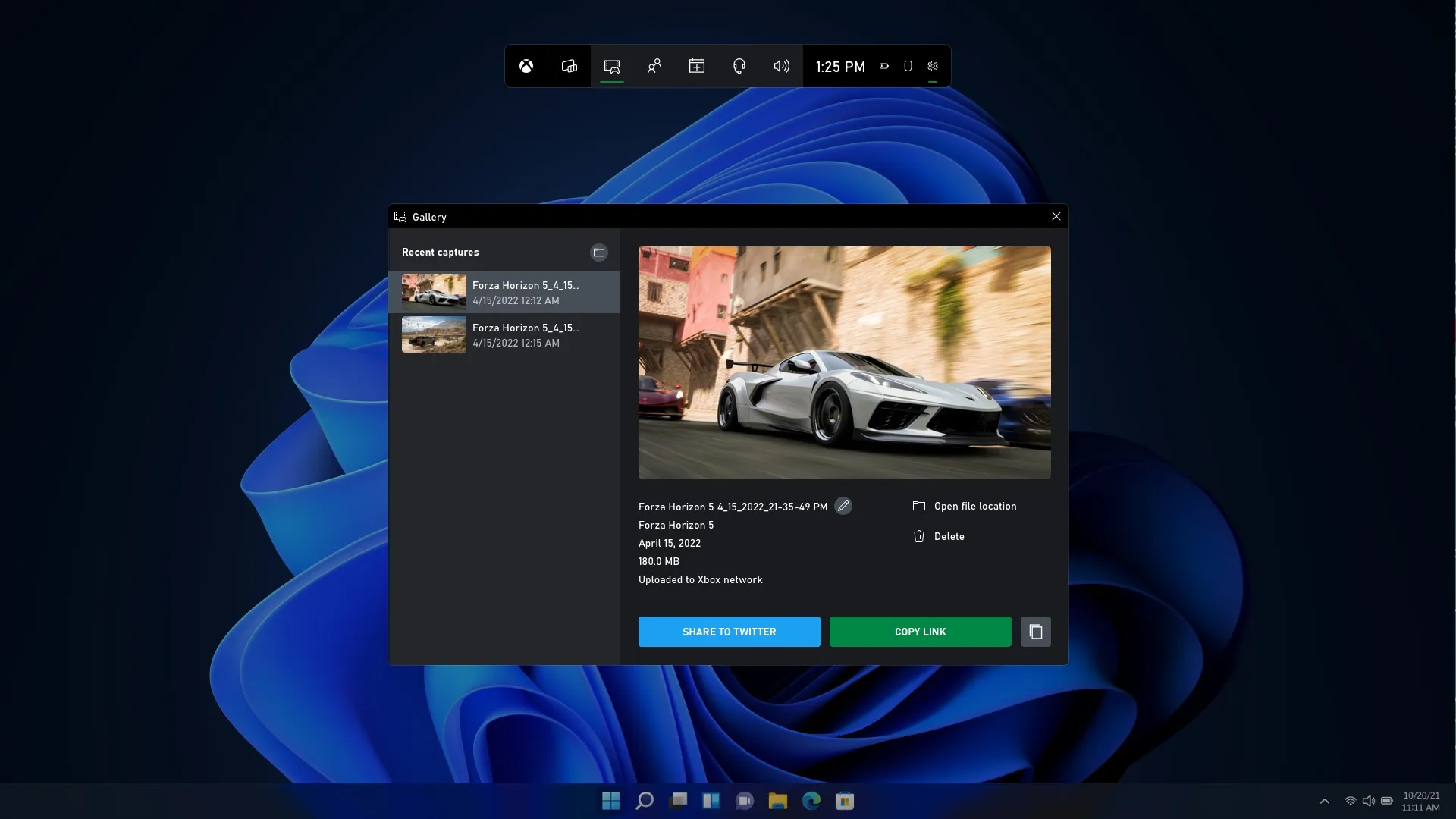 Sharing with Xbox Game Bar on Windows PCs
Xbox Game Bar works with most PC games, giving you instant access to widgets for screen capture and sharing, finding new teammates with LFG, and chatting with Xbox friends across Xbox console, mobile, and PC—all without leaving your game.
Xbox Game Bar now allows you to get a shareable link for any capture you want. Share your captures anywhere – SMS, WhatsApp, Twitter, Messenger, and more. If your settings are set to Public, anyone who gets your link can see your shared captures.
While playing a game, press the Windows logo key + G on your keyboard to open Xbox Game Bar. If you have an Xbox controller plugged in to your PC, press the Xbox button.
You can click Copy link at the bottom of any selected gaming capture in the Xbox Game Bar gallery, which uploads the capture (if not uploaded already) and provides the shareable link once upload is completed.
Party chat noise suppression (Xbox One and Windows 11/10 PCs)
When you use party chat, you may notice fewer unwanted noises and interruptions than before. Noise suppression helps remove noises like gamepad clicks, breathing, and background noise from your parties.
If you want to keep some types of background noise like music in your parties, you can also turn noise suppression off. On Xbox consoles, just open the guide, scroll to Parties & chats, and select Options. There you can enable or disable noise suppression. And on Windows 11/10 PCs, go to Start a party, open Settings > Party audio, and enable or disable noise suppression from there.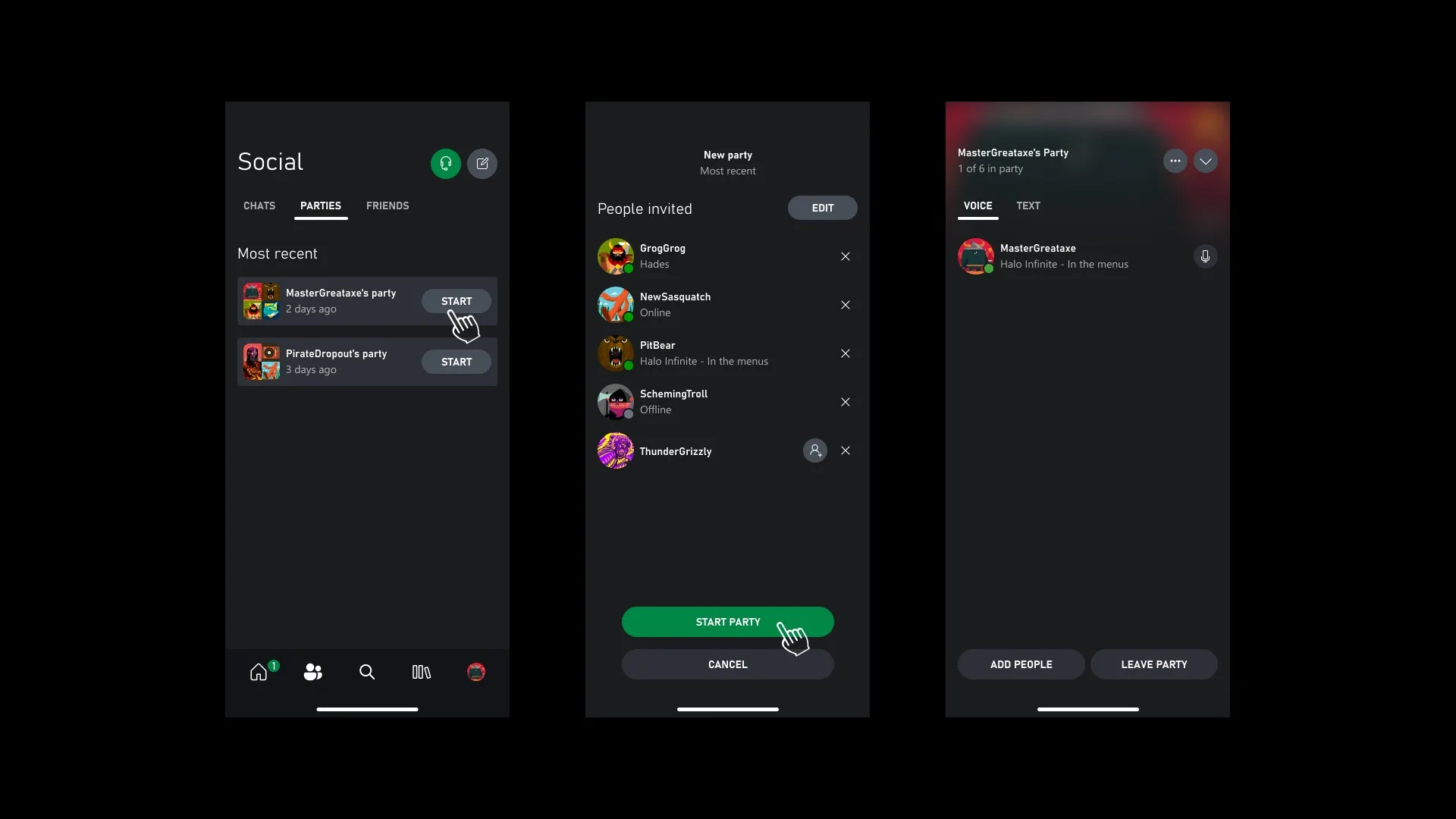 Set up parties with your friends
The new "Start party" button in the Xbox app makes it easy to jump right into the game with your friends. Now there's no need to create a party from scratch each time you want to get your friends together.
To get started, look for the new Parties option on the Social tab. You'll see a list of all your recent parties, from which you can restart a party or create a new one. You can also easily select which friends you want to invite.
Keep up to date with the latest Xbox updates, video game release dates, previews and more, follow @XONEHQ on Twitter, YouTube, Instagram, Pinterest, and Flipboard, like us on Facebook, download the free XBOX app for Android, and stay tuned!
News Source: Xbox Wire
Developer Nekki dropped the first gameplay trailer of SPINE, its upcoming gun fu action game, at the PC Gaming Show: Most Wanted. SPINE will let you unleash stylish and...

Sam & Max: The Devil's Playhouse, a remastered version for one of the last traditional adventure games Telltale made before hitting it big with The Walking Dead, is...

Articy Software has launched articy:draft X (@articydraft), the newest version of the articy:draft software series that has been used to create games such as Broken Roads,...
Average Score: 5





Votes: 1