Everything out now and coming soon to Xbox Game Pass In November
Published: Tuesday, November 01, 2022Tagged: Gaming, ID@Xbox, PC Game Pass, Windows, Xbox Cloud Gaming, Xbox Game Pass, Xbox Live, Xbox One, Xbox One X, Xbox Series X|S, Xbox Store

The next set of games heading to Xbox Game Pass (@XboxGamePass) for Cloud, Console and PC in November has been revealed! See the list of upcoming games and the dates they'll be released on @XONEHQ. If you're not an Xbox Game Pass member yet, sign up and get your first month for just $1.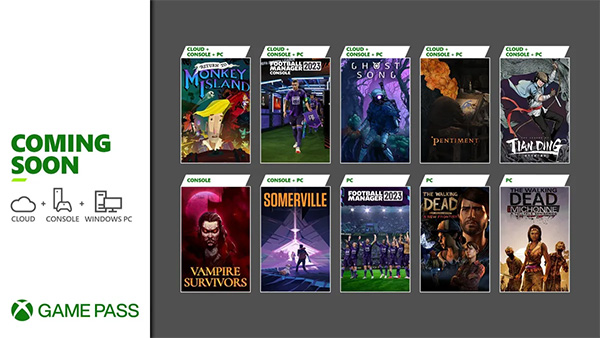 OUT NOW
Developer: Creative Games Computer Graphics | Publisher: Neon Doctrine
It is the early 20th century, and Taiwan is under the control of Imperial Japan. Play as the legendary outlaw and folk hero Liao Tianding, as you kung-fu fight your way through the colorful streets of Taipei in this sidescrolling beat-em-up.
The Walking Dead: A New Frontier - The Complete Season (PC)
As Javier, a young man determined to find the family taken from him, you meet a young girl who has experienced her own unimaginable loss. Her name is Clementine, and your fates are bound together in a story where every choice you make could be your last.
The Walking Dead: Michonne - The Complete Season (PC)
The Walking Dead: Michonne - A Telltale Miniseries stars the iconic, blade-wielding character from Robert Kirkman's best-selling comic books. Haunted by her past, and coping with unimaginable loss and regret, the story explores Michonne's absence between issues #126 and #139 of the comic book.
November 3
Ghost Song (Cloud, Console, and PC)
Developer: Old Moon | Publisher: Humble Games
On the desolate moon of Lorian, a long-dormant Deadsuit awakens from slumber—armed and combat-ready, memory clear of purpose. But something new is stirring… Strike out beneath the surface in search of answers in Ghost Song, an atmospheric 2D adventure of self-discovery, ancient mysteries, and cosmic terror. Explore winding caverns lit only by bioluminescent flora, battle strange and powerful creatures, and acquire new abilities to help you unearth this alien world's long-buried secrets.
November 8
Football Manager 2023 brings you closer to the beautiful game, from the supporters that live and breathe every match to your board, scouts, players and opposition managers. Earn the backing of the fans by outsmarting your rivals and delivering success on the pitch.
Developer: Sports Interactive | Publisher: SEGA Europe Ltd
Become the best in Football Manager 2023 Console, newly renamed for this season. Formerly titled the Xbox edition, this tailored version of Football Manager zones in on football's most important areas – the transfer market, the tactics board, and the pitch.
Developer: Terrible Toybox | Publisher: Devolver Digital
Return to Monkey Island is an unexpected, thrilling return of series creator Ron Gilbert that continues the story of the legendary adventure games The Secret of Monkey Island and Monkey Island 2: LeChuck's Revenge developed in collaboration with Lucasfilm Games.
November 10
Developer: poncle | Publisher: poncle
Vampire Survivors is a time survival game with minimalistic gameplay and roguelite elements. Hell is empty, the devils are here, and there's no place to run or hide. All you can do is survive as long as you can until death inevitably puts an end to your struggles. Gather gold in each run to buy upgrades and help the next survivor. The supernatural indie phenomenon that lets you be the bullet hell!
November 15
Pentiment (Cloud, Console, and PC)
Developer: Obsidian Entertainment | Publisher: Xbox Game Studios
Set in 16th century Bavaria,  Pentiment will take players on a narrative journey through the eyes of Journeyman Artist Andreas Maler during a time of great social unrest. Led by game director Josh Sawyer, this game is brought to life by a talented team inspired by illuminated manuscripts, woodcut prints, and history itself.
Somerville (Console and PC)
Developer: Jumpship | Publisher: Xbox Game Studios
Somerville is a Sci-Fi adventure grounded in the intimate repercussions of large-scale conflict. In the wake of catastrophe, you must find the means to make your family whole again. Players can expect to encounter a hand-crafted narrative experience set across a perilous rural landscape.
Leaving Game Pass Soon!
November 8
Football Manager 2022 (PC)
Football Manager 2022 Xbox Edition (Cloud, Console, and PC)
November 15
Art of Rally (Cloud, Console, and PC)
Fae Tactics (Cloud, Console, and PC)
Next Space Rebel (Cloud, Console, and PC)
One Step from Eden (Cloud, Console, and PC)
Supraland (Cloud, Console, and PC)
For more Xbox Game Pass news and updates, follow @XONEHQ on Twitter, YouTube, Pinterest, and Facebook, download the free XBOX app for Android, and stay tuned!
Return to Monkey Island Achievements
Most Recent Trailers for Return to Monkey Island
Rate This Article
Average Score: 4.33




Votes: 9