Hyper Gunsport Out Today on Xbox, Switch, itch.io, and Steam
Published: Friday, December 23, 2022Tagged: Gaming, ID@Xbox, Steam, Windows, Xbox Live, Xbox One, Xbox One X, Xbox Series X|S, Xbox Store

Necrosoft Games released Hyper Gunsport for (almost) all platforms! It's out today on Xbox One, Xbox Series, Nintendo Switch, itch.io, and Steam, with PlayStation coming soon.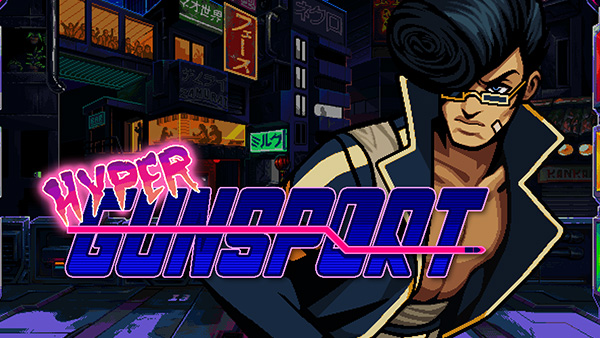 Hyper Gunsport is cyberpunk volleyball with guns - it's all about that hot arcade action! You can play 2v2 or 1v1, with a co-op and single player circuit mode as well. Each of the 7 teams has a light story, unique weapons, and a stage with its own gimmick. As you progress, new rulesets change the game, and there's an unlockable AI mode as well. This is a hardcore action game, but we are hardcore about our accessibility options too, ensuring the game is playable by anyone.
Team are composed of two positions: a keeper and a striker. The keeper doesn't move, but can fire more frequently, and has a wider aiming range and shot radius. They're usually on defense! The striker can move and jump, but can take fewer shots, so they must be precise and make each movement count. Will you burn shots and get aggressive, or set up an iron defense instead?
Each of the 7 teams has a unique story and cutscenes - one is sure to be your favorite! Each has its own special weapons, which unlock temporarily during gameplay. From tricky bounces to shots that detonate, these weapons require players to think on their feet and change up their strategy.
Each of the 7 arenas is unique as well, with its own gimmicks, from goals that open and close, to moving nets, to unstable footing. At advanced stages, different rulesets change up the gameplay even further. If you've played games like Windjammers, Sportsfriends, Lethal League, or Towerfall, you'll be in familiar territory.
Ultimately, Hyper Gunsport rewards precision shooting for the hardcore minded, but is also friendly to new players who just want to have a good time. The depth is there if you want it!
Hyper Gunsport features:
Single player and co-op story mode
2v2 and 1v1 vs couch competitive
7 teams with unique weapons, 7 arenas with unique gimmicks
Unlockable skins and AI watch mode
4 joycon on one screen on switch
Unique haptics feedback and activities on PS5
4k on Xbox Series
Hyper Gunsport is available on Xbox One, Xbox Series X|S, Nintendo Switch, itch.io, and Steam today!

For more Xbox News, achievements, release dates and indie updates, follow @XONEHQ on Twitter, YouTube, Instagram, Facebook, and Pinterest, and download the free XBOX app for Android!
Xbox Store: here
Hyper Gunsport Achievements
Rate This Article
Average Score: 3.66




Votes: 3