Punch Club 2: Fast Forward coming to Xbox, PlayStation, Switch & PC this year!
Published: Thursday, February 23, 2023Tagged: Epic Store, Gaming, GOG,

[email protected]

, Steam, Windows, Xbox One, Xbox One X, Xbox Series X|S

tinyBuild Games confirmed that 80's-inspired cyberpunk-themed game Punch Club 2: Fast Foward, the sequel to the successful fighting management simulator from Lazy Bear Games, is launching on Xbox One, Xbox Series, PlayStation 4, PlayStation 5, Nintendo Switch and PC (Steam, Epic, GOG) this year.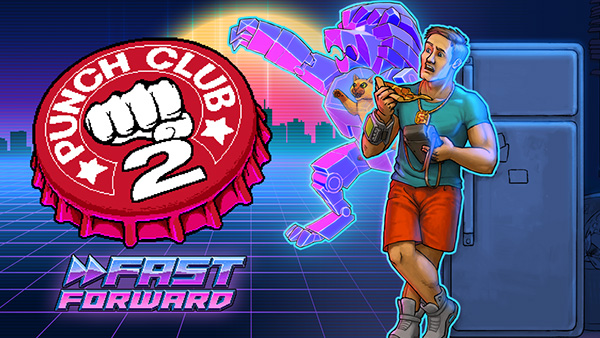 It's been 20 long years since a nameless cool guy punched the big bad and everyone was really happy or something. Welcome to the future: it's corrupt, sea shells have replaced toilet rolls, and everything's cyberpunk now. Walk the same, but now neon, streets Roy did as you're thrown into an adventure filled with hilarity, 80's nostalgia, and punching. Even more punching than before. The mean streets of the under-city are a disease, but you could be the cure. Fighting is the only way to blow off steam and earn valuable good person points, which you're going to need, kid.
Life in the rat race is fast-paced, time-consuming, and requires effective management to survive, and Punch Club 2: Fast Forward is the same! It's literally a simulation game! Manage your time and funds, whilst climbing to the top of the fighting leagues, solving crimes, working for the police, mob, mafia, and about anyone else you cross paths with. Whilst nothing beats good old-fashioned blood, sweat, and tears, neuro training and illegal software sure sound tempting. Even if there is a slight risk you'll be exposed as a fraud and your last brain cell will pack up and leave.
Completing quests will give you access to new fighting schools, moves, dollars, good person points, and even the Lion Queen on VHS! Multiple branching storylines are impacted by your moral choices, so do the right thing! Or don't. We're not your boss.
Punch Club 2: Fast Forward Features:
Become a Champion Fighter - Punch, kick and cheat your way through if you want. Becoming the best damn fighter ain't easy; it takes time, dedication, dollars, and training! Increase your stats and techniques, plan your match, and create your own incredibly awesome school of fighting!


Manage… Everything - Oversee everything from precious hours in the day to finances, whilst climbing to the top of the fighting leagues, solving crimes, working for the police, mob, mafia, and about anyone else you cross paths with. Perfect your strategy to become the best damn fighter this city has ever seen.


Story-Rich Narrative - Fully developed NPCs with interesting personalities and stories accompany a variety of branching story paths to explore. The stakes of moral choices impact story outcomes!


80's Nostalgia - This fighting management sim provides a gritty throwback into an 80 's-inspired future. Enjoy the pure adrenaline-fuelled awesomeness of the '80s with humour, quotes, and good old bone-crunching action!


Cyberpunk Aesthetic - The alluring pixel art style with a vibrant neon futuristic color palette and captivating visuals showcase a unique perspective of a cyberpunk future.


Check out the brand-new announcement trailer below for a look at what you can expect in Punch Club 2: Fast Forward.
For more video game news, release dates, previews, and DLC updates for Xbox One, Xbox Series X|S, Windows PC, Steam, GOG & Epic Store, follow @XONEHQ on Twitter, Instagram, and Pinterest, subscribe on YouTube, and install the free Xbox News app for Android.
Most Recent Trailers for Punch Club 2: Fast Forward