Microsoft Reveals Official Xbox One Component Details
Published: Tuesday, August 27, 2013Tagged: Gaming, Hardware, Homebrew, Xbox One,

Microsoft has unveiled the first technical details for the XBox One today at Hot Chips 25. The Xbox One supports shared coherent memory between 8 AMD Jaguar cores and it's DX 11.1+ GPU, includes 8GB DDR3 memory which peaks at 68GB/sec, 264GB/s total memory bandwidth, and a 500 GB Hard Drive.

Xbox One Specs:
Custom Jaguar x86-64 cores, two clusters of 4 cores
68 GB/sec peak bandwidth to off-chip 8GB DDR3 memory.
204 GB/s peak bandwidth to 32MB of on-die storage.
47MB of cache
8G DDR3
8G FLASH
Coherent Shared Memory
Memory sharing & bandwidth (HSA HUMA)
DX11.1+ GPU @ 1.71 BILLION POLYGONS A SECOND
264GB/s total memory bandwidth
GPU CONTAINS 15 co-processors
500 GB HARD DRIVE ++
Audio offload processor 15 GFLOPS

XBox One Main SoC (System on a chip)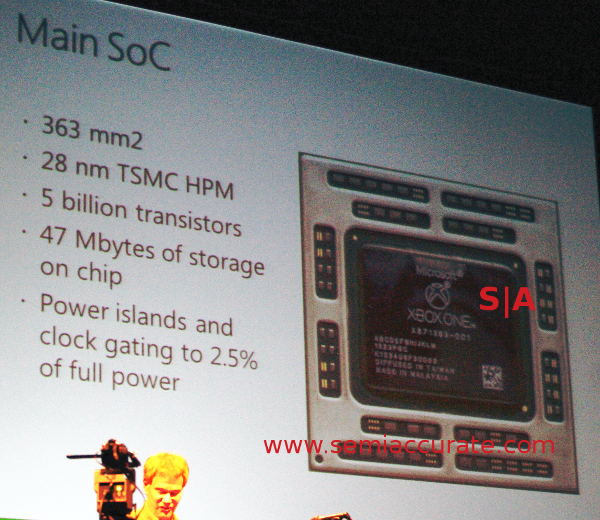 XBox One System
Xbox One CPU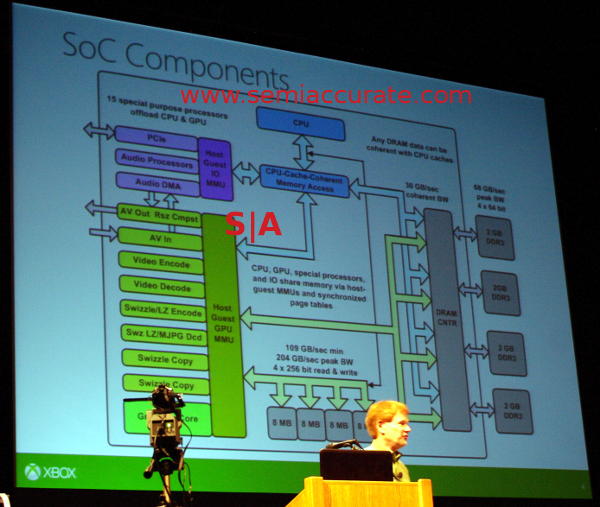 Xbox One GPU
XBox One audio diagram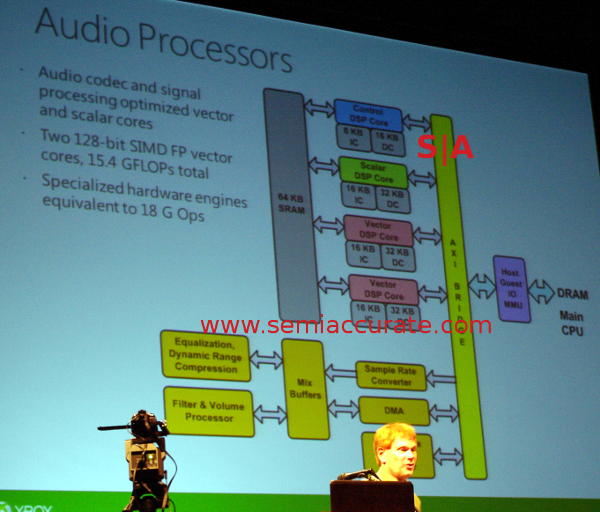 Keep an eye on our own official Xbox One vs. PS4 Specs page and add us to your favorites as we try to keep you all updated with the latest Xbox One information right here on XBOXONE-HQ.


Did you find this article interesting? Share the following url with your friends:

https://www.xboxone-hq.com/news/61-microsoft-reveals-official-xbox-one-component-details
Credit goes to kennethk for the headsup.


Related URL
:
semiaccurate.com
Microsoft has announced that the April 2018 Xbox System Update is now rolling out worldwide.Video & DisplayMicrosoft added a bunch of new video features starting...

Bree White, Global Product Marketing Manager on the Xbox Team, shares details about the new Combat Tech Special Edition controller releasing later this month.Last spring, we...

Starting today, four new Xbox 360 titles will be enhanced for Xbox One X, which includes The Witcher 2: Assassins of Kings, Forza Horizon, Fable Anniversary and Crackdown,...
Average Score: 4.5





Votes: 14