Halo 5: Guardians Coming To Minecraft On Xbox This Week
Published: Monday, October 19, 2015Tagged: Xbox DLC, Gaming, Xbox Store, Xbox One,

Microsoft announced today that a free update featuring Master Chief, Blue Team and Fireteam Osiris from Halo 5: Guardians will be available for free on October 23 for Minecraft: Xbox One Edition and Minecraft: Xbox 360 Edition.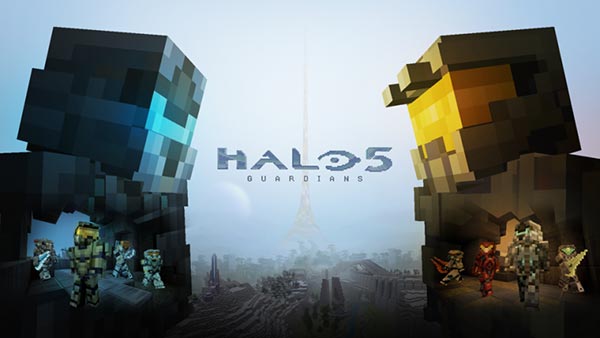 This free update to the Minecraft: Halo Edition mash-up pack will add new characters from Halo 5: Guardians to Minecraft on Xbox and include all of the content from the original pack for those purchasing for the first time ($3.99 USD).
The mash-up pack, expertly crafted by 4J Studios, includes a Halo-themed texture set, themed menus and user interface, craft-able items and 31 music tracks across the Halofranchise. Also available are 40 pixel-perfect character skins depicting beloved Halocharacters such as the Master Chief, Cortana, Sergeant Johnson, the Arbiter and more. For fans looking to fully immerse themselves into the Halo universe, the Halo Mash-up pack also features pre-made worlds such as Silent Cartographer, Sandtrap, Valhalla, Blackout, Guardian, Blood Gulch and plenty of well-known Halo vehicles and features.
Characters included in the update:
Blue Team:
Spartan-117 The Master Chief
Spartan-104 Fredric
Spartan-087 Kelly
Spartan-058 Linda
Fireteam Osiris:
Spartan Locke
Spartan Buck
Spartan Tanaka
Spartan Vale
Xbox One Games:
Minecraft: Xbox One Edition
Xbox 360 Games:
Minecraft: Xbox 360 Edition
Most Recent Trailers for Minecraft
Latest Minecraft News & Rumors
If you're in search of the perfect gift, look no further than the ever expanding lineup of @Xbox One bundles that pair consoles with the season's hottest Xbox games, and...

Microsoft announced that the all-new Xbox One S All-Digital Edition (@Xbox) is available to pre-order today for $249.99 USD. #MicrosoftThe Xbox One S All-Digital Edition was...

The Xbox One S All Digital Edition, the rumored disc-free version of the Xbox One S, has not yet been officially unveiled by Microsoft, but a new leak has revealed more...