ARK Survival Evolved Is Coming to Xbox Game Preview on December 16th
Published: Monday, December 14, 2015Tagged: Xbox Game Preview, Gaming, ID@Xbox, Xbox Store, Xbox One,

Studio Wildcard announced that it's open-world dinosaur survival game ARK: Survival Evolved is coming to Xbox Game Preview on December 16th!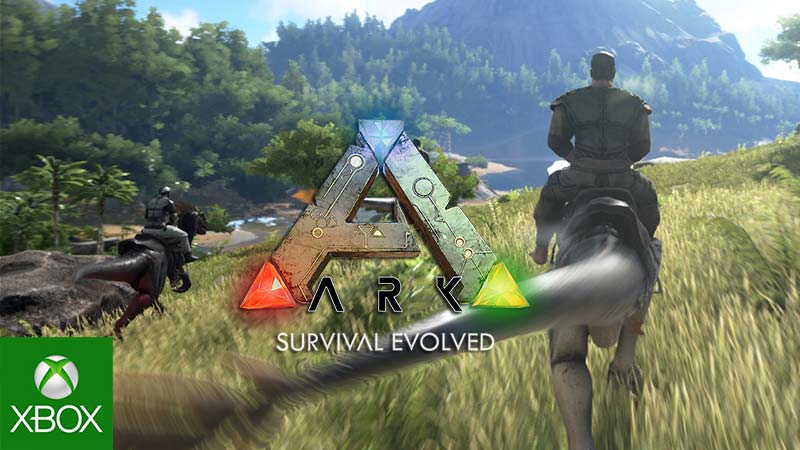 Built on Unreal Engine 4, ARK: Survival Evolved is the first to deliver the popular-on-PC online survival genre to consoles, with a unique footprint of adventure, multiplayer online cooperation and competition, focused on the basic survival skills of crafting, harvesting, building, and exploration.

Stranded naked, freezing, and starving on a mysterious island, you must hunt, harvest, craft items, grow crops, and build shelters to survive. Tame one of 100 amazing dinosaurs and other prehistoric beasts, including gargantuan creatures on a scale never before seen in video games! Fly a Pterodactyl squadron over the snow-capped mountains, race through the deep jungle with your pack of trained Raptors, tromp through a fortified enemy base with a convoy of gigantic Brontosaurus, or chase down prey on the back of a raging T-Rex.
ARK: Survival Evolved XBOX ONE Exclusives:
All game content currently in the PC build - nearly 3X the amount of gameplay available at its original Steam launch
Exclusive bionic Tek T-Rex, Safari Hat, and Survivor s Trophy
Free access to Xbox-specific ARK official servers
Steady delivery of exclusive Xbox One content prior to full game launch in June 2016
Tailored for Xbox One gamepad controls
TAME, TRAIN, RIDE and BREED DINOSAURS: Command the most amazing creatures from throughout Earth's biological history, launching into Xbox Game Preview with more than 50 creatures and 100+ planned at full launch. Use cunning strategy and tactics to tame and ride the many dinosaurs and other primeval creatures roaming the dynamic, persistent ecosystems across land, sea, air, and even underground.
CRAFT AND BUILD: Using any means necessary to survive, players will craft weapons, clothes, and items, and build shelters. Plant, harvest, build, level-up, and customize everything visually and functionally, including procedurally-generated RPG statistics for creatures, characters, resources, clothing, gear, and weapons both primitive and modern.
DISCOVER: Explore a massive living ecosystem and find the means to survive, thrive, and maybe escape ARK island.
TEAM UP TO SURVIVE: Start a tribe with hundreds of other players in a large-scale multiplayer online first person environment to survive and dominate competing tribes...and to ultimately discover ARK s true purpose.
JOIN A TRIBE: The 'Tribe' system encourages cooperation, by supporting dynamic parties to share resources, XP, and re-spawn points. Other players are organizing rebel tribes to accumulate resources, experience, re-spawn points, and to construct sprawling villages and cities, with technology spanning the primitive stone-age to the modern electric-powered era and beyond. And they will fight to destroy anything they see as a threat.
ARK Survival Evolved will be available for download (Game Preview) for the Xbox One on December 16th and is expected to official launch in June 2016 on Xbox One via the ID@Xbox program, Steam PC and PlayStation 4 with Project Morpheus support.
Until then, check out all of our ARK Survival Evolved screenshots, game trailers and stay tuned for more info and updates via Twitter, Google+, Facebook and YouTube!
Xbox One Games: ARK: Survival Evolved
ARK: Survival Evolved Achievements
Most Recent Trailers for ARK: Survival Evolved
Latest ARK: Survival Evolved News & Rumors
Free Play Days is back! This weekend's Free Play Days on Tekken 7, Ark: Survival Evolved and Overwath Origins Edition is live for Xbox Live Gold and Xbox Game Pass...

Microsoft has confirmed that a whole bunch of new games are coming to Xbox Game Pass for Console, Android and PC (@XboxGamePass) throughout November. See the list of titles...

Studio Wildcard announced that their ARK event 'Love Evolved' event (formerly Valentine's Day) starts today! The next major ARK chapter begins with the launch of Part...
Rate This Article
Average Score: 4.87





Votes: 8