Below the Stone coming to Early Access for PC via Steam and GOG on November 17
Published: Wednesday, October 04, 2023Tagged: Gaming, ID@Xbox, Steam, Windows, Xbox Series X|S

Below the Stone (@BelowTheStone), the dwarf-themed extraction roguelike by developer Strollart and publisher Apogee Entertainment (@Apogee_Ent), launches into Early Access on November 17th for PC via Steam and GOG ahead of its arrival on Xbox Series X|S, PlayStation 5|4, and Nintendo Switch in 2024. Survive the depths of Draggas in the new demo available today.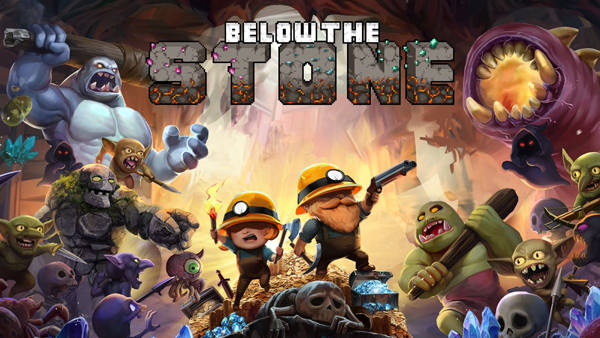 Below the Stone is a pixel-art roguelike about dwarves on the quest for the deepest depths. A place where each and every descent will lead to new adventures -- and where only the most determined dwarves with many lost lives will be rewarded by the hidden world lying below the stone.
Grab a hardhat, a pickaxe, and answer the Earthmother's call while clearing pathways through the Kingdom's increasingly-perilous layers filled with dozens of biomes. Hunt for treasure across stony hollows, magma-spouting volcanic depths and crystal-filled caverns, each with its own characters, local flora and area-specific enemies that call for different equipment and playstyles.
Each expedition requires careful calculation. Venture through naturally occurring pathways to complete mission objectives, or carve through fully destructible rock walls hiding secret dungeons and shortcuts. Be careful not to go too deep, as gear is forever lost in failed runs. Return in one piece by balancing progression, resource management and greed during every odyssey into the unknown, and deposit valuable loot and gear in above-ground banks for future cave dives.
Befriend the Blacksmith and deposit raw materials to craft upgraded weapons, armor and equipment for future runs. Combine raw materials with rare metals to progress from simple tin pickaxes and crossbows to mighty axes and Blunderbusses, and don material-matching armor sets for added stat bonuses.
Visit the bar to interact with a peculiar cast of fellow bearded brethren, off-duty dragon slayers and necromancers. Converse over a pint to unlock loot-bearing side quests. Stop by the alchemist to brew healing potions, and be careful not to overpay at the item shop! Excavate to underground tunes with more than an hour of original tracks, coming soon to Apogee Music.
Below The Stone launches into Early Access on November 17, 2023 for PC via Steam and GOG. The game will arrive on Xbox Series X|S, PlayStation 5|4, and Nintendo Switch in 2024.
Explore more updates including the latest Xbox games, game trailers & videos, release dates and achievements, follow @XONEHQ on Twitter, YouTube, Instagram, Facebook, and Pinterest, download the free XBOX app for Android or subscribe via email and rss
Latest Below the Stone News & Rumors
Below the Stone (@BelowTheStone), the retro extraction roguelike from Strollart and Apogee (@Apogee_Ent), is out on PC via Steam Early Access ahead of its release on Xbox...

Apogee (@Apogee_Ent) and Strollart announced that Below the Stone, a retro-style roguelike, will launch in Early Access on Steam for PC and GOG in Q4 2023. A new demo is also...
Rate This Article
Average Score: 4.47




Votes: 17