Apogee Entertainment Games
Headquarters:

Garland, Texas, United States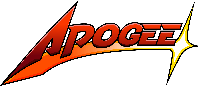 Apogee Entertainment
Apogee Software's pioneering journey began in 1987, when Scott Miller decided to split his new game, Kingdom of Kroz, into three episodes, with the first episode available as free shareware. The "Apogee model" of distribution revolutionized PC gaming at the time and catapulted Apogee Software to global renown. As an indie publisher, Apogee (and it's later incarnation, 3D Realms) would introduce the world to id Software, Remedy Entertainment, Parallax Software, and other video game superstars in the making. As a developer, Apogee would innovate and inspire in equal measure, creating treasured characters and franchises like Duke Nukem, Max Payne, Shadow Warrior, and Prey en route to earning over a billion dollars.

The new Apogee Entertainment, with founder Scott Miller and longtime partner Terry Nagy at the helm, will empower today's incredibly talented indie developers, paving the way for their global success with innovative ideas, cutting-edge marketing, and the same fearlessness that changed the industry.
Follow @Apogee_Ent on Twitter, subscribe to the Apogee Entertainment YouTube channel, and join the discussion in the official Apogee Entertainment Discord server.
Games published by Apogee Entertainment
Below the Stone is a pixel-art roguelike about dwarves on the quest for the deepest depths. A place where each and every descent will lead to new adventures -- and where only the most determined dwarves with many lost lives will be rewarded by the hi..

Platform: Xbox One

2024

Bread & Fred presents a familiar challenge with a new twist of platforming in unison where communication conquers all else. Success and failure are a joint endeavor, and one false move can send both tumbling down the steep heights. Discuss next moves..

Platform: Xbox One

2023

In Exocide, humans made superbugs to fight as soldiers. And the bugs turned against us. You're the last Handler, a human+AI robotic team with 4 total arms capable of welding 4 weapons, or one HUGE gun. Stop the super swarms before total human extinct..

Platform: Xbox One

2023

Enter a flow state while hunting for the Lucid Giant's heart across shimmering caverns, snow-covered ridges, and barren badlands. String together Crystal Arts for double-jump and airdash-fueled maneuvers to access out-of-reach areas. Hot-swap abili..

Platform: Xbox One

2025

Turbo Overkill, the ultraviolent cyberpunk FPS from the creator of award-winning DOOM II mod Total Chaos and published by Apogee Entertainment, paints Paradise blood-red on Xbox Series X|S, Xbox One, PlayStation 5, PlayStation 4, Nintendo Switch, and..

Platform: Xbox One

2024
Browse All Xbox One & Xbox Series S|X Video Games