Astral Tracks: Out In Early Access - Full console and PC release to follow
Published: Friday, November 17, 2023Tagged: Gaming, ID@Xbox, Steam, Windows, Xbox One, Xbox One X, Xbox Series X|S

Astral Tracks, the competitive speedrunning 3D platformer developed by LAB132 (@laboratory132), is available in Early Access on PC via Steam, putting a host of dynamic movement possibilities at your disposal, from Spider-Man-like swinging, to Titanfall-esque wallrunning.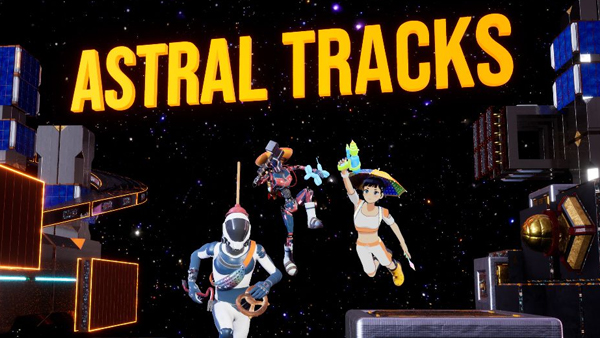 Unleash your competitive streak as you run, jump, dash, swing, slide and wallrun your way through procedurally generated tracks constructed from hand-made chunks. Master your skills to shave seconds off your times and play against friends, family or enemies, competing for the top-spot on the leaderboards! Or embrace Astral Tracks' meditative side and find yourself entering a relaxing flow-state as you glide through the tracks.
Your progress through the game will be rewarded with unlockable costumes and accessories that can be purchased with in-game currency (there are no microtransactions), including diving fins, plungers, balloon animals, silly hats, baked goods and tutus, adding an outlandish splash of fun to the game's interdimensional sci-fi aesthetics. Time-limited challenges are part of the roadmap for additions planned for the game. Not only will they be fun in and of themselves, they will also serve to ratchet up the level of competition by bringing players together to compete on the same cyber-sci-fi tracks.
Astral Tracks was originally planned for a full release today on PC, but LAB132 made the decision to delay in favour of an Early Access release to allow them the time they need to improve Astral Tracks and reach the high standards they intend to meet on release. This Early Access period will also give players the chance to provide vital feedback to positively improve Astral Tracks before release.
Astral Tracks is available now in Early Access on PC via Steam. Xbox and PlayStation consoles to follow alongside the full PC release.
Discover more video game news, release dates, previews, and upcoming games for Xbox One, Xbox Series X|S, Windows PC, Steam, GOG & Epic Store by following @XONEHQ on Twitter, Reddit, Instagram, and Pinterest, or subscribe on YouTube. You can also download the free Xbox News app for Android.
Latest Astral Tracks News & Rumors
LAB132's (@laboratory132) speedrunning 3D platformer, Astral Tracks, races onto PC via STEAM on November 16th, with a console release date to be announced at a later date. ...

LAB132 (@laboratory132) revealed that Astral Tracks, a competitive speedrunning 3D platformer that puts a host of dynamic movement possibilities at your disposal, is coming...