Xbox One Console Deals: $50 Off All Bundles, Starting At $299 (Limited Time)
Published: Wednesday, December 09, 2015Tagged: Gaming, Xbox Hardware, Xbox One,

Starting today, Dec. 9 through Saturday, Dec. 26 in the U.S., all Xbox One console bundles will be available for $50 off, starting at $299.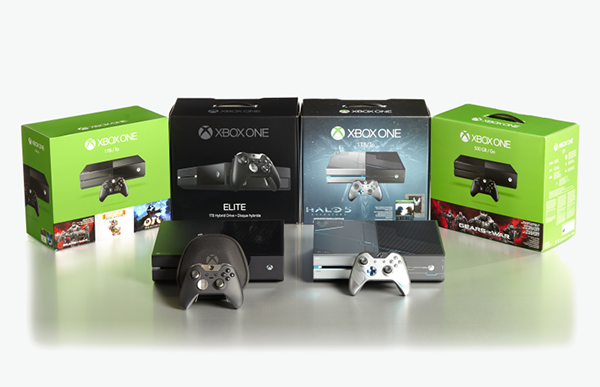 This special offer is valid for any Xbox One bundle, including the Xbox One Limited Edition Halo 5: Guardians Bundle, the Xbox One Elite Bundle and the Xbox One 1TB Holiday Bundle, which includes Gears of War: Ultimate Edition, Rare Replay and a full-game download of Ori and the Blind Forest. With more bundles available than ever before, there's something for every gamer this holiday. Some of these bundles are nearly sold out, so make sure to take advantage of the savings while supplies last.
Also, from Dec. 22 to Jan. 7, Xbox gamers can take advantage of Countdown, the biggest digital game sale of the year for the Xbox Store. Starting Dec. 22, you can visit the Countdown sale to view over 200 deals on the greatest games lineup in Xbox history. Fans can enjoy the convenience of digital games with weekly and daily deals counting down to the New Year, and for the first time ever, the sale will last until Jan. 7. In addition, a number of national retailers will offer their own holiday deals, so check with your local retailers for more information.
In addition to the wide variety of console bundles and game deals, Xbox One owners can play their favorite Xbox 360 games on Xbox One at no additional cost with Backward Compatibility, made possible by the fastest and most social Xbox experience ever. There's truly never been a better time to pick up an Xbox One.
Source: Xbox.com
The video game industry is incredibly popular, with millions of people playing their favorite games on Xbox every day. Even if they aren't playing themselves, they are...

You have probably heard of it or read about it everywhere over the years: the casino industry is booming and now it has turned into one of the most profitable industries out...

Zerouno Games, a new games studio comprised of experienced team members from well-known companies like Rockstar Games, Electronic Arts, 343 Industries, and Mercury Steam,...
Average Score: 4.66





Votes: 6