Dolby Vision Gaming now available for Xbox Series XIS
Published: Wednesday, September 29, 2021Tagged: Gaming, System Update, Xbox Hardware, Xbox Series X|S

Dolby Vision launches today on Xbox Series X|S with more than 100 next-gen HDR titles optimized titles available now or coming soon in Dolby Vision.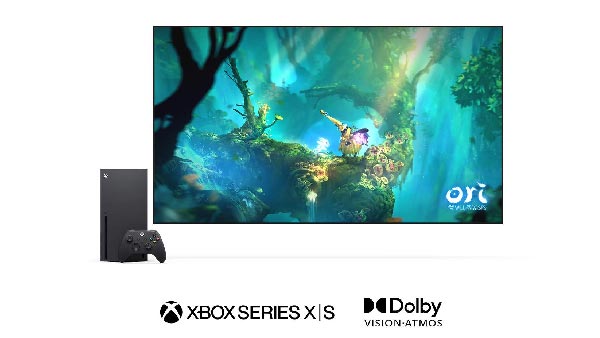 Dolby Vision gaming now available for Series XIS
Starting today, gamers with compatible Dolby Vision-enabled TVs will be able to enjoy full-spectrum visuals with the rollout of Dolby Vision gaming on Xbox Series X|S. With Dolby Vision, epic worlds – such as lush rainforests or neon futuristic cities – are brought to life in more vivid color. Dolby Vision deepens your immersion into the experience by enabling you to see an enemy hiding in the shadows or spot hidden clues through expanded contrast and better clarity in both bright and dark scenes.
To ensure a growing library of games are available, Dolby and Xbox are working together closely with developers to provide the tools they need so their titles can take full advantage of Dolby Vision. They can do this through built-in features within the Xbox platform or they can choose to implement the technology directly into a game's engine.
There are more than 100 next-gen HDR titles optimized for Series X|S that will feature Dolby Vision, and in the future you'll see more games like Halo Infinite taking full advantage of Dolby Vision.
Get the complete Dolby experience with Dolby Atmos by downloading Dolby Access today. Pair with Xbox headphones for the ultimate spatial sound experience.
Xbox Series XIS will deliver improved visual experience to thousands of classic games
In addition to this curated set of Xbox Series X|S optimized titles, we also wanted to ensure the robust library of games previously released in HDR or Auto HDR would benefit as well. This led us to work with Dolby to bring new visual enhancement capabilities that utilize Dolby Vision technology to deliver an improved visual experience for thousands of existing HDR10 and Auto HDR games. When you are connected to a Dolby Vision-enabled TV and Dolby Vision is enabled on Xbox Series X|S, the consoles will automatically enhance your existing games to deliver a rich, immersive experience unrivaled by any other game console.
How Series XIS and Dolby Vision make your gaming experience better
Dolby Vision takes gaming to the next level through incredible brightness, color, contrast, and detail. Games in Dolby Vision automatically map to any display that supports Dolby Vision, delivering players the benefit of seeing the best possible picture available. Dolby Vision is also compatible with next-generation features available on Xbox Series X|S such as DirectX Raytracing, automatic low-latency mode (ALLM), Variable Refresh Rate (VRR), and up to 120FPS depending on the capabilities of your TV*.
*Microsoft and Dolby are working closely with TV manufacturers to update firmware support for Dolby Vision capabilities at 120 Hz where possible
Optimizing Dolby Vision gaming with your TV
To ensure the best possible Dolby Vision gaming experience, you'll need two things: a Dolby Vision-enabled television; and you'll need to enable your television's next-gen gaming settings, such as automatic low-latency mode (ALLM) or variable refresh rate (VRR). Many 2020 and 2021 TVs, along with a select number of older TV models that support Dolby Vision, have unlocked next-gen gaming features designed for gaming in Dolby Vision.
Microsoft and Dolby have been working closely with TV manufacturers to make Dolby Vision gaming as seamless and automatic for as many Dolby Vision-enabled TVs as possible. Players with TV models that have not been optimized to unlock Dolby Vision with next-gen gaming settings may experience latency issues during gameplay. Check with your TV manufacturer if a firmware update is or will be available to reduce latency. If the issue persists, you can disable Dolby Vision gaming on your console.
Check to see if your display supports Dolby Vision
To check if your display supports Dolby Vision, press the Xbox button to open the guide. Then go to Settings > General > TV & display options > 4K TV details.
Enable Dolby Vision on Xbox Series X|S
For the best Dolby Vision experience, we recommend using automatic low-latency mode (ALLM). To enable Dolby Vision, press the Xbox button to open the guide. Then press Settings > General > TV & display options > Video Modes > Dolby Vision for Gaming
Note: Make sure your Xbox and TV are running the latest firmware for the best gaming experience. For a list of the latest Dolby Vision supported TVs go to: dolby.com/experience/xbox
News Source: Xbox Wire
Official Site: https://www.dolby.com
Halo Infinite Achievements
Most Recent Trailers for Halo Infinite
Latest Halo Infinite News & Rumors
Halo Infinite Lone Wolves: Season 2 is available now as part of Halo Infinite's free-to-play multiplayer on Xbox Series X|S, Xbox One, Windows 10/11, and Steam. Jump in...

Microsoft announced today that eligible Xbox Game Pass Ultimate subscribers in the US can claim a free 30-day Paramount+ trial just in time for the brand new Halo TV series...

Make your move with @Razer's award-winning universal mobile controller that lets you play Xbox Cloud games on most smartphone devices with Xbox Game Pass.Designed for Xbox,...
Rate This Article
Average Score: 4.5





Votes: 6