Ubisoft
Headquarters:

Montreuil, France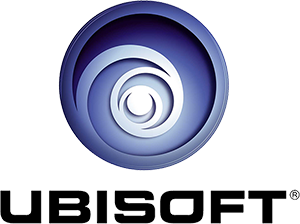 Ubisoft
Ubisoft Entertainment S.A. is a French global video game publisher and developer, with headquarters in Montreuil, France. Ubisoft Entertainment is currently the third largest independent game publisher in Europe, and the third largest in the United States.
Some of Ubisoft's most popular games are:
Follow @Ubisoft on Twitter, subscribe to the Ubisoft YouTube channel, and like the official Ubisoft page on Facebook.
Games developed by Ubisoft
The year is 1715. Pirates rule the Caribbean and have established their own lawless Republic. Assassin's Creed IV Black Flag introduces Edward Kenway, a brash rebel Pirate Assassin. His fight for glory has earned him the respect of legends like Black..

Platform: Xbox One

November 22, 2013

Ready for another sea-worthy challenge? This pack contains three new fearsome contenders who will keep you on your toes: The Jaguar, a good and mighty Aztec Templar; Blackbeard, the most feared pirate of the seven seas; The Orchid, the stone-hearted ..

Platform: Xbox One

December 10, 2013

Born a slave, Adewale found freedom as a pirate aboard Edward Kenway's ship, the Jackdaw. 15 years later, Adewale has become a trained Assassin who finds himself shipwrecked in Saint-Domingue without weapons or crew. He now has to acquire a shi..

Platform: Xbox One

December 17, 2013

Experience the story of Basim, a cunning street thief with nightmarish visions, seeking answers and justice as he navigates the bustling streets of ninth-century Baghdad. Through a mysterious, ancient organization known as the Hidden Ones, he will be..

Platform: Xbox One

October 5, 2023

The Brotherhood story continues with the Hidden Ones, included in the Assassin's Creed® Origins season pass. Years after the birth of the Brotherhood, Bayek is called to the Sinaï Peninsula to investigate a clash between a rebel faction and occu..

Platform: Xbox One

January 23, 2018

Whitechapel, 1888, the 'Autumn of Terror'. Twenty years after Evie and Jacob Frye have taken London from Templar control, the city is plagued by a series of the most horrific crimes Scotland Yard has ever seen. The graphic coverage in the newspap..

Platform: Xbox One

December 15, 2015

Following the events of Assassin's Creed Unity, lead Arno to the ominous city of Saint Denis. Explore the troubled city's narrow streets and its extensive underground universe - an ancient necropolis with an intricate network of catacombs and caves..

Platform: Xbox One

January 13, 2015

Discover the Secrets of the French Revolution with this robust pack of 3 Missions, 9 weapons and 5 pieces of gear...

Platform: Xbox One

January 20, 2015

Assassin's Creed Origins is a new beginning. Take on epic enemies with a whole new combat system. Explore the Great Pyramids and hidden tombs across the country of Ancient Egypt. Experience visceral quests that contribute to your overall progressio..

Platform: Xbox One

October 27, 2017

Swoop into the marvelous world of Hillys as action-reporter Jade to investigate the mysterious DomZ alien attacks alongside colorful characters, like her adoptive uncle Pey'j or the valiant Double H. Embark on this epic adventure in up to 4K, 60 fp..

Platform: Xbox One

2024

Child of Light is a digital download, 2D side-scrolling role-playing game powered by the UbiArt Framework, the same engine behind Rayman Legends. Child of Light will be released on Xbox One, Xbox 360, PlayStation 4, PlayStation 3, Wii U, and PC in 20..

Platform: Xbox One

April 30, 2014

Gloomy underground passages, secret tunnels, deadly traps, starving monsters… RPG fans have come across dozens (or hundreds or millions) of them in their more or less long life of adventurer. But they could not expect what they are about to experi..

Platform: Xbox One

TBA

Experience the exciting classic gameplay of one of America's hottest gameshows at home now! Customize your character, then challenge your friends, family, and even other players online for a chance to bring the big prize home. Features Include ..

Platform: Xbox One

November 12, 2020

Lost in an unforgiving Himalayan ridge after a helicopter crash, explore the frozen landscape to find tools, upgrade your camp and protect it from a dangerous cult when night falls. In these new missions featuring single player and co-op action, you ..

Platform: Xbox One

March 10, 2015

Far Cry comes to America in the latest installment of the award-winning franchise. Welcome to Hope County, Montana. When your arrival incites the cult to violently seize control of the region, you must rise up and spark the fires of resistance to lib..

Platform: Xbox One

March 27, 2018

Wreak havoc behind enemy lines in war-torn Vietnam in Hours of Darkness, the first DLC for Far Cry 5. Your mission is simple: Escape, free your squadmates, and get revenge. Features a harrowing story of survival, a unique map, new weapons, skills, an..

Platform: Xbox One

June 05, 2018

Journey into space with "Lost on Mars", the second DLC pack for Far Cry 5. Leave Earth behind and go toe-to-claw against Martian arachnids to save the world from an alien invasion. Soar over the dunes and canyons of Mars with your jet pack, blast dea..

Platform: Xbox One

July 17, 2018

The award-winning Far Cry franchise that stormed the tropics and the Himalayas now enters the original fight for humanity's survival with its innovative open-world sandbox gameplay, bringing together massive beasts, breathtaking environments, and u..

Platform: Xbox One

February 23, 2016

Fighter Within is a realistic fighting simulator that lets players choose between a wide array of fighters, each with their own distinct fighting style and signature attacks. Kinect's power dramatically improves the multiplayer experience, allowi..

Platform: Xbox One

November 22, 2013

ENJOY HASBRO'S MOST FAMOUS AND AMAZING GAMES ALL IN ONE COMPILATION FOR THE WHOLE FAMILY! The Hasbro Family Fun Pack includes Monopoly, Scrabble, Trivial Pursuit and Risk all in one compilation! The original games become more fun and interactive th..

Platform: Xbox One

October 20, 2015

America's favorite quiz show, Jeopardy!, makes its long-awaited return to home consoles in full HD. Master your lightning-quick reflexes with new streamlined controls to solve over 2,000 clues, constantly putting your smarts to the test. Compete wi..

Platform: Xbox One

November 7, 2017

Just Dance is the world's No. 1 dance game franchise. With over 44 million units sold to date worldwide, the game has become a cultural phenomenon recently winning the Nickelodeon Kids' Choice Awards for "Favorite Video Game" and the Teen Cho..

Platform: Xbox One

November 19, 2013

With more than 50 million copies of Just Dance titles in homes around the world, our players are as important as ever, and the new features in Just Dance 2015 bring people together in more ways than ever before. For the first time ever, you too ca..

Platform: Xbox One

October 21, 2014

Introducing Just Dance 2016 – the newest game from the top-selling franchise – with a new way to play! All you need is your smartphone and the free Just Dance Controller App to play Just Dance 2016 on console, no Kinect sensor needed! Bust a move..

Platform: Xbox One

October 20, 2015

Just Dance 2018, the ninth game in the Just Dance series, is coming to Xbox One this October. Dance to 40 of the hottest tracks of the year, including "24K Magic" by Bruno Mars, "Side to Side" by Ariana Grande ft. Nicki Minaj, "Chantaje" by Shaki..

Platform: Xbox One

October 24, 2017

Just Dance 2019 is the ultimate party game with 40 hot tracks from chart-topping hits to family favorites, including "Finesse (Remix)" by Bruno Mars Ft. Cardi B., "Bang Bang Bang" by BIGBANG, "Shaky Shaky" by Daddy Yankee, and more! Just Dance 201..

Platform: Xbox One

October 23, 2018

Just Dance 2021 is the ultimate dance game, with 40 hot new tracks from chart-topping hits like ""Don't Start Now"" by Dua Lipa, ""Feel Special"" by TWICE, and ""Señorita"" by Shawn Mendes & Camila Cabello. Start a dance party your friends and famil..

Platform: Xbox One

November 12, 2020

no description available.

Platform: Xbox One

September 06, 2016

#Oddballers is coming to #Xbox on January 26th! Bend your knees and thrust your hips – it's time for an intense dose of hard-hitting dodgeball action! OddBallers is a hilariously charming and totally bonkers multiplayer party game where each r..

Platform: Xbox One

January 26, 2023

When the Rabbids take a ride in their washing machine, they are mysteriously transported to a mythological world of mayhem inspired by the classic Chinese novel "Journey to the West." In this multiplayer party game, the Rabbids must play their wa..

Platform: Xbox One

June 30, 2022

Rainbow Six Quarantine is spin-off of Rainbow Six Siege which resembles Outbreak, a popular limited-time three-player co-op PvE mode...

Platform: Xbox One

TBC

Scott Pilgrim is back! Team up with friends to battle your way through waves of tough enemies to fight for love. Share health and coins, compete in mini-games like Dodgeball, and challenge each other to an epic-last-one-standing duel. The Complete Ed..

Platform: Xbox One

January 14, 2021

Tom Clancy's xDefiant is a free-to-play, fast-paced arena shooter that combines intense gunplay with personalized loadouts and specialized factions, as teams of gunfighters – called Defiants – battle for domination. The game offers a variety o..

Platform: Xbox One

2024

Imagine an escape room set in a deranged mind. Experience a first-person exploration game in a chilling new dimension. Shift between three perspectives of a family in this troubled scientist's experiment, and attempt to unravel the mystery hiding in ..

Platform: Xbox One

September 18, 2018

Valiant Hearts: The Great War tells the story of five crossed destinies and a broken love in a world torn apart. All of them will try to survive the horror of the trenches following their faithful canine companion. From the green forests of the Frenc..

Platform: Xbox One

June 25, 2014

Spin the wheel with America's Game, Wheel of Fortune, the most-watched program on television, for the first time in full HD. Solve up to 4,000 unique puzzles as you compete against friends, family, and online players around the world to climb the glo..

Platform: Xbox One

November 07, 2017
Browse All Xbox One & Xbox Series X|S Video Games